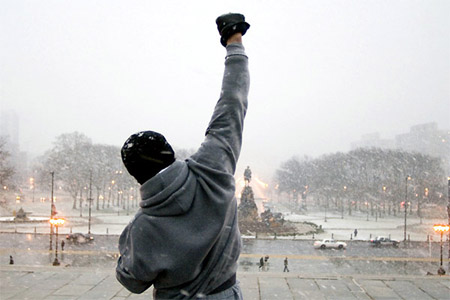 This article is a guest contribution by Paul Norwine. Paul recently threw his lucrative day job to the curb in order to 'blaze his own path' online.  He can currently be found blogging (and doing videos) on personal growth over at PaulNorwine.com.
[share_sc]
They say that life is just a game. They also say that life is a bitch. I say that life is both.
Maybe I'm being presumptuous but I think it's safe to say we all have deep-seated dreams and desires. We all have visions of how great our lives could be. Whether we admit it or not, we all have a nagging feeling that we really can create a life even beyond our wildest dreams. But something always seems to hold us back.
We start to convince ourselves that a better future is just a pipe dream. We convince ourselves that we aren't quite good enough, or we don't truly deserve what we want. We convince ourselves that we aren't lucky enough to have the ball bounce our way, or we wait for circumstances to be just right before we make a move.
We get scared. We fear the unknown, we fear change, we fear success, and we fear failure. We begin to fear so much that we become paralyzed and instead begin to settle for a comfortable life of mediocrity. We justify letting the river of life sweep us away without fighting the current by saying, "hey, life's a bitch and then you die."
Well, I say **** that.
I'm not going to live my life this way. Life may be a bitch…but it's also a game and it's a game that I want to play. I refuse to waste this life sitting on the sidelines. I refuse to float through life because I am too scared to get in the ring.
So cue the music, baby, because I'm coming out swinging like Rocky…
Obviously, the Rocky montage is a little tongue-in-cheek, but there's a reason Rocky is the people's champion. The odds were completely stacked against him. It would have been easy for him to give up the first time… the sixth time… and every time in between. But he didn't give up. He kept fighting and, through it all, became a champion (over and over again).
In all seriousness, I'm convinced that underneath all the bullshit and all the excuses that prevent us from going after what we truly want in life, we each have the heart of a champion. Deep down, we all have a little Rocky Balboa in us.
There's no denying that we will get knocked down. We will fall flat on our faces from time to time. That's life. But we always have a choice. We can play the victim and let life keep us down. Or, like Rocky, we can get back up and keep on swinging. It's as simple as that. Get knocked down seven times, get up eight.
So sack up, get in the ring, and give it hell. After all, life is a game we only get to play once.
"Let me tell you something you already know. The world ain't all sunshine and rainbows. It is a very mean and nasty place and it will beat you to your knees and keep you there permanently if you let it. You, me, or nobody is gonna hit as hard as life. But it ain't how hard you hit; it's about how hard you can get hit, and keep moving forward. How much you can take, and keep moving forward. That's how winning is done. Now, if you know what you're worth, then go out and get what you're worth. But you gotta be willing to take the hit, and not pointing fingers saying you ain't where you are because of him, or her, or anybody. Cowards do that and that ain't you. You're better than that!" -Rocky Balboa
Baker's Note: I thought this would be a great post to finish off the week.  You all know I love a good motivational post every now and then.  I also love guy-movie pop culture and am a sucker for awesome montages.  So I couldn't resist.  Thanks go to Paul for giving me a shot of adrenaline to carry me through the weekend!
What motivates you to get back up? What's the biggest hurdle between you and the life you want?  Debt?  School?  Job?…