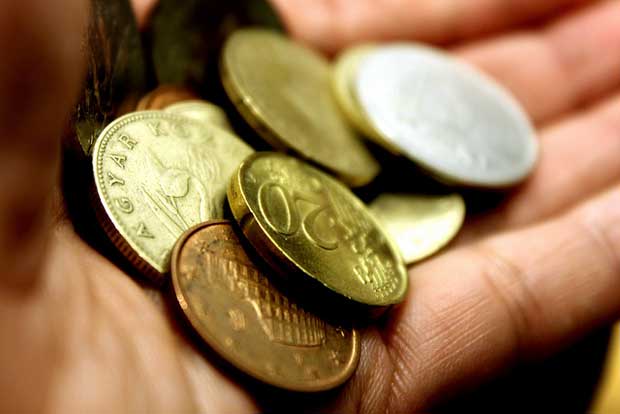 [share_sc]
Note: This is a post from Courtney Baker, chief seller and long-time running wo-man of MvD.
The bells are ringing and red buckets are ready to catch my spare change. But is my money really making a difference?
We all feel a bit eager to open our wallets and hand out money during the holidays. In fact, charities report that 40% to 50% of their yearly donations come during October, November and December. But I can't help but wonder if my money is really making a difference.
What's it being used for? How much of it is actually helping the cause?
I recently gave $25 to a local pregnancy center. They were able to buy three canisters of formula for a mom. I knew exactly where my money went.
But I've always felt skeptical of huge organizations like the American Red Cross. How does my $25 put a dent in anybody's life when you are working on such a massive scale? And how much of that money is getting lost in overspending by the organization's administration?
It doesn't help either when I read headlines like American Red Cross Receives Two Multi-Million-Dollar Fines.
Then I remember that this organization supplies an insane amount of blood to the public – about 40%. And when their blood drives were seeing shortages over the summer, people were scared. Other massive organizations are working on projects that require all hands on deck.
Is it better to give to smaller organizations where I can see my $25 making a difference, or be a pea in the sea for bigger causes?
Both. Either. Your choice.
There's not any one right decision when it comes to the size of an organization. However, there are a few details you should research before handing over your money. Keep these guidelines in mind and you'll be more confident that your donated money has purpose!
1. Donate online or in person.
Don't donate to anyone over the phone. You have the highest risk of getting scammed. If you can't donate on an organization's website, request some information be sent in the mail. Some local organizations may not have a site; if so, visit them in person.
2. Check the percentage of your donation that goes to the cause.
Let's be real. Organizations have operation costs, and they need to advertise. They shouldn't need more than 25% of donations going toward radio ads, however. 75% of incoming money should be used on the cause itself. Charity Navigator is a great resource that allows you to see the financials of each charity. Local charities may not have a profile, but it's legitimately OK to call and ask.
One of our favorites, Charity:Water scored 81.4%, while mega-organization the American Heart Association only scored 53.3%.
3. Transparency is key.
Many organizations are shifting to be 100% transparent, telling you where ALL your money is going. You can find their complete financial profile on the Charity Navigator website. Many programs also track where your specific money went and how it's being used.
When I ran some more organizations through Charity Navigator, Charity:Water scored 100% while Cancer Survivor's Fund scored 47%.
4. Avoid clipboards and money jars.
Unless you have some personal relationship with the organization, I avoid these two common collection strategies. There's no accountability for where the money is going or how it's being spent. Want to support that specific organization? See #1.
5. Ask around.
Word of mouth is especially helpful for gauging the integrity of local organizations. I've flat-out asked friend who've volunteered in Africa which organizations were functional and which ones were jokes.
6. Get receipts for tax deductions.
There's no shame in claiming your donations on your taxes. Keep track of them throughout the year and file a Schedule A with your return.
[share_sc]
In the end, you pick your flavor.
Do you want to support an international organization or a local one?
Large or small? Helping animals or helping hunters? Helping those with cancer or those with depression?
Just make sure you pick an organization that's doing what's right for the people and spending these generous donations efficiently.
Any other tips to share? Comment and let us know!