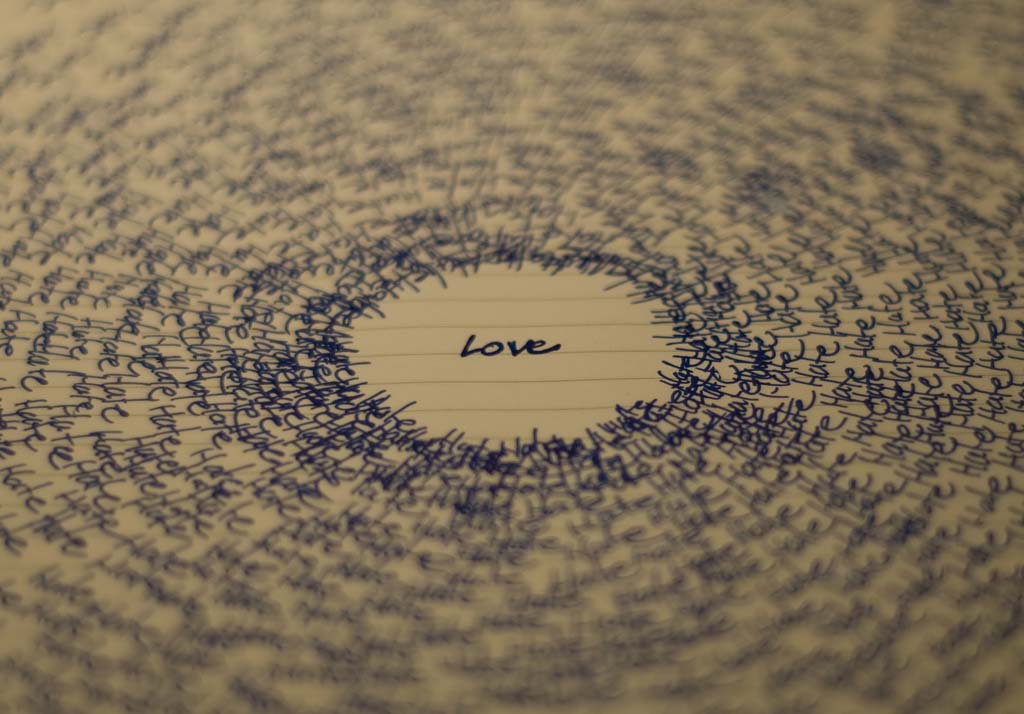 [share_sc]
Recently, I had an engaging discussion centered around the question, "Do you hate your debt?".  Originally, this article was a simple attempt to publicly answer that question, but as I wrote it quickly grew in scope.  In the interest of being authentic, I've decided to post what morphed into my reflections on hate in general.  I'm interested to hear what you think.
Hate is a compelling topic for me.  Those of you that have read Man Vs. Debt for a while know that I'm a fairly passionate guy.  I harbor an extremely obsessive personality, which often causes me to balance extreme fits of passion with the constant temptation to hate.
Let's not get off on the wrong foot, though.  I don't enjoy hating.  I generally attempt to evade it.  At the same time, we'd both be lying if we didn't admit that it's an emotion that has to be dealt with.  Some embrace it.  Others use it to mask insecurity.  A lucky few are able to dismiss it from their lives altogether.  Regardless, it's real.  It exists.
And there are benefits to hate.  Let's be honest.  It wouldn't exist otherwise.  The question each of us have to answer is whether the long-term effects do more harm than good.  Even if so, is there a way to receive the benefits without the negative consequences?
The Case For Hate
It's common knowledge that you need much more force to change direction than to simply maintain the current path.  It's easier to go with the flow than struggle against it.
Hate, in combination with its brother disgust, is one of the most powerful ways to rapidly overcome this effect.  Unfortunately, this is human nature.  Think about most "turn around" stories you've heard.  Whether they may be about paying off debt, losing weight, or overcoming an addiction.
Very few of these stories talk about how they finally realized they would love being free from debt.  Or how much they would enjoy feeling healthy and fit.  Or how bubbly they would be if they could only stop drinking.  Frankly, I'm not sure I've ever heard a genuine example of this.
While these might be the underlying motivation, they rarely are able to initiate the turn around themselves.  Instead, we get fed up with sacrificing freedom to monthly debt payments.  We start to hate the fact that we can't walk up a flight of stairs without being winded.  We become disgusted at how alcohol has dominated our lives.
You see, the problems above feed off a lack of focus.  We aren't able to mentally conjure together enough strength to stop the momentum of our current destructive habits.  Most of us need a shot of adrenaline.  We need to radically intensify our focus.  This, of course, is where hate is so effective.
But hate does more than just help shove us over our mental tipping points.  It shatters indecision by painting everything in either black or white.  Without all the shades of gray to bog us down, it's exponentially easier to take immediate and massive action.  There are times in life when this is exactly what we need.
But, obviously, these benefits come at a price.  Tapping into them is a dangerous game.  It's essential that we know the risks involved.
The Case Against Hate
First, hate is blinding. This is the natural drawback to the benefits of increased focus.  Hate concentrates our focus by narrowing it.  It's like using a flashlight instead of a candle.  This can be powerful in moderation, but all to often this process is so effective that it becomes addictive.
If you went through life with only a flashlight in hand, you'd miss out on a lot of the beauty of the journey.  Sadly, most people who do this don't even realize they are missing out.  They never see the light switch on the wall behind them.
Second, not all action is good action. Jolting ourselves into action is powerful, but dangerous if we aren't able to step back and evaluate our results.  Hate naturally suppresses this sort of self-reflection. It doesn't want to adapt.  It could care less about new information.  The last thing it wants is more gray.
A ready, fire, aim approach will inevitably result in some stray bullets.  The key is to minimize the risk of them hitting innocent bystanders.  Historically, hate hasn't done this well.
Lastly, hate begets more hate. It's cyclical.  It can quickly turn into a nasty downward spiral.  For example, the current war, terrorism, war, terrorism trap we're in.  I'm not going to pretend to have a solution to an issue that's been going on for thousands of years.  But I do think the cyclical nature of hate continues to (and has always) played a major role in this.
While I'm not worried about my "debt" hating me back, I am conscious that embracing hate in one are of my life could very well bleed into others.  Maybe my disgust with debt would trickle over onto people who uses it.  Or maybe instead of trying to help people out of their debt problems, I would start judging them and pushing them away.  These are very real possibilities of dabbling with hate.
How My Relationship With Hate Has Evolved
I can admit, that there was a point, not so long ago, when I hated debt.  I really did.  I would go as far to say I took pride in hating my debt.  That's a pretty intense level.
But I had good reason.  Hating my debt played a crucial element to my financial turnaround. It was the primary source of my motivation when getting started.  Courtney and I took it as far as to literally declare war on our debt, creating a list of principles we'd committed to live by.
Our initial burst of momentum carried us fairly deep.  We both realize that we struggled with balance during that time, but the end result was that we absolutely obliterated our consumer debt.  Frankly, I've never really set and tackled a specific goal that well before.  Our hate gave us the leverage we needed to accomplish our goal.
More recently, though, I've come to terms with the fact that I no longer hate our remaining debt.  I know Courtney doesn't, either.  I'm not sure exactly what changed.  While we still owe a small fortune in student loans, I believe we have different associations with this debt.  The level of emotional burden is certainly different, which is why we were able to prioritize saving for our overseas move before continuing with the student loans.
I didn't notice it at first, but we were slowly beginning to switch from hating our current debt to loving the potential of debt-free living. More and more our focus has shifted towards excitement about the possibilities this freedom would bring.  We've began moving towards pleasure instead of away from pain.
While this sort of reframing is refreshing, I will admit that our newfound love has not reached the same intensity that our hate did.  In our financial life, moving away from pain has yielded much more specific and powerful results.  But in the end, I think that our new outlook will result in a much more balanced and fulfilling life.
Hating our debt has done it's part…  I'm willing to give loving our potential a shot.
I'd love to hear your perspective on this issue. What emotions played a key part in your financial turn-around? Has your experience been similar?  Drastically different?  Join in on the discussion by adding your comments below.
photo by abhi