While it may have appeared to be a slow week here on Man Vs. Debt, behind the scenes I've been a busy little bee.
I've recently unrolled several site changes, I've been storing up for months and months now.  We're now 98% complete and I desperately want your feedback.
O.k. maybe not desperately.  But I would enjoy your thoughts.
I've received an overwhelming amount of customized attention from two people that deserve my thanks.  I've got to be one of the toughest, most annoying clients to work with.  Hey, at least I recognize it.  🙂
First, Corbett Barr (Free Pursuits) spent a ton of time and energy helping me hack WordPress and achieve my very specific (read: annoying) vision.  As with most things, I grossly underestimated the amount of customization I would want.  Even with everything on his plate, Corbett decided to put things on hold and go way above and beyond what we originally planned.  I owe him big time.
And once again, I owe kudos to Dustin Koester at ivylime Designs for completely flipping around his schedule to accommodate my last minute requests for graphics and alterations.  I promise to give more than 24 hours notice next time!  (maybe)…
Take a look around and let me know what you think!
I will let you know that there are a couple tweaks still left, but the far majority is ready for your input.
I don't want to list every single minor change and the reasoning behind it, because I don't want to skew your first impressions.  But I will give you a broad area of where you spot changes:
The header
The tagline
The navigation bar
Each part of the sidebar
The footer
Post Titles
Content on the homepage
The end of individual posts
Comments section
Standard social media icons
Content of About page
Content of Militia page
Minor changes to Stuff, Finances, and Products pages
Oh and I went back and re-labeled every single post with the new Topic labels.
Which updates do you notice? Which do you like most and which do you not prefer?
Man Vs. Debt Full Page Comic!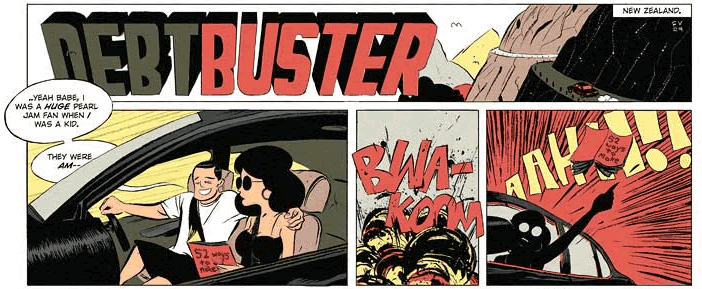 Early in the week, CreditCardFinder, an Australian credit card comparison site, unveiled the launch of what they are calling Personal Finance Comics.
Basically, they are taking personal finance bloggers and turning them into ongoing comic stories.  I was featured in PF Comic #1 as DEBTBUSTER!
This isn't half-assed either.  It's an amazing way to creatively demonstrate their knowledge of the community.  I'm flattered.  I joked with them afterward that this was the only way they'd get me to link a credit card site.  😉
If your a fan of personal finance there is sure to be plenty of laughs in the coming weeks as other bloggers are featured.
Lots of content coming early next week as we prepared to move out and hit the road!  See you then.