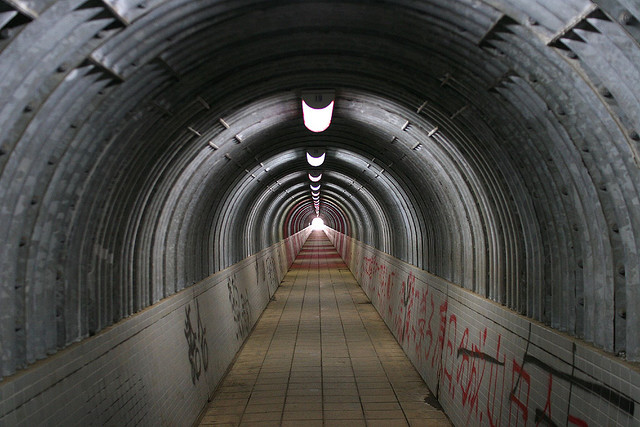 [share_sc]
Note: This is a post from Adam Baker, founder of Man Vs. Debt.
Around a month ago, I gleefully announced that Courtney and I were pregnant.
When we first found out, we were extremely cautious with sharing our good news. We waited until 12 weeks to tell our family (a long time for us) – just to be sure the most risky times had passed.
And we waited even longer – until we confirmed a heart beat at 14 weeks – to share it publicly in this medium and others.
You see, we knew the odds of a miscarriage after the first trimester were extremely low. We knew that after hearing a healthy heart beat they were even tinier.
But the odds are never zero.
No matter how many precautions you take – or how long you wait – there is always risk.
*****
A little over a week ago, Courtney and I lost the baby at 19 weeks gestation.
Afterwards, due to the circumstances and the amount of blood loss, our doctor in the emergency room suggested putting Courtney "under" to perform surgery.
It was a safe surgery – one out of precaution more than anything – but that didn't lessen the seriousness of it for me.
I knew anytime you go "under" for surgery there is a tiny risk – and I wasn't particularly interested in playing with odds any more on this particular day.
Courtney awoke safe and sound 45 minutes later.
That night, we sat on the curb and watched a parade.
*****
The days that followed were interesting (still are).
At first, I felt almost nothing. I was in crisis-mode, I guess.
"This is just another event in life."
"If there is anyone who can handle this, it's Courtney."
"What's the next action I need to take… who do I need to call… what do I need to cancel… what should we do in the next hour…"
In fact, I was surprised at how little it affected me. I felt guilty for not feeling worse.
It was 4 or 5 days later when it finally hit me… I loved this child.
I never met my son while he was alive, but I loved him nonetheless.
I loved the hopes and dreams we were forming. I loved the idea of our family expanding. I loved everything that this new chapter in our life represented.
Staring at a fetus in an emergency room sink, it's tough to identify feelings of any kind. But days later, I finally identified what I was feeling…
I was feeling love.
*****
Afterward, I tried to ask myself what my thoughts were on the process. I kept coming back to this…
We are unbelievably and undeniably blessed.
My first words to Courtney were "Let's be thankful this happened to us – and not someone else. We can handle this. We have lots of options. Other people may not be as fortunate as we are."
I'm not sure where those words came from. I realize they may sound arrogant – or unemotional – or like a coping mechanism. But that's what I truly felt in the moment.
I felt blessed.
Blessed to be married to such a strong woman. Blessed to have so many options. Blessed to have so much support.
More recently, grief has crowded out most other emotions. It's been much harder to have a positive outlook. Though, underneath it all – blessed still reigns supreme.
*****
This also taught me the power of true friendship.
In the past, I always thought that true friends were built over decades. That you'd need to know the intimate details of their childhood, spend lots of time together, and be able to name off every person they've ever dated. I have friends like this – and I'm thankful for them.
On that Saturday morning, I had hundreds of people I knew that had come together in Portland for an amazing conference. Many of them I consider close and fantastic friends.
Sitting in the emergency room, Courtney and I realized we could call any number of dozens of people who'd immediately drop what they were doing and rush to come help us. It was an amazing feeling at that point in time.
When it came time to make the call… I called Grant.
I met Grant only a little over a year ago, we've talked face-to-face less than a half dozen times, and I have almost no knowledge of his childhood or anyone he's dated outside his amazing wife.
Despite all that, I knew he'd be there. I knew we wouldn't have to worry about Milligan. I knew I could talk to him. And I knew that he'd understand.
As it turns out, true friendships don't care about the list of requirements we think they need to exist.
*****
Lastly, going through this process has reaffirmed by commitment to flexibility in life – both mentally and physically.
We can't predict what will happen next. We can't know what unbelievable opportunities will appear – or what heartbreaks wait for us on Saturday mornings.
But we can adapt.
We can build our lives and our attitudes around flexibility.
Flexibility allows us to savor and enjoy the highs – and bounce back stronger from the lows.
Without flexibility… we're trapped.
We're trapped in our lives and we're trapped in our minds. There's no room to breathe… there's no room to adapt… there's no room to recover.
I felt a lot of emotions over the last couple of days… but I've never once felt trapped.
And for that – I'm extremely thankful.
*****
When I first realized that I'd have to blog about this event (having obviously announced the pregnancy), it frustrated me.
But then it hit me… once again… that I'm blessed.
I'm blessed to have a community of thousands of people on similar life journeys. I'm blessed to be able to share, learn, and grow publicly.
I'm blessed to have an outlet to mold and share important thoughts and experiences I have – even if that means the occasional teary-eyed post now and then.
Thanks, gang.
xoxoxo
-Baker