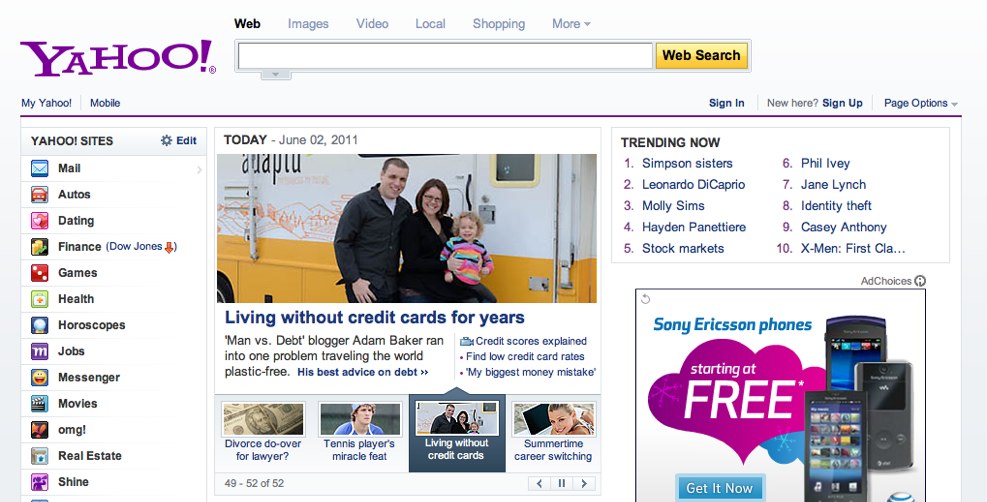 [share_sc]
Note: This is a post from Adam Baker, founder of Man Vs. Debt.
Last week, I awoke to find several emails and texts saying… go to Yahoo.com now!
Turns out, Yahoo.com had syndicated an interview I did with CreditCards.com several weeks before and had published it – along with a picture of Courtney, Milli, and me – on its front page for most of a day.
Sweet!
The article generated just under 1,800 comments – the far majority of them negative, abusive, or spammy. However, if you'd like a good laugh – just go scroll through them for a while. 🙂
On the flip side, it brought a huge influx of people into the community here – with thousands of new people deciding to follow along via email, Twitter, or Facebook.
If you are new to the community… welcome!  We are glad to have you. 🙂
Here's a brief guide to the site:
In order to catch everyone up (and give old-timers a walk down memory lane), I wanted to answer some of the most frequent questions I've received in email this past week.
How did you get started traveling?
I've written a lot about our story on this site, but here's the condensed version:
In 2008, the birth of our daughter (Milligan) really led Courtney and I to examine our life path. Courtney had just graduated from college and was starting her first year as a elementary teacher. I had just started a Real Estate business and was working 80-100 hours per week trying to get it off the ground.
We weren't struggling to put food on the table, but we weren't living within our means either. We had all sorts of loans… loans to family, loans for the wedding, two car loans, $55,000 in student loans, and several credit cards at different levels.
Bringing Milli home from the hospital, we were finally given the clarity to understand that our lifestyle wasn't in line with our true values.
We made the decision to sell everything we own down to two backpacks, pay off our $18,000 in consumer debt (all non-student loan debt), and spend a year living in Australia.
Over the next year we set about that mission – and about 5 months into our personal journey I started keeping track of it online (here at this site). 🙂
How can you afford to travel around all the time?
We've changed the way we afford to travel over the last few years.
Early on, we saved up money – and traveled *very* frugally. After we paid down our $18,000 in consumer debt, we also saved up $17,000 to spend a year in Australia. I chronicled a lot of this in the early days of this blog.
We didn't end up staying a year in Australia (long story, which you can read about in the archives), but instead ended up for 6 months or so in New Zealand.
While in New Zealand, I stayed at home with Milligan – and made a couple hundred dollars a month (whoo-hoo) on this website and as a freelance writer. Courtney went door-to-door (on foot) to local elementary schools in New Zealand until she landed a position with a school who sponsored our visas.
So we not only saved money beforehand, but we also quickly found overseas opportunities to help with living expenses. We weren't (and still aren't) on vacation – we work and travel as a lifestyle.
Lately, Man Vs. Debt has grown in popularity to the point where it has become a full-time business (this took 18-24 months to come to fruition).
Man Vs. Debt and my other online opportunities now fully support our travels. I worked full-time on the road out of the RV when we traveled the US that way; now, I work in our current home base of Portland.
How do you make money on the road? This seems like a scam!
I run an online business. This allows me to work on the road.
Man Vs. Debt is a huge part of this business – helping people through this medium allows me to build an audience based on transparency and trust. I've built this community over two and half years.
More specifically, I sell courses and digital guides to solve specific problems related to the content I blog about.
Sell Your Crap is a series of ebooks (digital downloads) that teach people how to maximize the amount of cash they can get from their useless clutter.
You Vs. Debt is a 6-week course that is currently in beta with a trusted group of around 80 people. The first public version of this online course will be available this summer.
Only72 is a twice-a-year bundled deal site for online entrepreneurs and bloggers who are looking to gain momentum online for their businesses.
I'm Fine, Thanks is the documentary we filmed and released in 2012 about living your passions.
Lastly, I occasionally recommend products and services that I personally use or love. This is called "affiliate marketing" and sometimes I'm paid a small percentage of any sales that result from my community.
One example of this is the Travel Hacking Cartel – A membership program that teaches people how to "travel hack" – or earn free flights, get extremely discounted lodging, and rack up bonus points and travel upgrades. Courtney and I actively use this to save money while traveling.
I've publicly detailed my income and expenses (down to the penny) from this blog every month since I started earning money from the website.
As to whether it's a scam – that's for you to decide. My refund policy is 100% lifetime no-questions-asked and currently sits at .4% of all customers (less than half of a percent). 95% of the content on the site is completely free – and will always remain that way. 🙂
What do you plan to do when your daughter gets old enough to go to school?
We don't know, yet.
Our philosophy is simple – we want to be in a position to teach our children in the method that we believe is best for them individually.
We aren't against public school – Courtney is a teacher – and we both came up through public schools. If we believe that Milligan will thrive in that system, we'll take that route in a year or so.
We aren't against private school, either. We aren't against home schooling, road schooling, unschooling, or any other type of schooling that may be out there.
We are continually learning and exposing ourselves to options – and if we think one will be best for Milligan's personality and learning style – we'll embrace that one.
What we *don't* want to do is to put her in one form of education or learning just because that's what everyone is suppose to do. She won't be in public school because that is our only option – if we choose traditional schooling, it'll be consciously.
What's your plan for the future?
We don't have a specific plan for the future.
Our plan is to be as flexible and free as possible. This includes working towards debt-freedom, living with a reasonable amount of "stuff", building a business and income around something we enjoy, and improving our own flexibility and openness (our attitudes mostly).
We are far from perfect, but we constantly strive towards the path that gives us more and more options. We don't want to go back to when we felt suffocated and trapped. 🙂
Most importantly, we just want to ensure we are conscious.
That means not living in a house with a white picket fence because that is what we are "supposed" to do. But that *also* means not traveling around every week just because that seems like a "cool" thing to do.
As long as we are living a lifestyle that we really want – we are content with that.
Maybe we'll choose a city and never move again soon… Maybe we'll spend another year traveling overseas.
We're trying to build our lifestyle to be flexible enough for us to live the life we consciously want. That changes – and we'll make a lot of mistakes – but it beats the alternative for us.
*****
I'm glad you're now along for the ride!
And wherever you are in your own journey towards flexibility – stay in touch. Introduce yourself in the comments or interact with the community on Facebook or Twitter.
I can't wait to hear more from you! 🙂
[share_sc]
xoxoxo,
-Baker