[share_sc]
Tonight's topic is all about "Cars," or rather most likely transportation in general.  Over the last 10 years, I've had a wide variety of experiences when it comes to transportation.  It all began in 1997, with a…
1976 Chevy Impala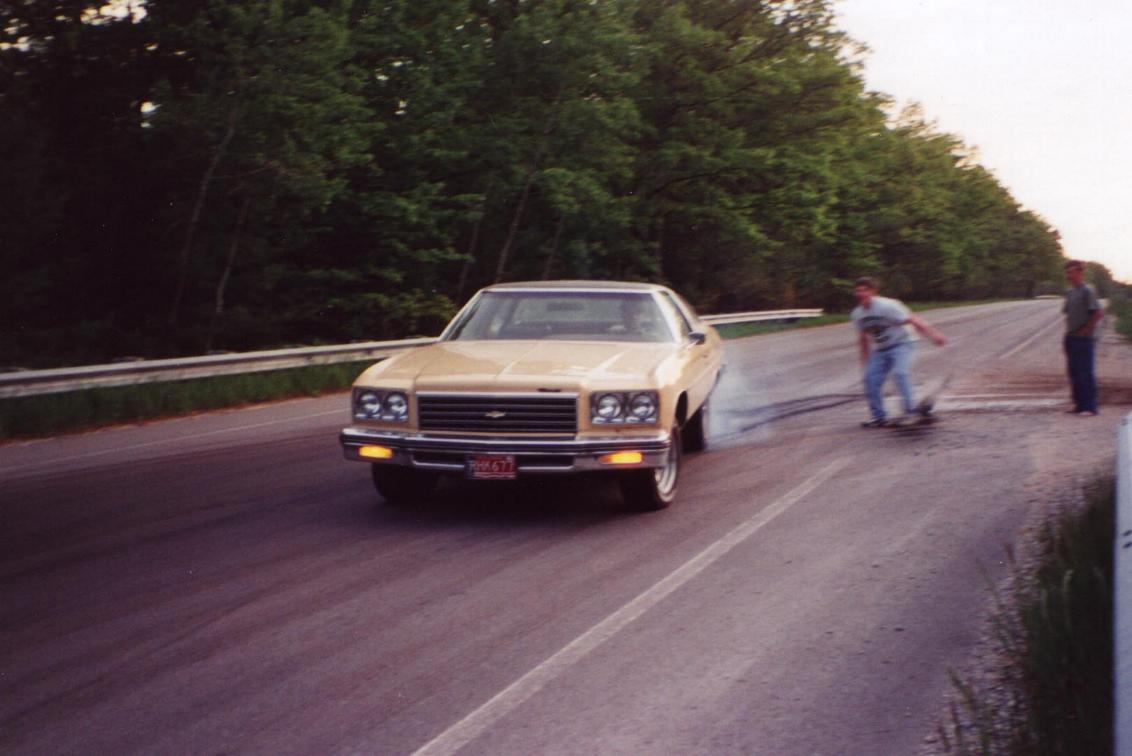 My very first car was an absolute tank.  A 16th birthday gift, I have a feeling my parents knew exactly what they were doing.  It has to be one of the best $1000 they ever spent.
For example, let me share a little story.
I was 16 years old, driving myself and two friends from my hometown to Indianapolis, about a 35 mile drive.  I wasn't speeding, but it was raining very hard.  I suspect I was probably driving too fast for the conditions.  About halfway through our journey, I quickly found out what "hydroplaning" was.  We did two complete 360's before the front ride side of the Impala slammed into a telephone pole at around 40 m.p.h.  The force of the impact split the telephone pole in half, with the top half falling directly on top of the car.

After thanking God that no one was hurt, we got out of the car to assess the damage.  The front right portion of the car was completely smashed, but somehow the headlight had remained intact.  The impact had completely blown out the front right tire, but again hadn't bent the rim.  The only other damage was a huge dent in the roof where the top half of the telephone pole was laying.  After calling the police, it took all 3 of us to roll the telephone poll off the top of the car (we were 16, not exactly smart).  You want to know the most amazing part? After the police came, I changed the front right tire, and we actually drove the rest of the way to Indianapolis for our gaming tournament.
Like I said… This thing was a tank!
It's important to note that although I helped pay for some related expenses, did chores, and kept decent grades, I didn't actually pay for the car.  Because of this, I lost a certain amount of appreciation that comes when you have full financial responsibility.
I drove that car for nearly two years before upgrading to a…
2000 Jeep Wrangler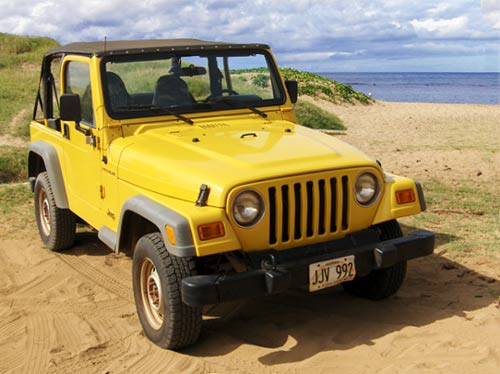 After a couple years behind the Impala, my parents caved in and bought this beauty.  Once again, I learned very little about the responsibility of car ownership since the car was not actually mine.

There were some fun times in this vehicle, as well.  Among them were getting caught out in the rain several times with the top down, getting stuck in a cornfield trying to go Off-Roading, and driving to Florida for my senior spring break trip.
The fun was relatively short lived when my parents filed for divorce.  Among the many casualties?  You guess it, my spoiled little Jeep Wrangler.
1996 Chrysler Minivan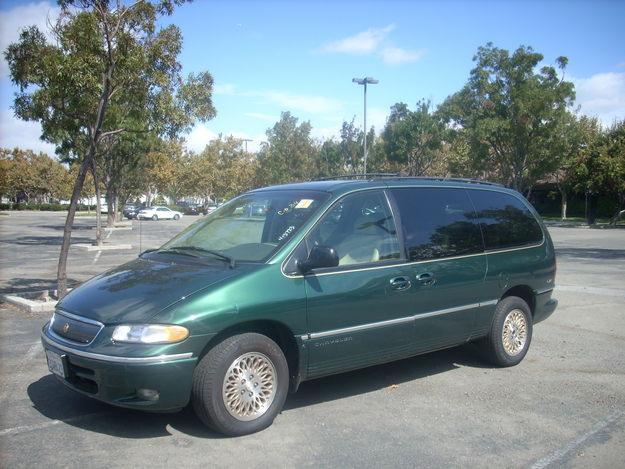 After my first year at college (no car), I decided I needed to find some cheap wheels.  At the time, I was constantly riding around the country attending various video gaming events.  I pictured owning a full-size van to haul my group of buddies around the country every weekend.
My father had a different perspective, however, as he quickly pointed out the initial price and the ongoing costs of driving a full-sized van.  When he first suggested a minivan, I would have nothing to do with it.  I mean, come on, I was a 19 years old college student.  A minivan?  …Right.
My tune quickly changed, though, when he offered to pay half of the cost if I found a cheap minivan as an alternative.  Looking back, I can only assume he thought it was worth it to prevent me from getting in way over my head with a car loan.  Within the next few months, I scrapped together $800 and he matched.  I was the proud owner of a $1600 green minivan.  Well, half owner I guess… whatever.
This little bugger took a load full of guys halfway across the country and back at least a handful of times in the next year and a half.  Once again, I was often ridiculed, but I appreciated this car far more than the previous two.
1998 Nissan 240SX…  My Current Baby…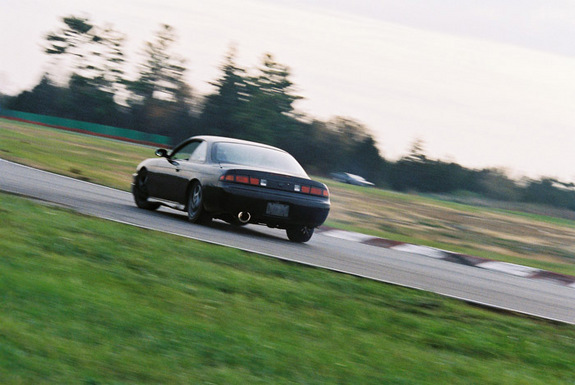 After my second year at college, I returned home.  I was on the super-special "two and out" program *cough*. Life starts moving a little faster and hits a little harder once you stop going to school.  I snatched up two full-time jobs and the minivan wasn't nearly as dependable with all the miles I had put on it.  Plus, I didn't want to drive it anymore.
Luckily, I had a relative who was selling a well-taken-care-of 1998 Nissan 240sx.  I was able to get it for about 75% of the private party value, which at the time was about $4200.  With a pulse and only a month at my two jobs, I was able to walk into Key Bank and leave with a nice, juicy loan.
For the next 3 years, I maintained the American Dream of $179 car payments. This was my first time having full responsibility for a car.  Interest payments, insurance, repairs, gas/oil, tires…  I quickly received the super-dose of responsibility I had been delaying for years. On top of all that, I knew that I was paying interest on something that was continually decreasing in value.  Luckily, around a year and a half ago, the remaining balance became one of the first victims in our new War on Debt.
Three years of paying a car payment (even if relatively small) was plenty for me.  After the last year and half, I can't imagine ever having a car payment again.  In fact, I would do just about anything not to have one. It has rust on the bottom, the passenger side window doesn't roll down, and the stereo volume can randomly go from a whisper to full volume when you hit a pothole or speed bump.  I'll gladly accept those drawbacks in exchange for not paying a car payment.
In the next few weeks, I'll be selling my baby in preparation for our overseas move.  It will be an extremely hard thing for me to do.  At 240,000 miles, let's just say that I'm now a huge fan of Nissan. I've been incredibly fortunate in having very few repairs/issues over the last 5 years.  She's been rode hard, so I'll be happy to get $1000 for her before we leave.
Our Future…  Is a car even necessary?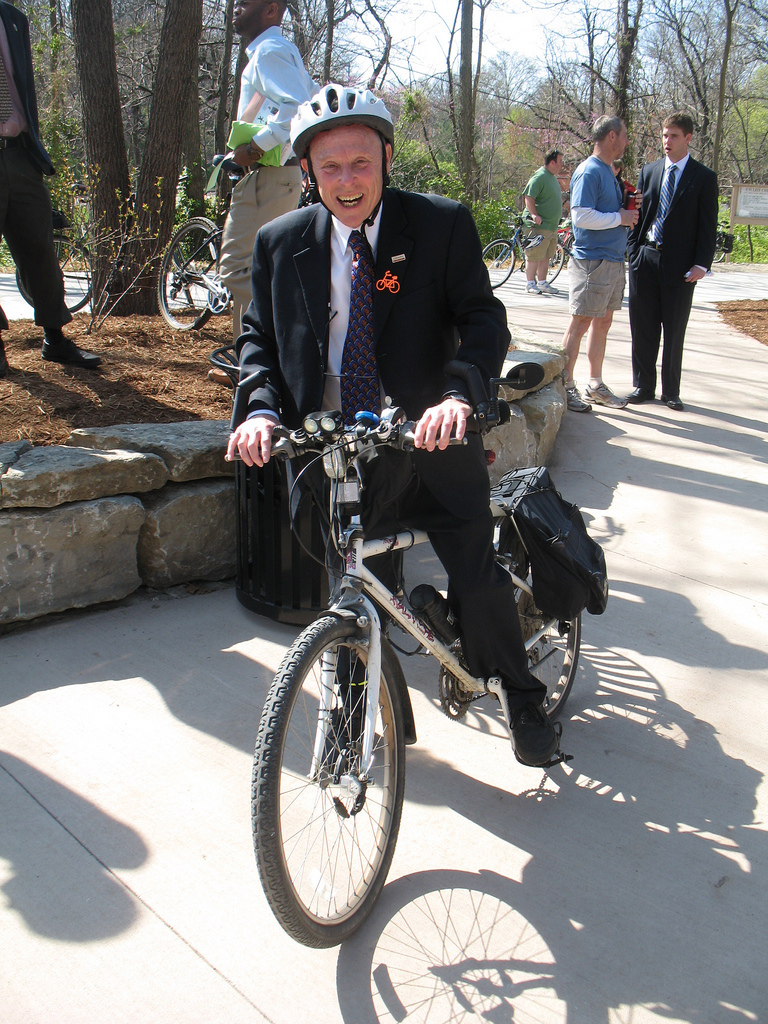 Upon moving to Australia, my wife and I are going to put this to the test.  We plan on familiarizing ourselves with the public transportation system in Cairns, AUS and on purchasing a couple decent bicycles, upon arriving.  From the research we've done, Cairns is a fairly flat, bike-friendly city.  In addition, we've been told they upgraded the public transportation system in the past couple of years to serve the growing tourism industry.
Time will only tell, but we are excited to give it a shot.  I'll be sure to document our progress and frustrations throughout the process.  In the meantime, I'm interested in your personal experiences…
Has your automotive history been similar to mine?  What lessons have you learned over the years?  Do you currently drive a paid off car?  Even better, do you currently or have you ever lived without a car?  Let everyone know below!
Final picture by MoBikeFed