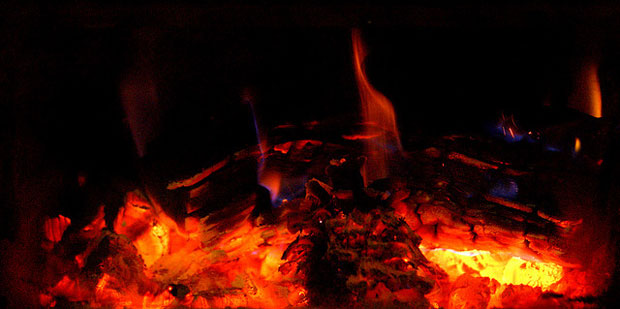 [share_sc]
Note: This is a post from Joan Concilio, Man Vs. Debt community manager. Read more about Joan.
Our home is fairly big and fairly old. It's drafty in the winter, stuffy in the summer, thin on insulation, and full of wiring that makes my electrician wince every time he has to work on it.
You can guess that low electric bills really aren't common for us. We do what we can to reduce costs…
We use compact fluorescent lightbulbs instead of incandescents.
We keep the thermostat set so that we're not running heat or air-conditioning much (68 degrees in the winter, 75 in the summer).
We have (not at our choice, sadly!) replaced most of the major appliances, including the water heater and the heat pump itself.
We don't leave lights on when we leave rooms.
We don't leave many things plugged in.
We use our fireplace for as much of our heat as possible.
… but even so, with EVERYTHING electric, and three out of our four family members home all day most days, we're routinely paying $300 or more in the coldest months of the year.
Knowing this, a little more than two years ago, as I was trying to get a handle on our finances and make sure bills weren't late, I decided to use our electric company's "budget" plan. In this setup, you pay the same amount every month, no matter your usage, with adjustments made periodically to "balance out" what you've paid in vs. what you owe.
First, the good part
Under this system, we paid $230 every month one year, and $185 every month the next year (after adjustments). We always knew exactly what we'd owe, which made budgeting easy. Our bills varied from $20 (in months where we didn't run either the heat or the air-conditioning) to, at the highest, something like $575.
We were essentially allowing the electric company to manage our money for us. We paid them a fixed amount, and they sorted it out over the course of each 12-month period.
That's not a terrible thing to do – and it served a purpose at the time. We weren't, early in our debt-payoff journey, able to account for irregular expenses. We did great with bills – $50 due to this or $100 due to that, every month. But if we paid $50 one month, and suddenly owed $250 the next month, we were thrown for a loop, something would be late, we'd pay fees… and things would go downhill.
But things changed as we got a handle on our money.
The not-so-great part
Throughout the current year, I noticed that we were building up a rather startling account credit. I opened up the electric bill in November and saw that AFTER the current month's costs were deducted, we were still something like $794 to the good.
I called that day and switched back to pay-as-you-use-it billing.
There's nothing wrong with paying the same amount every month, if it helps you make sure that you've got the money to pay the bills. But for us, circumstances had changed. Now…
We routinely have a cushion of $1,000 in our checking account (a big goal of ours that we met this year).
We keep a $1,700 emergency fund.
We have a good budget in place, knowing what comes in and what goes out when.
And knowing that, having the electric company hold $800 of my money interest-free, so that I'd have it "in case," seemed like a bad idea.
What happens next
If you're going to do this sort of thing, I highly recommend looking at it in the late fall. Because of our timing, we paid NO heating costs in November or December, and a lower bill in January.
That's not "found money" – it's just a case of me getting back what I'd loaned – but I won't say it wasn't nice around the holidays NOT to have that $185 bill due.
Now, as I approach our February bill, I'll have a big payment to make… in fact, one of our biggest ever, thanks to some unexpected electrical needs. (Can you say dehumidifiers running constantly?) But we have the money to cover it.
In the summer, we'll have low bills. We don't run air-conditioning much, so those are generally under $50. During those months, we'll build up our checking-account and savings cushions to prepare for the higher winter costs, but we won't build such a cushion that we're sitting on hundreds of dollars for months at a time. We'll save smart.
We're choosing to manage our own money, instead of loaning it to someone else to manage. 
In addition, we've become immediately more conscious of what our usage is each month – instead of glancing at the bill and paying the fixed amount, we actually need to look and see what our costs are and where they came from. That's already helped us identify a few significant savings.
This doesn't just apply to your energy bills. My goal after we're free of credit-card debt is to tackle our mortgage escrow for the same reason. If you're getting significant tax refunds every year, that's another area where the "free loans," this time to the government, come into play and can be addressed. The point is to think about when it makes sense to have someone else manage your money, and when it doesn't.
[share_sc]
Where is someone else managing your money for you right now? It's time to ask yourself if it's still in your best interests – and to make a change if it's not!
We'd love to hear your thoughts in the comments!