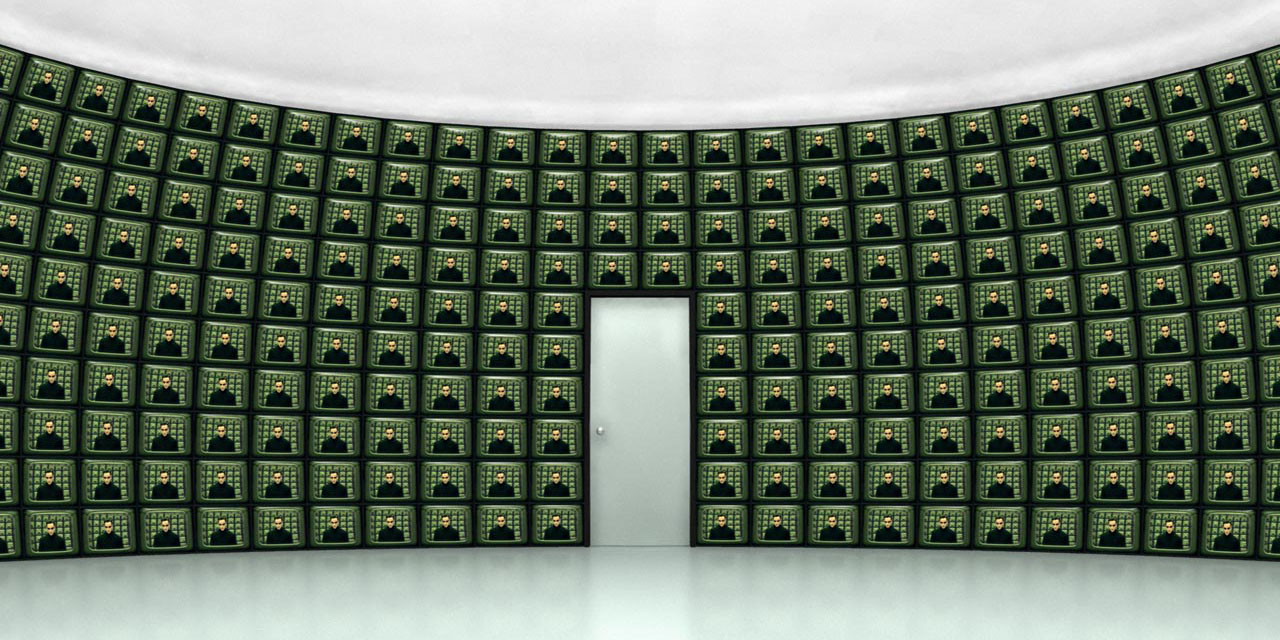 [share_sc]
Note: This is a post from Adam Baker, founder of Man Vs. Debt.
Today's post is a fun, reflective look at an important scene from the second movie of the Matrix Trilogy.  I'm confident the majority of this community will be at least familiar with the content.  Even without watching the movies, you'll be able to get the gist of the reflection below.  🙂
For fans of the series, this post is my reflections on how the conversation between Neo and The Architect effects my life right now.  I fully realize there have been full books written on these topics – I'm geeky… but not that geeky!
I'd love to hear your thoughts on the conversation. Leave them in the comments below.  🙂
*****
The Architect: Hello, Neo.

Neo: Who are you?

The Architect: I am the Architect. I created the matrix. I've been waiting for you. You have many questions, and although the process has altered your consciousness, you remain irrevocably human. Ergo, some of my answers you will understand, and some of them you will not. Concordantly, while your first question may be the most pertinent, you may or may not realize it is also irrelevant.

Neo: Why am I here?
We are asking the wrong question…
Why am I here?
Wrong question, Neo. Wrong question, Baker.
So many times we find ourselves circling back around to this type of broad question. Why me? Why now? Why am I here? What's the meaning of life?
These questions are not only irrelevant – as the Architect points out – but impossible to answer as individuals.
We need to imply action in this question. We need think…
What is my mission?  What is my message?
For me, this subtle change in thinking has immediately projected me forward. It's more motivating and action-based… less philosophical, more tangible.
When I think: Why am I here? I get this type of stuff…
To be a good husband.  A good father.  To help people with finances and clutter.
Boring, dull, lifeless…
When I think: What is my mission?  What is my message? I get…
To build a marriage that can outlast anything.  To overwhelm Milligan with love and support in everything she does.  To empower people to remove barriers, so that they can live more passionate and purposeful lives.
A simple change in the internal questions we ask ourselves can perform freakin' miracles.  Don't believe me?  Try it.
Action Step: For the next 60 seconds, think about your mission. What's the ultimate mission behind your efforts to clean up finances, live with less, or align your work and passions?  At the end of 60 seconds, you have to pick one.  You can change it later. Write it down, now – whatever first comes to your mind.
*****
The Architect: Your life is the sum of a remainder of an unbalanced equation inherent to the programming of the matrix. You are the eventuality of an anomaly, which despite my sincerest efforts I have been unable to eliminate from what is otherwise a harmony of mathematical precision. While it remains a burden to sedulously avoid it, it is not unexpected, and thus not beyond a measure of control. Which has led you, inexorably, here.

Neo: You haven't answered my question.

The Architect: Quite right. Interesting. That was quicker than the others.

[The monitors display Neo exclaiming multiple responses at the same time: "Others? What others? How many? Answer me!"]

The Architect: The matrix is older than you know. I prefer counting from the emergence of one integral anomaly to the emergence of the next, in which case this is the sixth version.

[The monitors display Neo exclaiming multiple responses at the same time: "Five versions? Three? I've been lied too. This is bullshit."]

Neo: There are only two possible explanations: either no one told me, or no one knows.

The Architect: Precisely. As you are undoubtedly gathering, the anomaly's systemic, creating fluctuations in even the most simplistic equations.

[The monitors display Neo exclaiming multiple responses at the same time:  "You can't control me! F*** you! I'm going to kill you! You can't make me do anything!*

Neo: Choice. The problem is choice.
Free Will vs. Fate…
The Architect starts out with a basic defense of fate.  Even though he admits Neo is an anomaly, he call him "expected" and "not without a measure of control".  Basically, been there… done that… this is how things go.
Neo isn't about to swallow it just quite yet.  He bluntly points out that The Architect hasn't answered his question.
But Neo's big problem is that he is viewing free will – the alternative to fate – as answering the "why am I here?" question.
Free will isn't inherent in the answer to a question like that.  Free will is inherent in our daily choices – big or small, unique or routine. It's the culmination of all those tiny choices we make in our life.
The choice not to make an impulse purchase.  The choice to sell your excess crap.  The choice to negotiate a raise, switch jobs, or strike out on your own.
These daily choices, folks… are free will in practice.
It's a short, but powerful realization. Our daily choices decide the direction of our lives.
Action Step: Write down all of the choices you make in a single day.  Try to make as many of your routinely subconscious choices… conscious. You won't get them all – that's impossible. But really try to reflect on even the small choices you make today.
*****
The Architect: The first matrix I designed was quite naturally perfect, it was a work of art, flawless, sublime. A triumph equaled only by its monumental failure. The inevitability of its doom is as apparent to me now as a consequence of the imperfection inherent in every human being, thus I redesigned it based on your history to more accurately reflect the varying grotesqueries of your nature. However, I was again frustrated by failure. I have since come to understand that the answer eluded me because it required a lesser mind, or perhaps a mind less bound by the parameters of perfection. Thus, the answer was stumbled upon by another, an intuitive program, initially created to investigate certain aspects of the human psyche. If I am the father of the matrix, she would undoubtedly be its mother.

Neo: The Oracle.

The Architect: Please. As I was saying, she stumbled upon a solution whereby nearly 99.9% of all test subjects accepted the program, as long as they were given a choice, even if they were only aware of the choice at a near unconscious level …
There is no correct path.  There is no right answer.
In the section of the conversation above, The Architect explains how his "perfect, flawless, and sublime" world (his first attempt) failed miserably.  His second attempt?  Again, it failed.
It wasn't until the character, The Oracle, allowed humans to have a choice that 99.9% of humans accepted the desired outcome.
My takeaway here? There is no one correct way to do things.
There is no correct way to pay off debt.  There is no correct way to earn a living.
There isn't a magic number of possessions that grant you special powers if you can live with less than that amount.
You don't need to sell everything you own and travel the world.  You don't need to travel at all.
You don't need to quit your job.  You don't need to start a blog.  You don't need a laptop.
Your life is exactly that – your life. Don't live it a certain way because you think it's "perfect, flawless, or sublime". I can only speak for us and our life is far from any of those terms.
But our life *is* one thing:  intentional.
We try with every ounce of our daily actions to live intentionally.  We embrace choice and we reject external factors that attempt to limit it – as much as we can.  It's not a perfect solution, but it's way better than the alternative we came from.
Action Step: Write down what you want in life. No, not what you think looks good on paper. No, not the thing you've trained your brain to say first. What is your secret want? What do you really want? One thing I really want is to travel around and speak publicly – for thousands. What's one of yours?
*****
The Architect:  … While this answer functioned, it was obviously fundamentally flawed, thus creating the otherwise contradictory systemic anomaly, that if left unchecked might threaten the system itself. Ergo, those that refused the program, while a minority, if unchecked, would constitute an escalating probability of disaster.

Neo: This is about Zion.

The Architect: You are here because Zion is about to be destroyed. Its every living inhabitant terminated, its entire existence eradicated.

Neo: Bullshit.

[The monitors display multiple versions of Neo exclaiming only one joint response this time: "Bullshit!"]

The Architect: Denial is the most predictable of all human responses. But, rest assured, this will be the sixth time we have destroyed it, and we have become exceedingly efficient at it.
What's your Matrix?…
We all have to resist different forms of the Matrix in our own lives. We all have forces at work trying to keep us living unconsciously.
For some, this is debt, low income, bad spending habits, a life-sucking job, life-sucking clutter, fear, low motivation, cloudy priorities, lack of a mission, bad health, or simple laziness.  Most of us have different forms of several of these.
For Courtney and me, The Matrix is a combination of consumerism and social pressure to conform. These are the two invisible forces in our lives that hold us back and work against our goal to live intentionally.
And our "Zion" is the freedom that comes with rejecting both of those as much as humanly possible. That is our hope – our source of inspiration. It gives us the energy to stay on the offensive.
Action Step: Write down whatever is the "Matrix" in your life. What are the most tangible forces holding you back? What is your largest burden… what is subconsciously clogging up your life? Don't go crazy, this isn't a therapy session.  Write down 2-3 of the big ones.
*****
The Architect: The function of the One is now to return to the source, allowing a temporary dissemination of the code you carry, reinserting the prime program. After which you will be required to select from the matrix 23 individuals, 16 female, 7 male, to rebuild Zion. Failure to comply with this process will result in a cataclysmic system crash killing everyone connected to the matrix, which coupled with the extermination of Zion will ultimately result in the extinction of the entire human race.

Neo: You won't let it happen, you can't. You need human beings to survive.

The Architect: There are levels of survival we are prepared to accept. However, the relevant issue is whether or not you are ready to accept the responsibility for the death of every human being in this world. [Shows humans on the monitors]

The Architect: It is interesting reading your reactions. Your five predecessors were by design based on a similar predication, a contingent affirmation that was meant to create a profound attachment to the rest of your species, facilitating the function of the one. While the others experienced this in a very general way, your experience is far more specific. Vis-a-vis, love.

Neo: Trinity.

The Architect: Apropos, she entered the matrix to save your life at the cost of her own.

Neo: No!

The Architect: Which brings us at last to the moment of truth, wherein the fundamental flaw is ultimately expressed, and the anomaly revealed as both beginning, and end. There are two doors. The door to your right leads to the source, and the salvation of Zion. The door to the left leads back to the matrix, to her, and to the end of your species. As you adequately put, the problem is choice. But we already know what you're going to do, don't we? Already I can see the chain reaction, the chemical precursors that signal the onset of emotion, designed specifically to overwhelm logic, and reason. An emotion that is already blinding you from the simple, and obvious truth: she is going to die, and there is nothing that you can do to stop it.

[Neo starts to walk towards the left door]

The Architect: Humph. Hope, it is the quintessential human delusion, simultaneously the source of your greatest strength, and your greatest weakness.

Neo: If I were you, I would hope that we don't meet again.

The Architect: We won't.
Reasonable people don't change the world…
I forget where I first heard the above quote or concept, but I think it was Chris Guillebeau when he was referring to work/life balance. Wherever it was, it really, really stuck with me.  It embedded itself deep within me.
We all seem to have a burning desire to make logical choices. We want to be viewed as reasonable – or rather, we are afraid of being viewed as unreasonable by others.
But when I die, I don't want people to say… "Hey, at least he was logical and reasonable."
Right? Who wants that?
We know we don't want to be emotional in every aspect of our finances.  Emotional impulse buying and decision-making can dig us into deep holes.
However, many people give the advice that removing emotions all together is the solution to personal finance woes.  I think that's terrible advice.  It may just be worse than the former example.
Finances, debt, income, spending, selling… these are all emotional processes.
Life is an emotional process.
The answer to your problems doesn't lie in your ability to exclude emotions and make logical, reasonable decisions.  The answer to your problems lie in your ability to leverage your emotions into habits that add joy, value, or purpose into your life.
Eradicating all emotion from our decision making process isn't a long-term solution.  Instead it's more powerful to understand our emotions and find ways we can leverage them to add to our lives rather than subtract.
Burying hope in a sea of logic is a surefire path to mediocrity. It's the best way I know to ensure you sleepwalk through life.
[share_sc]
Summary of Action Steps:
For 60 seconds, brainstorm your mission in life. Pick one.
For a single day, carry a notebook and write down every single choice you make.
Write down your secret burning desire.  The one you really want.  Be honest.
Write down your "Matrix" – the 2-3 biggest burdens in your life.  What holds you back?
Lastly, choose hope over logic. Align your "mission" with your secret burning desire. Ensure your daily choices help you unplug from your Matrix and move toward your new secret burning mission.
Wake up, Neo.