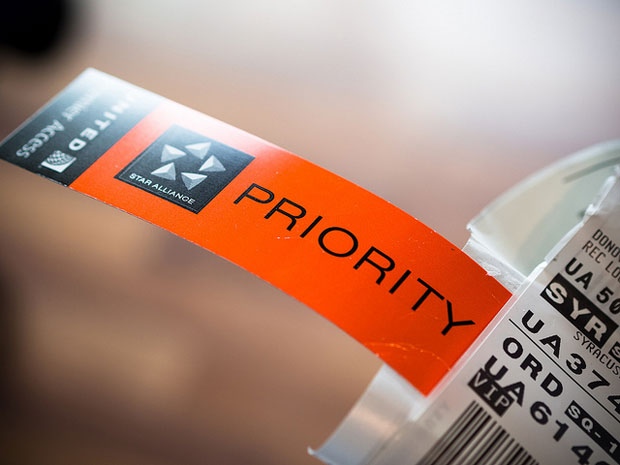 [share_sc]
Note: This is a post from Joan Concilio, Man Vs. Debt community manager. Read more about Joan.
Since I shared my report from the three-year mark of my battle against debt, I've been amazed at the kind words from so many members of the Man Vs. Debt community. From comments to Twitter messages to emails, it's really reaffirmed my commitment to pushing forward and – even if it's more eventually than I'd like – ending up debt-free and staying that way for life.
That said, opening up about my slower-than-expected progress has also forced me to re-evaluate where I am, and whether what I'm doing is really in keeping with my truest desires financially and personally.
As I was preparing to write today's Man Vs. Debt post, I kept finding myself drawn to a post of Baker's from several years ago, Discovering Your Financial Priorities. I hope you'll make time to read that, because it's really the basis for what I'd like to do – and challenge you to do – today.
I need to refocus on what matters most to me. I'm making progress, but sometimes it's not in the areas that really hit home with me. I'm hustling for extra money, but that cash is just going toward the bills and odds and ends of needs here and there, not really packing the punch I'd like.
I'm doing the right things, but not quite with the right mindset. And from the comments I've received since admitting how much I'm struggling, I know that I'm not alone in feeling a little adrift.
So let's take the first step toward changing that. Let's set some financial priorities, Man Vs. Debt-style. I'll list mine, and I hope you'll be thinking about your own so you can jump in and share in the comments!
1. Keep the bills caught up.
This has not been a problem in years for me, and I'm more happy about that than I can say. HOWEVER. I've been there, the juggling-late-bills dance, and I need to be sure not to forget how awful that felt. I need to make sure that this stays an articulated priority, so that I don't get back to the really behind point. For us, this means not only having enough money to cover our regular expenses, but also having a decent buffer in the checking account for when "paydays" – sometimes irregular in freelancing – don't line up with due dates.
2. Provide for needs and moderate wants for my family.
For us, most of this comes by way of food. I will tell you flat-out that we spend more on groceries than we "need" to. My husband, Chris, is a vegetarian; I have several food allergies; and we have other dietary considerations for other family members. Some of these are needs, while others are just preferences, but they're preferences that are my personal priority to meet. This also stretches to include things like our Netflix subscription, occasional restaurant meals and movies, trips to the arcade, and so on. They're wants – not large-scale ones like a 90-inch TV, but moderate ones that we value enough to include in our budget. Our house is another related area. It's not the tiniest, but it works for our not-the-tiniest collection of humans and pets, and it's a priority in our budget to keep it.
3. Have all the healthcare.
I don't have much to say about this, except that I took a full-time job that pays LESS than I was making freelancing full-time so that I could have health insurance. It's a priority for me. This also extends out from the needs/moderate wants category; for instance, I choose to spend a relatively small but not insignificant amount of money on fitness, because it's important to my overall health and well-being.
4. Maintain an emergency fund.
In the past six months, this fund has meant the difference between "yes, we can afford to live in our house" and "no, we really can't." It's vital. And we've managed to replenish it every time we've knocked it down in the past few years, which is amazing. But it needs to remain a priority that I remind myself of, because it sometimes feels like it'd be so easy to use that cash for something else.
5. Pay down debt and avoid new debt.
Interestingly, when I think about my real feelings about debt, I realize that fifth place is just the right spot on my priority list. It is a priority – but it isn't THE TOP priority. I sincerely want to become debt-free, and I intend to stay that way for life. At the same time, there are tradeoffs I know I would make. I would go into debt to get medical care for myself or my family (and, actually, that's the cause of about 90% of the debt I brought into our marriage anyway!) I  would just pay the minimums on my credit cards for a while to keep the bills current. I would take on a car payment temporarily to ensure that I have a working vehicle. At the same time, any money I have once the goals above are met WILL go toward debt repayment, and the end result, no matter how long it takes, is going to be the flexibility that comes from being truly debt-free.
What these priorities have made me realize
Here's the thing. When I stopped and wrote down what REALLY matters most to me, I'm actually making more progress than I realized!
It turns out that while debt repayment is still a priority for me, it's not my top priority – and so, while I'll continue to push at it, I'm going to take a step back and celebrate the fact that, despite a drop in income in our family of more than 50% for the past five months or so, I AM meeting my financial goals!
Because I was hung up on just one goal – the debt-payoff progress, and my frustration that it hasn't been going faster – I had been feeling defeated. Because I was only "holding steady," I wasn't finding anything to celebrate.
Now, I realize how thrilled I am to look back at the past few months and realize, "HEY. I kept food on the table! I kept a roof over our heads. And I did it without increasing my consumer debt!"
I AM making progress.
I AM meeting my financial goals.
I AM living in keeping with what my true priorities are (once I bothered to make them clear to myself!)
[share_sc]
What about you? What are your priorities – and once you've listed them, are you actually using them as the scale you measure yourself against, or are you trying to compete in a different race?
I'd really love to hear your thoughts in the comments.