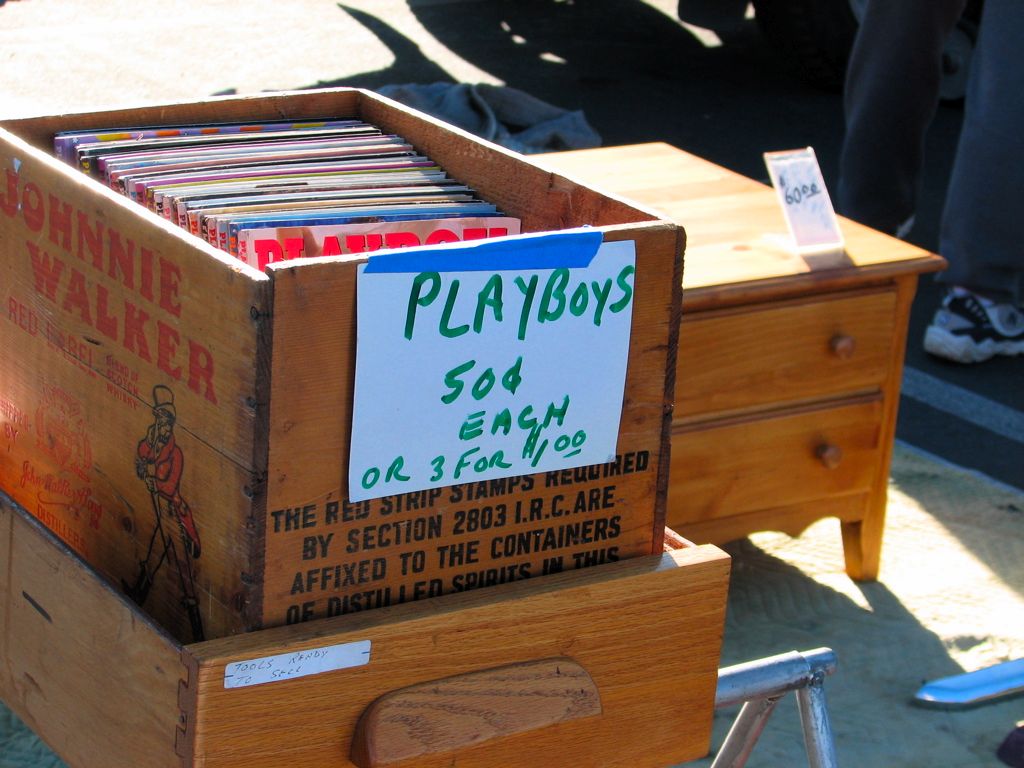 [share_sc]
Note:  Buying and selling used stuff is one area where my wife takes the most initiative in our household.  Because of this, I will be asking for her input at several points in the post.  Please be nice in the comments…  I don't want to scare her away for good!
Lately, Courtney and I have been selling all of our possessions in preparation for our move to Australia in early June.  It's impressive how you can sell things such as used electronics or anything really. We've been actively selling off things for at least 6 months now.  However, as the deadline approaches, we seem to find more and more random crap that has to go.  Surprisingly, most of the things we own are still in pretty decent condition (we've only been married two years).
Without a doubt, our most valuable resource has been a little e-mail list called "Everybody for Sale."
Sorry, you probably aren't eligible to join.
"Everybody For Sale" is an optional e-mail list that every employee of our local school corporation can join.  My wife teaches at one of the ten schools in the corporation.  That's ten schools full of teachers, aides, nurses, principals, administrative staff, and even PTO parents. It's certainly not mandatory, but it might as well be.  Nearly every employee opts to be in the network.  Anyone can post items for sale that are displayed to other members of the list through e-mail.  In addition, people can create "searching for" posts, if they are actively looking for a specific item.
I don't know how much you know about Midwestern school teachers (mostly women…  sorry, it's true).  Take it from me that they love to buy random household crap.  This thing is like a mini-Ebay on steroids. I'm not joking when I say that we've put up a full list of random items from baby clothes to an Asian lamp, and they've sold within MINUTES of being listed.  Most with multiple e-mails offering to buy them at the listed price.
To provide yet another example, we recently had our microwave go out.  We were trying to decide what to do since we are moving in 7 weeks, but unfortunately living without a microwave is pretty hard for me.  I turned to Courtney and said, "I just wish we could find a cheap $20 microwave to get us by until we leave." Within minutes she was on her e-mail account.  There were no microwaves listed, so she literally sent out the following message:
"Hi, we are looking to buy a microwave for $20."
The next day after school, Courtney picked up our new microwave from another teacher who was ecstatic to get $20 for his old (but still working) microwave.  Want to know the funny part?  I'd be willing to bet it'll sell for $30 on the same list in 7 weeks.  Is that morally wrong?  *Shrug*
Courtney's Take:When I first signed up for Everyone For Sale, I initially caught myself scanning through every single email that entered my inbox.  I remember REALLY wanting to buy this new bed frame, headboard, and dresser.  Someone was getting divorced and didn't know where else to go to sell their furniture.  Like Adam and I, there are a gazillion people out there that want to get rid of things, but don't know how or where to begin.  Everyone For Sale was our solution. In our Financial Peace University class, Dave Ramsey said that going to an auction or a secondhand store isn't quite like buying from an individual.  Stores and auctions need to make a commission.  An individual is putting it out there to see if anyone else might find it remotely valuable.   I have two specific stories that prove this.  First, I tried to sell bundles of baby clothes to three different consignment stores around our area.  This not only took a lot of work, but I had hardly any bites.  Some of the items still had tags.  So I placed the items on Everyone For Sale.  Within minutes I'd sold the baby clothes for $40.  The funny thing is that I committed too quickly, because later  someone tried to outbid the winner by paying $50.  My second story is that I had a foot bath, and I joked that no one would want it.  I mean, it seems a little unsanitary to use someone else's foot bath.  I put her up, and I sold my $35 foot bath for $20!  Someone out there DOES want your stuff!
Benefits of buying from people inside of your network
Friends, family, and co-workers will often discount the price if they are selling to someone they know.
Not paying for shipping.
Not waiting on shipping, a.k.a. picking it up yourself.
Courtney's Take:
Buying local uses less resources overall.
People who work in the school corporation are trustworthy, aren't they?
Benefits of selling to people inside of your network
Knowing someone will personally benefit from the item.
No Listings Fees.
Less micro-managing of auctions/listed items.
No shipping hassles.
Courtney's Take:
Quick response- you'll know by the end of the day if people are interested.
Users even list cars and houses- the market is very specific to the area

Places to Sell Used Electronics:
Here are a few places you may be able to sell broken stuff or used electronics:
Decluttr
Backflip
SellCell
Things we still sell on Craigslist, E-bay, and Amazon
Even with this incredible resource at our fingertips we still occasionally use online sites, as well.
We use Craigslist for:
Specific, often times larger items, where we need a bigger market to find an appropriate buyer.  For example, certain types of furniture may not be in demand on the "Everybody for Sale" network.  Craigslist enables us to still sell these bigger items locally by tapping into a much larger audience.  Also, certain types of sporting and fitness equipment might be able to sell better.
We use Ebay for:
Collectibles or specific brand-name trinkets.  For example, I sold some of my older Magic: The Gathering cards on Ebay.  In addition, my grandmother passed away and left behind some baskets and beanie babies that also had a much more specific market on Ebay.
We use Amazon for:
Selling used books.  Well, at least the ones that sell used for over $5.00.  Anything under that isn't worth the trouble once Amazon takes their commission.
It's your turn!  Are there any other networks out there similar to "Everybody for sale?"  If not, have you ever considered starting one?  What type of items do you sell on Craigslist, Ebay,or Amazon?  Do you have any additional benefits to buying or selling used stuff to family, friends, and other members of your network?