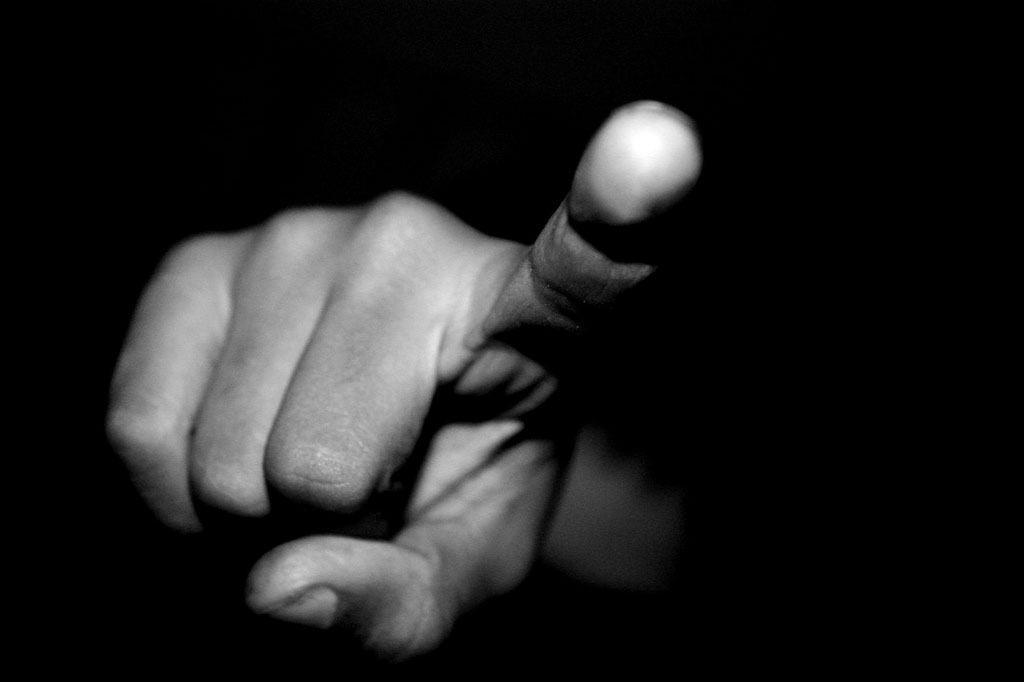 [share_sc]
There are times in life when we are confident.   And there are other times when we are absolutely certain.
Certainty can be an incredible powerful tool, especially for initiating change and sparking action.
But certainty can suck, too.
…
(dwoo…  dwoo… dwoooo…)
…
It all started a couple months ago.  Courtney had recently obtained a work permit which extended her eligible visa through December.
Milligan and I, however, needed to apply for an extension to our visitors visas.  This was a fairly straight forward process as we could piggy-back off Courtney's new permit (meaning it was almost sure to be granted).
So we gather all of our documents and head down to the Immigration office in downtown Auckland.  We arrive only 20 minutes or so before it closed and it was bustling as ever with people.
Flustered, I encircle five chairs to create a make shift playpen for Milligan as I set about filling out the appropriate forms and sorting the documentation.  Courtney tried to fight her way to the front of a line and pick off the occasional staff member as they walk by to verify the form I'm filling out is our best option.
I finish the form just as they are closing and trying to herd people out the doors.  Courtney returns and helps sort the information and gather Milligan.  I check every space, verify the attached documents, and account for everything multiple times.
The application requires our original passports, which makes me nervous, but I know we are certified copies in the worst case scenario.  (Not actually back-up passports, just certified copies of the main pages).
I place the documentation and passports inside the application, walk 20 feet to the bin, and drop it in just as they are collecting and locking the doors.  Whew.
Upon arriving home, I sort the documentation we didn't end up using back into our normal folder where we store it.  All is well.
…
One month later…  dwoo… dwoo… dwoo…
…
I'm at the counter at the AA (think BMV) waiting to apply to get a New Zealand license.  This process, of course, has it's own hurdles as my U.S. license recently expired and Courtney left her on our first flight to Australia.  Sigh.
After looking at my certified copies for my passport pages, the attendant regretfully informs me that they will need my original passport.
Baker: "My original passport is currently with Immigration still.  These certified copies are notarized by a local justice of the peace here in Auckland.  They assured me these would work."
Attendant: "I'm sorry sir, they will reject the application if we don't include the original passport.  It clearly says here on the application that they require the original."  (which it did)
Baker: "What about this original birth certificate?"
Attendant: "Were you born in Fiji?  If you were, we can accept a birth certificate…"
Baker: "Do I look like I was born in Fiji?"  (I managed to avoid saying this one aloud).
No problem, I thought.  I'll be back.  I'll just swing by Immigration and see if my paperwork is ready to be picked up.
After a 15 minutes wait, I get to the counter, explain the situation and wait as the officer looks up my information.
Officer: "Your documents are done being processed, but your passports weren't included in the application."
Baker: "Yes, they were.  The application specifically required the original passports and I dropped them off myself in that drop box (*points*)."
Officer: "Well, it lists all your other documentation as included, but it's noted that the passport requirement was waived for this application.  Unfortunately, we processed this application at another branch, so you'll have to call your specific account rep, Shashi Poo, at this number…"
[I'll spare you from the next 15 minutes of conversation.  It involved me clarifying why they sent this to another branch, clarifying how to pronounce Shashi Poo, and what I could do if it was lost or misplaced.]
Shashi Poo: "No, I'm sorry it was not in your file when it arrived here.  Although, it went through "documentation" in another department first.  I'll have to double check with them to ensure there wasn't a mix up there."
Baker: "Well, I know it was in the application when I dropped it off.  Where it's at now, I have no idea.  Either way, it was required for this application and we've been approved.  So it must have been handled by somebody at some point."
Disheartened, I returned home and double-checked the documents that I had sorted back into our folder after I came home.  Not there.  Frustrated I jumped online to find the nearest U.S. Embassy and vent on Twitter: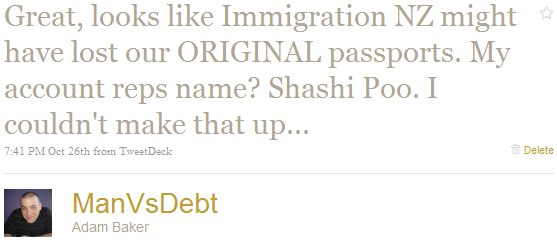 The funniest part of the entire story happens once Courtney arrives home from school.  I inform her of the whole situation, but at some point I say "And when I talked to Shashi Poo" without first qualifying who that was.
Having no knowledge of a Shashi Poo, Courtney hears "And when I talked to Joshy-poo," which is the goofy nickname we sometimes call one of my best friends back home.
This causes a 5 minute confusion, which leads to a 5 minute fight (you know the type), before we realize the source of the confusion.
The next day, I anxiously await Shashi Poo's follow up call.  To her credit, she *did* follow up with me, although she bore more bad news:
Shashi Poo: "I attempted to trace it back with no luck.  There's no sign of the passports, nor were they found or turned in at any stage."
Instead of taking it out on Shashi, I hung up and hit my normal outlet: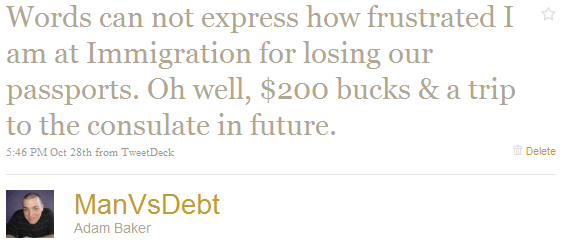 I look up the Embassy.  In Wellington, duh.  Won't help.  Although a Google search for American Help Auckland reveals a local U.S. Consulate's office.
I fill Courtney in again, we both vent our frustration and try to figure out whether we can get the new copies issued fast enough to apply for the license in time to rent the car in time for our South Island trip.
Let's just say I wasn't in the greatest mindset about this whole process.
Another couple days pass and Courtney and I are gathering the information to go to the Consultate's office the next day.  We go through the important documents folder and pull out what we need, making sure to recount how we can't believe the timing of Immigration losing the passports.
Everything sorted, I sit down to check my e-mail as Courtney gets Milligan's backpack carrier packed up with diapers, the documents, and everything else we need.
Courtney [casual voice]: "Oh, look…  Here they are…  they were in the bottom of this Milligan's carrier!"
Baker: *blank stare*
… awkward silence …
Baker: "You are joking, right?"
Courtney: *holds up passports* "No… I wonder how they got in there."
Baker: *blank stare*
Courtney: *starts to laugh uncontrollably*
Baker: *blank stare*
…
(dwoo…  dwoo… dwoooo…)
…
To this day, I still don't know how that happened.  I literally watched my hand put them into the application, then carry them to the box and drop them in.
I have three theories:
When I stood up, they slide out and somehow landed in the open backpack carrier,
When I stood up, they fell onto the floor and a little 19-month-old with a fondness of collecting things and putting them into bags played a small role, or
Ridiculously stealthy government spies infiltrated our apartment at night to cover up an embarrassing mistake and prevent the inevitable tension on international relationships that would result once I broke the story on Man Vs. Debt.
Regardless of how it happened, it did. Never in my recent memory have I been more shocked.  It's as if I just saw an amazing slight of hand street magician.  Not one of the corny ones… one of the old guys whose been hustling the streets for 40 years.
I caution to think what I would have bet on those passports having entered that box.  A lot…  a whole lot.
As it turns out, not only was Immigration not to blame, they actually approved the application despite it lacking the required original passports.  Meaning they actually made an exception in an attempt to do a favor.
Ouch.
There are two silver linings to the story.  First, having the passports enabled me to finalize getting the license without any further issues.  Second, though, I never lost my cool.  While one may say I was a bit on the arrogant side at least once or twice, I never raised my voice.
I thanked the people who tried to help, without going berserk.  Although, I will admit that part of this was from being in a foreign country.  Had this happened in the comfort zone of U.S. soil…  I don't think I would have been that reserved.  Maybe somebody or something in the sky is teaching me a lesson in an controlled experiment.
When's the last time this happened to you?
We all do this from time to time.  It's not just a travel story.  It happens in our finances, our relationships, even our health.
We are certain our job is secure…  they would never let us go.  We are certain about giving one investment advisor control of all our assets, based on his track record.  We are certain we don't spend more when using a credit card or that we aren't affected by things like advertising and media.
We will never meet that special someone or are certain enough to neglect our health without realizing the consequences.
In the end, though, we pay a price for this confidence. In the cases above, it may be a very tangible price.  In my case, it was just the sour taste of eating my own words.
But even that sour taste, reminded me not to be too confident of anything.  To never be so certain that I can't fathom a different opinion, perspective, or potential outcome.
It's dangerous territory to wander in.  I escaped with just a scratch on my ego this time…  next time, I may not be as fortunate.
When was the last time you were ABSOLUTELY certain about something, that ended up proving untrue? What was the end damage?  Share your comments and story below for everyone else!
photo by sudhamshu