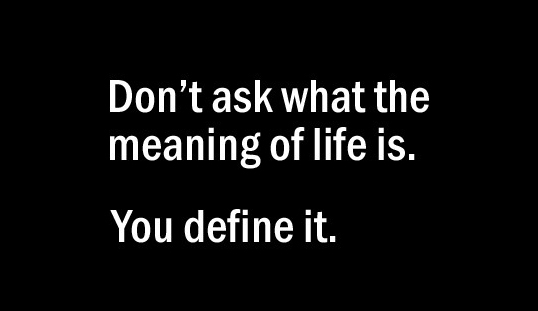 [share_sc]
Note: This is a post from Joan Concilio, Man Vs. Debt community manager. Read more about Joan.
My 12-year-old daughter sent me the image above this week. She'd been searching Google Images for positive quotes (have I mentioned I have a pretty cool kid?) and this was one of her favorites.
Meanwhile, I had started writing a post about the words that define my life – and yours.
Words like serendipity and opportunity. Connection. The very things the arrival of this simple image in my life embodies.
It all started at FinCon, the Financial Blogger Conference, which Baker and I attended last month…
I don't take notes.
I was lucky enough to attend some amazing FinCon sessions by several great speakers – J.D. Roth, Ramit Sethi, some guy named Baker…
All of them imparted a lot of tips, not just about "financial blogging," but about business-building, writing, passion and more.
But I've never been much of a note-taker in those kinds of settings.
More accurately, I try not to take notes much any more. One thing I know about myself is that I get lost in the minutia – I am the "write down everything" type – the kid whole highlighted the whole page instead of the main idea.
That level of detail is sometimes important – but at something like a conference, I want to see the big picture. And it's not only true there.
What's the "big picture" for your life?
When you meet someone new and ask a question like "Tell me about yourself," you'll quickly learn a lot about that person. Oh, not always from their answer – because such answers tend to be surface-level at best.
But we all tend to "tell people about ourselves" based on our personality. Someone who describes herself first as a mother of four has a very different personality than the person who describes his or her career choice first – "I'm a doctor." "I'm an entrepreneur." Someone who describes the town they're from is different than the guy who describes himself as a hiker.
I've thought a lot about the ways I describe myself pretty often recently. Of all things, it's been my short bio on sites like Pinterest and Twitter that has forced me to hone my description.
What I say is something like this: "Wife, mom, unschooler, writer, Pennsylvanian, friend, martial artist. Editor for Man Vs. Debt and blogger/columnist for the York Daily Record. Lover of God and life. In no particular order."
That's not a big picture – it's a collection of smaller pictures. Those things all are part of who I am, and they're a good way for people to get to see parts of me at a glance.
But we are all more than the sum of our parts.
Let me say that again.
You are more than the sum of your parts.
Let's go back to my conference experience for a minute. I didn't want to take notes on the minutia because my gut told me that the benefit for me would be more than than the sum of the parts.
But I'm a writer. I do words. So I couldn't just sit there and not write… something.
Instead of notes on the topics the speakers presented, I started a list.
A list of words that resonated thematically through various talks. My own kind of word cloud, I guess.
At the time, I wasn't sure what these words would mean. But I had an idea that they got closer to the essence of what I was hoping to capture than any notes about WordPress plugins or email optimization or personal voice in writing ever would.
I brought the list home almost a month ago, and I've been pondering the words on it almost meditatively ever since.
Responsibility.
Optimism.
Preparedness.
Clarity.
Communication.
Improvement.
Security.
Customization.
Purpose.
Progression.
Connection.
Personality.
Engagement.
Support.
Collaboration.
When I looked at the list earlier this week, I realized that, in some ways, these are the goals I have for Man Vs. Debt, for our mission of helping our community. These are the values I want to deliver.
But though the conference itself was about financial blogging, and though the applicability of these terms to our work here at MvD was my first thought, I've had a lot of reasons lately to examine what I really want out of life – what my VISION truly is as a human being.
Do I want to be simply the sum of my (oftentimes conflicted) parts? Or do I want to define myself as something more?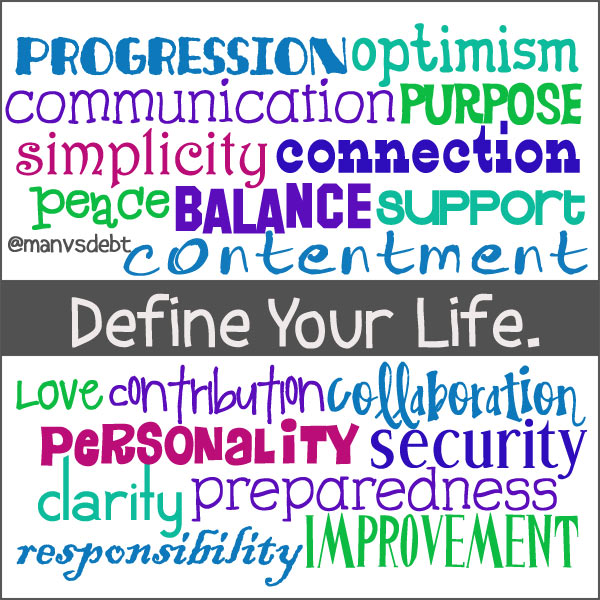 I shared the quote from the top of today's post on the MvD Facebook page with a challenge to the community there: "If I asked you to define the meaning of or goal for your life in ONE WORD, what would it be?"
Service.
Prosperity.
Success.
Happiness.
Passion. 
Love.
Simplicity.
Contribution.
Motivation.
Peace.
Balance.
Pursuit.
Freedom.
Empowerment
Contentment…
Contentment.
The show-stopper of contributions from our Facebook community came from Jodi, who talked about contentment.
"To me, the word content is a whole mess of awesome words (love, happiness, freedom, success, etc.) wrapped into one! As I was thinking about my word, the obvious ones came to mind like happiness, love, etc., but one thing I never feel is settled."
Jodi adds, "At home I'm always looking for something to do, trying to do more for my kids; at work I'm always trying to do more or be better; my education is never enough so I'm getting higher educated for the 5th time… LOL. You get where I'm going. I would just love to feel content with what I have, who I am and what I've accomplished."
Putting the Pieces Together
As I struggle lately to figure out "what I want to be when I grow up" – something I've never really quite figured out – Jodi's words made me stop.
I don't have the world's biggest dreams.
I want to be the kind of person whose smile is contagious and whose writing makes someone occasionally think a different thought, or maybe laugh a little. I don't mind living in the same town my whole life, and I could not possibly care any less about that master's degree I used to be desperate to chase.
And if I ask myself the question I put out on Facebook, what one word describes my goal for my life, CONTENTMENT is the best answer I can imagine.
You can be more than the sum of your parts. Being all the things I am – wife, mother, unschooler, martial artist, Christian, friend, Pennsylvanian, whatever – has defined me for a long time.  But I'm ready to let those be part of a larger whole.
Contentment.
[share_sc]
Where are you starting? What's the ONE WORD that you hope defines your life?
Tell us in the comments… and start living that word today!