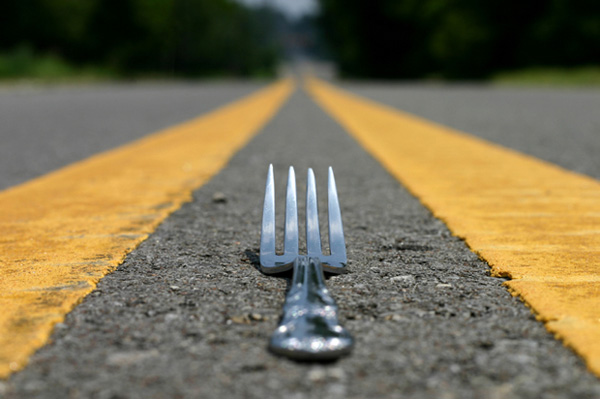 [share_sc]

This is a guest post from Jared Akers, an author on a mission to empower people to achieve happiness that's practical, actionable, and sustainable. He enjoys traveling and sharing his journey at How to Be Happy by Jared Akers (JaredAkers.com) and with his wife through the How to Be Happy Podcast on iTunes.
Obstacle: something that obstructs or hinders progress
Challenge: a call or summons to engage in any contest, as of skill, strength, etc.
I don't know about you, but challenge sure sounds a lot more invigorating then obstacle.
As long as you're moving, engaged, working on yourself, you're making progress. If you're engaged, your progress is never hindered, you're just adapting. Challenges take you to where you're supposed to be as opposed to where you've just ended up.
Challenge or obstacle? Choose your perspective
Obstacles hinder progress, but challenges can be just what you need.
Living in a halfway house was a drag; the first time. So much drama and guys "going out" all the time was a constant reminder that my circumstances sucked. With all that crap going on around me, how was I expected to heal and move toward a healthy and productive lifestyle?
I had to get out of there because the circumstances created obstacles that made it impossible to move on with my life in a healthy manner. And of course I wasn't as bad as those guys.
I moved into a nice loft downtown; after all, I had everything under control – right? Those other guys were losers and I was different. It was time to get back to changing the world!
That's when I self-destructed. It was March of 2006. After a lost job, failed marriage, and losing a close friend, I was emotionally, spiritually, and physically bankrupt. Out of desperation, I was forced to have a different perspective. Thankfully I tried again.
The second time, the halfway house was exactly what I needed. The circumstances were the same — different guys, same stories — but the environment was motivating and inspirational. I used it to get to where I needed to be as opposed to where I'd ended up.
The circumstances in our lives don't suck, just the stories we tell ourselves as the reason we're not getting something we think we want or need.
With the right perspective — that anything is possible — we have so many choices.
We only need to get through a huge challenge, maybe something we thought was impossible, to have the confidence and changed perspective that we can accomplish anything.
Be confident about your mental strength
With the right perspective, you can access your mental strengths. Case in point: Finishing college.
I flunked out of college twice. I never thought I was smart enough to be there anyway. So I followed a childhood dream and became a zookeeper (primate keeper).
Yes, I got paid to take care of chimpanzees and spider monkeys; it's not as glamorous as it sounds. It was great for a while. So much so I thought I'd found my calling in life. But as with most things, I got bored after a few years. I do miss the animals, but not the poop.
So I tried college again, and again they told me to leave when my grades didn't measure up. So I tried a little of everything; from building houses to restaurant management, I was searching for where I fit in.
Eventually I stumbled into the IT field; technical support and computer networking. I loved it and realized it challenged me and I was good at it. So I studied and passed a few industry certifications and I realized I might be smart after all.
I discovered that learning new things made me feel better about me, and that perspective drove me to want to learn more.
I eventually earned a bachelor's degree in information technology and an MBA with a perfect 4.0. Not bad for someone who flunked out of college twice.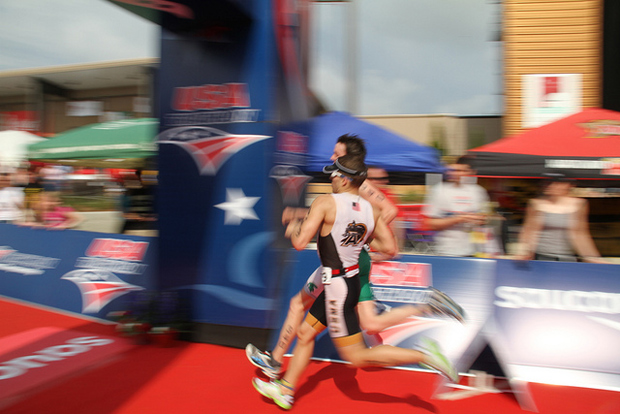 Be confident about your physical strength
With the right perspective, you can accomplish amazing physical feats. Case in point: Competing in a triathlon.
A few years ago I couldn't run more than a block without my lungs feeling like they were going to explode. But I knew — from working through other challenges in my life — that I could accomplish anything with this new perspective. Just keep moving.
One dream I had was competing in a triathlon. So I began running, one block at a time, working through each challenge as it presented itself.
For example, I was a terrible swimmer. So I did some research and found Terry Laughlin's Total Immersion DVD course. I re-trained my body what proper technique felt like; one step at a time. I learned that, like in life, things are easier when you reduce resistance.
Within three months I competed in my first short-course triathlon at age 40. I'm no Ironman, but it was an accomplishment for me nonetheless. I continue to compete in 2-3 triathlons each year and enjoy the challenge and staying in shape.
Be confident about the strength of your message
With the right perspective, you can share your message with the world. Case in point: Writing a book.
By overcoming challenges, we gain a new perspective of what's possible. And that perspective and experience is worth something not only to you – it's worth something to others going through similar struggles in their own lives.
After reaching a bottom in 2006, I threw out every preconceived idea of what I thought it meant to be happy. Honestly, I was just happy to be alive. But I knew I was missing something, so I dedicated my life to finding out what it was.
Without really knowing where it would lead, I sought every resource at my disposal to discover what it truly meant to be happy – therapy, 12-step programs, spiritual coaches, life coaches, blogs, happy people, mentors, clergy – and spent thousands of dollars on books and seminars.
The process revealed that there are not a lot of new things under the sun. Most common were familiar concepts like living in the moment and experiencing love, purpose, and gratitude. But these concepts were just theories and fluffy self-help talk in most cases. I needed the how not the what.
So I took massive action. I took bits and pieces from different resources paying close attention to the practical and actionable parts. I put them into practice, kept what worked and threw out the rest.
What I found was emotional connectedness with self. The knowing that my authentic self is perfect and that everything I need to be happy is already inside of me. And it's inside of you too!
I started sharing my story with others, and many suggested I write a book. So I did.
We all have something to share with the world – yes, that means you.
Be confident about your ability to attract kindred spirits
With the right perspective, you can find the perfect partner for your adventures. Case in point: My wife and I travel the world together.
"Men do not attract that which they want, but that which they are."
– James Allen (As A Man Thinketh)
In February of 2007, after eleven months of working hard on myself, I decided to try dating again. After chatting with someone online for several nights in a row, we decided to meet for dinner. At which time I asked her my special qualifier question, "If you could go anywhere in the world, where would that be?"
Her answer? "Las Vegas."
I'm thinking to myself … this is the entire world we're talking about here, seriously?
Don't get me wrong, I have nothing against Vegas, but I was looking for something a little more… worldly. Shortly after that, her cell phone rang and she pulled it out of her bra; classy. "Check, please!"
I contemplated giving up on dating after just one attempt; maybe I wasn't ready. But as fate would have it, I was asked out for coffee the next day by a woman after instant messaging for 2 minutes and 40 seconds.
A little piece of advice about online dating: Meet in person as soon as possible. Obviously you want to be safe about it (meet in a public place, etc.) But from my experience, you know instantly if there's chemistry. By spending days or weeks chatting online, you become somewhat invested, which makes it more complicated if the chemistry isn't there physically.
On February 25th of 2007, I met Emily for coffee. Again, "if you could go anywhere in the world, where would that be?"
Her answer? "Belize, because I've always wanted to SCUBA dive and hear the diving is great there."
We took our first trip together that fall to St. Croix U.S.V.I., and become certified SCUBA divers. Since then we've traveled to Hawaii, Playa Del Carmen, Cancun, Curacao, Cozumel, Belize (twice in the last 6 months) and are going to Roatan in a few months. We got married while on Kauai in December of 2008.
Everyone says they'd love to travel more, but very few people actually do. Emily and I make it a priority. We have a savings fund that we put $100 in each week. That gives us $2,400 for a vacation every six months.
We stick to that budget when planning as closely as possible, and we never plan our next trip until we've paid off the last one. We usually have the trip paid off before we even leave, except for diving, food, and other incidentals.
Granted, we don't have young children (although we do have a granddaughter, yes, I'm a 41-year-old grandfather and it rocks!). But anything is possible if you make it a priority.
If success was easy, we'd all be successful. But this, too, is about perspective and redefining what success means to you.
It's so clear now to look back over the times in my life when I was struggling and realize I was always right where I was supposed to be.
My journey has taught me the most valuable lesson of all: Life is about Learning, not winning.
4 exercises to help you change your perspective
Are you ready to start facing your challenges – and changing your way of thinking? Try these practical exercises.
1. Let Go.
Take a shoe box and cut a hole in the top of it. When something is weighing on your mind, take out a piece of paper and write it down. Next, write down what steps you could take in order to resolve this issue.
Is there something you can do about it today, tomorrow or next week? If yes, make a commitment to take that action (asking for help if needed). If not, put the piece of paper in the box and let it go. Sometime in the future (I like to do it once a year), take out the box and have a look-see at what's inside. Chances are, most issues will have resolved themselves, or often you won't even remember them!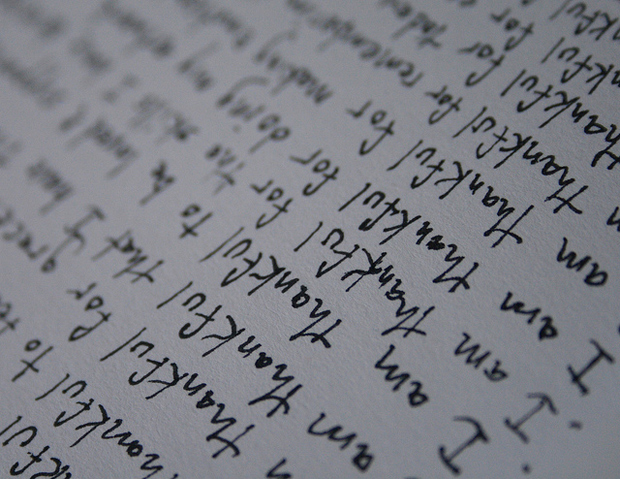 2. Practice Gratitude.
Write down on a piece of paper ten things you're grateful for. This is a great exercise I use often; anytime I'm feeling a bit down.
Seeing on paper all the things you have to be grateful for is a great way to concentrate on what you have as opposed to what you think you're missing.
3. Be Understanding Rather Than Understood.
When you feel like you've been wronged, when you're holding resentment toward someone, try being understanding rather than understood.
This can be something as simple as when you're cut off in traffic. Think about what that other person might be going through.
Maybe they're on their way to the hospital or just found out they lost their job. Ask yourself, "Have I ever done the same thing to someone?"
We spend so much energy trying to get others to see our point of view or understand us; we often lose sight of what they might be going through.
4. Examine Your Priorities.
Excuses are another way of saying "That's not a priority to me."
Try changing the statement "I don't have time" to "It's not a priority."
Does that statement align with the direction you want your life to go? We're often not as busy as we think, just full of excuses; are you as busy as you think?
[share_sc]
Are you confident in yourself – and your ability to turn "obstacles" into "challenges"?
What one particular obstacle do you need to change your thinking about today?
And how will you make that change?
Let us know!