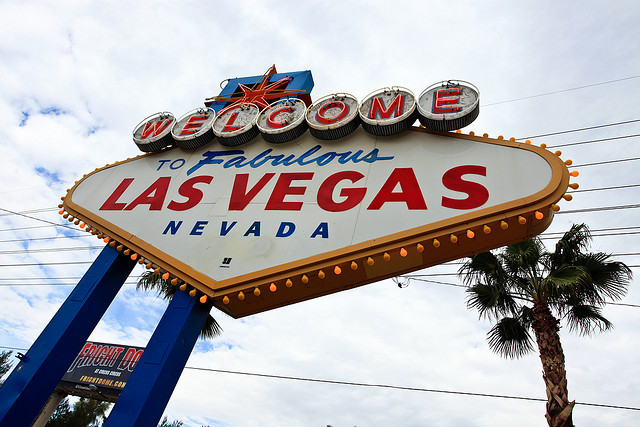 Hey gang, I'm coming to you live from the Mandalay Bay hotel on the strip in Las Vegas.  I'm here all this week for BlogWorld, a new media/blogging expo – otherwise known as an excuse for a bunch of nerds and geeks to gather in Las Vegas (couldn't turn that down!).
Our hotel room looks out over the airport, which at first I thought was kind of lame.  But this morning, I woke early to get a peek of planes landing and taking off as the sun rose up over the mountains in the background.  It was an soothing and inspiring sight – much better than looking out over the flashing lights of the Strip itself.
Walking around with people I've noticed a couple trends in this city.  First, almost every casino has motorized walkways into the gambling areas, but make you climb stairs manually to get out.  There are almost no exits signs and certainly no clocks. People are trading in money for "chips" which they immediately detach the value from.
Walking through any one of the casinos down here, you can't help but think of them as a greater metaphor for consumerism in general.  A million external forces luring you in – and you have to be persistent as hell when you are wandering around trying to find an exit.
Maybe I should loosen up a bit… but it's a bit depressing, ya know?  🙂
Alright… enough of that.  This week is going to be a slow week around here as I take off to meet old friends and make new ones here. I did, however, want to share a couple videos (that I'm in) and a quick survey.
Quick 2-minute Survey…
Last week, I sent out a quick 2-min survey (4 questions total) to Twitter and Facebook followers. About 100 of you took the time to answer them for me and the results were freakin' awesome.
Note:  If you have a community, office, team, or employees…  SURVEY them.  I swear every time I do this it provides awesome information.
So awesome that I'm going to relink it here on the blog.  Right now:
https://spreadsheets0.google.com/viewform?hl=en&formkey=dEVtWTlqdk5zMGRrdm1fR2pRRHpLR2c6MQ#gid=0
Clicking the above link will take you to the survey.  It's 100% anonymous and I appreciate your honesty and help.  The first 100 responses have led directly to several changes AND two new articles which will appear next week. 🙂
The Ren Men Show…
Last weekend, Courtney, Milli, and I packed up and drove over to Ohio to spend time with The Ren Men boys and their families.  We absolutely love spending time with those guys and their families at Grant's cottage in the woods.  It's always a blast.
They carved out a little bit of time to do a short interview (of me), before challenging me to a "Best of 3" challenge.  In the video below, you can see me FAIL ROPE CLIMBING MISERABLY, race them in chugging a bottle of water, and then step up big time in redneck frisbee golf.
[Can't view this video? Click here to view it in your browser.]
Seriously, though, you should watch the video above if only for the editing and production quality. These guys (and MCE) are absolutely amazing at what they do.  It's the highest quality show I've ever been a part of or watched!
More info at RenMenShow.com
Get Out Of Debt Guy…
I was also interviewed this week (over Skype) by Steve Rhode from GetOutOfDebt.org.  Steve and I have known each other for almost two years now (he's been answering debt-based reader questions for YEARS), but finally were able to catch up on Skype.
The interview was for his own site, but Steve graciously gave the o.k. to post it here as well!  Honestly, Steve was one of the best interviewers I've ever talked to. He is clear, to the point (unlike me), and you can tell he's got years of experience helping people.  It was really fun:
[Can't view this video? Click here to view it in your browser.]
You can find Steve answering questions over at GetOutOfDebt.org.
*****
Please enjoy the videos and if you have a couple minutes click over and take the survey.
I'll try to stay sane while aimlessly wandering around the flashing lights of Vegas and be back on Monday with some stuff that'll blow your mind.  😉
Xoxoxo,
-Baker