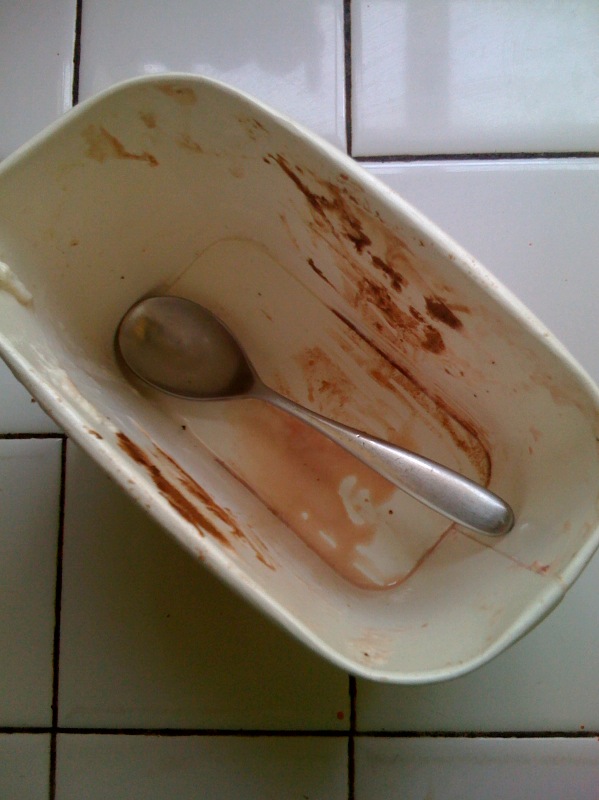 [share_sc]
This is part of a guest-post "swap" with Julia from Bargain Babe.  After you are done reading, be sure to head on over to her site to see the post I wrote for her!
The Bargain Babe, aka Julia Scott, writes about saving money on everyday expenses at BargainBabe.com.   In the two years she has been blogging about personal finance, she has become a real cheapskate.  Here is her post about unnecessary spending.

I just finished a whole carton of Neapolitan ice cream on my own.  It took me a few days, but that's beside the point:  I am powerless when it comes to saying no to ice cream.
I am not alone. But for many people, the problem is not ice cream, but spending.  Some 44 percent of Americans carry revolving credit card debt, according to a recent survey by the National Foundation for Credit Counseling.  A spokeswoman at the Foundation named Gail Cunningham helped me understand why can't we say no to spending.
We focus on instant gratification. I know the ice cream is going to slow me down on my next run, but I'm so fixated on the pleasure I derive during the four minutes it takes me to scarf down a bowl that I tell myself I'll do 100 crunches later to make it up.  I'm still waiting for later.
Spending is a lot more fun than saving, Gail pointed out.
We think the buyer's high will last. Unfortunately, a few hours or days after bringing home a new pair of shoes or electronic toy, reality sinks in.  A bill is coming.
Spending is a habit. Ever try to break one?  It's haaaard.
We treat shopping as a recreational activity and put little thought into spending, Gail said.
Culturally we're taught we need more and more stuff, the latest product, this season's "in" pair of shoes.
When I was chatting with Gail I didn't tell her about my ice cream problem.  But savvy lady that Gail is, she picked right up on it.
"When you go on a diet, let's call it a debt diet, don't go to the mall," Gail said. "Put temptation behind you."  If you must shop:
Leave your credit cards at home.
Freeze your cards in a block of ice. If really need that item, let the ice melt naturally.  Using the microwave is cheating!
If not through ice, create time to catch your breathe and evaluate your purchases.
Enforce a 30-day waiting period for big ticket items.
Track your spending. Not very fun, but very savvy.  Put your spending in writing and let it stare you in the eyes.
Take charge of your money. Instead of letting your spending habit take over, spend and save with purpose.  Chose concrete items, like a summer vacation or your daughter's prom dress, that you are putting your money toward.
Use cash, Gail said.  Many people spend less if they use cash instead of credit cards.
How do you control your spending?  Have any of these ideas worked for you?  Join in on the discussion by leaving a comment!
Julia Scott is a cheapskate by nature and a journalist by training.  If you enjoyed this article please consider subscribing to her updates!  In addition, don't forget to visit my guest-post, Cash Vs. Credit:  Which Side Are You On?, on her blog!