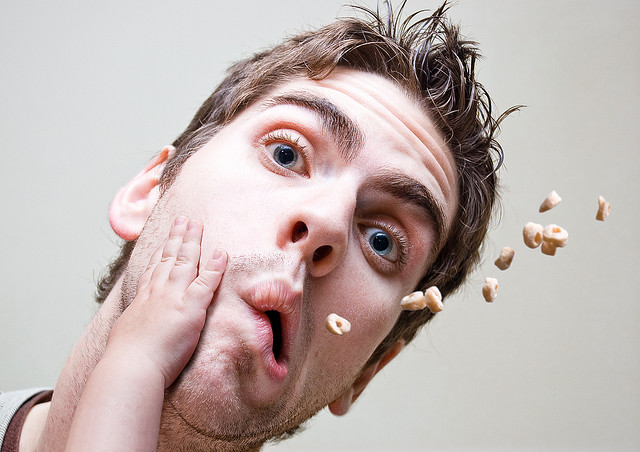 [share_sc]
Wake up, people.
Seriously… we are embarrassing ourselves.
This isn't what Christmas is about.
I know this isn't a new change, but we've fully shifted the focus from quality time with family, friends, and God – into mindless exchanging gift cards so that we can avoid guilt.
Worse than mindless exchanging of money is the complete free fall into consumerist shopping. Have you been to the local mall in the last few weeks? If you find yourself in the belly of the beast this season, take a few minutes to just sit and observe people.
It's mind numbing how mass-programmed we are at this point in the year.
Christmas has the power to turn normal, every day people into this:
Seriously? Is this what our annual Christmas traditions have spiraled into?
Listen to the celebratory roar of the crowd as the first break into the metal doors in the first clip… it's like a siege scene from a fantasy movie. I can't even believe this is real.
And let's all not forget the 2008 fatality of the Wal-Mart employee… death by human stampede:
Wal-Mart fights $7,000 fine in Black Friday death [USA Today]
Sure, the above video compilation and story are examples of some of the more extreme cases in recent years. But on a smaller scale, this madness influences us all.
Over the past couple of decades, consumerism has been elevated to an art form. Christmas has become a well-calculated, well-executed, income-generating masterpiece.
Rather than looking forward to intimate time with family, friends, and religion (gasp, I know – I've cussed twice now)… we sit around and wait for Oprah's annual consumerfest:
Watch this above video carefully. Study the reactions of the audience members as they are given shoes, cameras, sweaters, jewelry, shampoo, candles, and 3D televisions.
People are crying, make-up is smearing, and facial expressions are frozen in shock. Every time I watch another audience reaction, I want to vomit.
I know that's extreme… I don't *want* to be so judgmental about other people's values. Deep down, I feel that as long as people aren't hurting others – they should be able to live with whatever value structure they want.
But I can't help to think… "any value structure they want… except this madness."
Also, I fully realize that Oprah has done more positive humanitarian work than I will ever do in my lifetime. It won't even be close – she does a lot to give back (not to audience members, but to girls in real need across the world).
Frankly, I wish if they wanted to show hyped-up, hysterical reactions – they'd show more of the good work Oprah is doing. Show the girls in Africa crying and celebrating their safe education. I know they have those shows, too – but it's just so sad this is the one everyone waits for every year.
Despite, half the audience screaming "Oh my God… Oh my God…" – this still isn't what Christmas is about.
How to Save Christmas…
I have no idea how to fix everything – nor do I want to dictate how people should live their lives.
I'm willing to honesty share my thoughts – even if they are more judgmental than I wished – in hopes that it challenges you to think outside the box. But I'm not going to propose a 10-step plan to save Christmas.
The plan on what to do is on you.
Courtney and I have decided to severely limit the gifts we buy this year. We won't be buying for each other (instead we are making huge life changes – trust me – we are spending enough on those "gifts").
We've bought a few small traditional "gifts" for younger family members, but decided that we would make small donations on behalf of any adults in our life. We'll be browsing to attempt to find charities and non-profits that reflect the values of each family member and rather than buy them golf balls or a candle, we'll make a small donation.
We are lucky that none of our family really cares about the "stuff". The donations will be a valued gesture and by customizing each one, we show that we took time to think about and appreciate the personality of each family member.
I'm not saying our method this year is better or worse than any other. We are still affected by the consumerism, too. We are still spending money – we are still giving a few traditional gifts, as well.
We aren't immune or above this issue – we are simply searching for our own answer to it.  🙂
What other bloggers are saying…
Fortunately, many of my blogging friends – especially in the minimalism niche – have also chimed in their thoughts on the season. Here's what my friends Leo, Joshua, Everett, and Dave have to say:
Zen Habits: The Case Against Buying Christmas Presents
Leo goes into great depth (much more than I will here) into the reason why not to buy gifts. Not only that, but he answers some common questions and objections – and provides a list of alternatives. Leo calls this post a "rant" – it may be – but it's one of my favorite posts of his in a long time!
Becoming Minimalist: 35 Gifts Your Children Will Never Forget
So many of us can't imagine not buying presents for our kids. But as Joshua points out, very few – if any – of my most passionate childhood memories are of Christmas presents. In fact, even my childhood memories of Christmas, don't include specific presents. I'm a sucker for list posts and this one is awesome!
Far Beyond the Stars: 1 Simple Strategy to Save $2,000 and Make Everyone Love You Forever
You think my tone is a little strong at times? Go check out what Everett thinks about this topic. Never one to pull punches, Everett wrote an aggressive, but important piece when it comes to challenging the status quo for many people.
Dave Bruno: The 100 Thing Challenge
Lately, I've also been following the new blog and Twitter stream of Dave Bruno. Dave was the first person I ever saw online consciously tracking his possessions – and was the sole inspiration for me to do the same here when we started traveling. Dave's recent insights have been stellar and I can't wait for his soon-to-be-released book The 100 Thing Challenge.
None of these gentlemen can tell you how to celebrate Christmas either, but they've all help shape our approach this year.
How would your life be different if you spent $0.00 on Christmas this year?
Two weeks ago, I asked a simple question on Twitter and Facebook that got over 50 responses:

I'd like to take that conversation from those platforms and gather your responses and insight here. I realize that most people have already spent some money on Christmas – and I've already stated that we our in this group, as well.
But I'd still like to know your honest response…
But first, some final perspective into this issue by my friend Eddie Vedder (not really my friend yet, but one day…)
Society, you're a crazy breed…
Oh, it's a mystery to me
We have a greed with which we have agreed
And you think you have to want more than you need
Until you have it all you won't be free
Society, you're a crazy breed
Hope you're not lonely without me…
When you want more than you have
You think you need…
And when you think more than you want
Your thoughts begin to bleed
I think I need to find a bigger place
Because when you have more than you think
You need more space
Society, you're a crazy breed
Hope you're not lonely without me…
Society, crazy indeed
Hope you're not lonely without me…
There's those thinking, more-or-less, less is more
But if less is more, how you keeping score?
Means for every point you make, your level drops
Kinda like you're starting from the top
You can't do that…
Society, you're a crazy breed
Hope you're not lonely without me…
Society, crazy indeed
Hope you're not lonely without me…
[share_sc]
It's your turn…
You've heard from me, Leo, Joshua, Everett, Dave, and Eddie…
What's your opinion?
How would your life be different if you spent $0.00 on gifts this season?
How can we save Christmas?