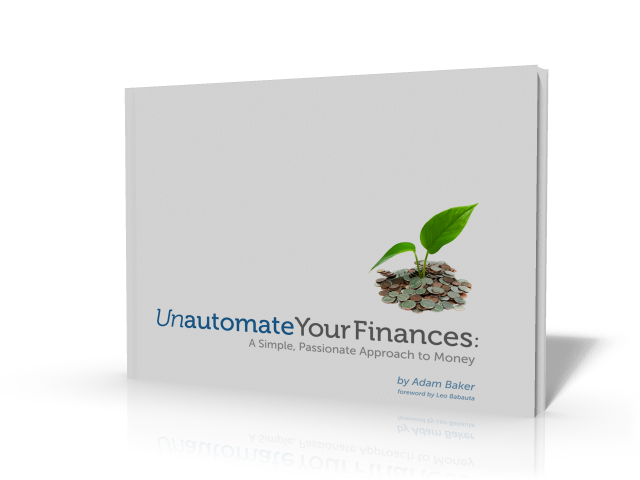 It's done.  Finally.
I've been blabbing about it for months and months now.  I've been stressing over it, adding to it, tirelessly compiling it and now it's… done.
I literally can't wait for tomorrow!
Starting tomorrow I'll be focusing more on the benefits of the content, but today I just wanted to give a sneak peak of the features that are included in the guide:
An 83-page, 25,000 word ebook containing three distinct sections on the Unautomation Theory, The Science of Unautomation, and Applying Unautomation.
A 27-minute video interview with Leo Babauta of ZenHabits.  We talk about simplicity, minimalism, finances, and his own personal recovery story!
A 29-minute audio interview with J.D. Roth of GetRichSlowly.  J.D joins me on a call where we recap his financial story, focusing on what he dubbed "the 5 stages of personal finance" and what it's like on the other side of the turnaround!
A 2-page PDF budgeting template that coincides with the "Simple Budgets Suck Less" chapter of the book!
A minimalist Excel budgeting template for those who insist on taking their budgets digital, but also want to keep it simple!
I appreciate all the support over the last couple of weeks!  I have a long list of people that I owe favors to for their help.  A special thanks to Leo, J.D., Chris,  Neal, Norcross, Jonathan, Kelly, Mike, Erica, Lynnae, and especially to my designer Dustin Koester for all their extra effort, support, and/or advice.
Lastly… Happy Birthday to my amazing wife, Courtney!
See you all tomorrow for what should be an exciting day (probably the most exciting in the history of the blog)!