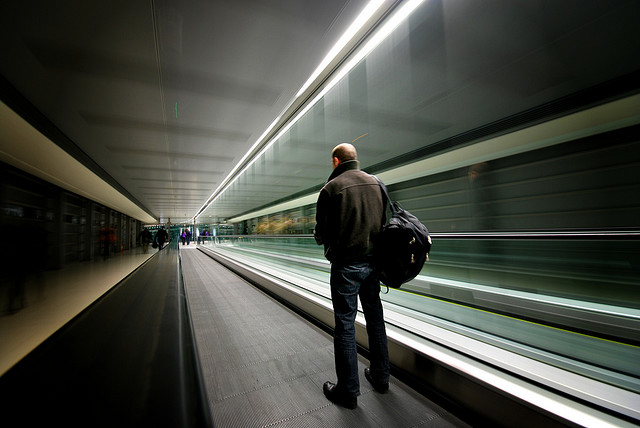 [share_sc]
Ever dream of travel hacking your way across the world?
You'd pay for the round-the-world flights with airline miles, stay at hotels for pennies on the dollar, and even flash your Platinum card to get upgraded to a suite at check-in?
No?
What about just being able to book a flight to visit family a couple times a year? Or saving 80% off a fancy hotel as a getaway with your spouse?
We all know these things are possible – but for decades they've been reserved for the travel elite. The people who flew multiple times per week or charged tens of thousands to their rewards credit cards each month.
But that's not the case anymore. Times have changed.
Thanks to the power of the internet (and groups like the brand new Travel Hacking Cartel)… Free travel is coming to the masses.
And the best part? You don't even need a credit card anymore!
Sure, using credit cards can still earn you a heavy dose of rewards and miles. There are dozens of tactics and techniques that can be applied in this arena.
But Courtney and I have chosen to take a stand against the industry and the use of credit cards in our daily life. We've discussed that plenty in the past.
Let me just say that anytime you take a stance on something, there will be events and circumstances that challenge your beliefs. For example, you may get under 10 m.p.g. when driving your RV and rethink getting a 5% rewards credit card on gasoline. You may travel nearly full-time and question whether or not you should be apply for new credit card deals to get bonus airline miles.
At the end of the day though, Courtney and I remember the pride we had in defeating our credit cards. We remember the amazing feeling of a life that was based around no longer needing them – no longer *wanting* them in our lives.
If you don't stand for something, you'll fall for anything.
Lucky for us – as I mentioned above – credit cards aren't the only way to earn rewards and travel for free anymore.
What's the Travel Hacking Cartel?
The Travel Hacking Cartel is a membership-based group of people interested in discounted and free travel. It's launched and run by Chris Guillebeau – a close friend and mentor of mine in the online world.
Many of you know Chris from his blog and new book, The Art of Non-Conformity. In addition to leading a small army of non-conformist, travelers, and entrepreneurs, Chris has recently visited every state and Canadian province on his book tour. He's also on a personal quest to visit every country in the world.
His newly launched Travel Hacking Cartel features:
Ongoing deal alerts via email and/or text message. Airlines, hotels, and travel companies commonly run huge specials and discounts – but only for brief periods of time. Cartel members will receive immediate notices of any special opportunities to earn miles, points, or deeply discounted fares (the minute they happen).
Some of the recent deals included are:
A special link to get Free "Silver Status" with all Hilton Hotels. After 4 visits you'll be upgraded to "Gold Status", unlocking even more discounts and special upgrades/privileges.
10,000 bonus points for staying Sunday-Thursday at a Country Inn & Suites (at the very least paying for the stay in points earned from this promotion).
500 bonus points for filling out an airline survey (The Cartel gives you the 5 answers to select). Not all rewards have to be huge, this is a small amount – but literally takes seconds.
25,000 airline miles for getting Lasik eye surgery.  Weird? Yeah, but if your already going to get it done – why not earn a free flight!  🙂
A simple way for recent college graduates to get earn 10,000 miles for graduating. Didn't know that existed? Me neither.
At the end of the year, Delta even ran a promotion that gave out airline miles for making a tax-deductible donation to charity!
Notice these are just a few of the current deals that don't involve credit cards.  The Cartel also lists a handful of new and existing credit cards deals when they come and go – Courtney and I just choose not to take advantage of them.  🙂
Access to a library of travel hacking tutorials and videos.
These tutorials include things like:
The four ways to rack up thousands of airlines miles – even while sitting at home.
How to redeem miles the correct way (and how to respond when airlines say "no").
How to get 4 times the value out of your miles when you go to book.
How to earn miles with one airline and exchange them in with another (a very important strategy).
How to access "Friends and Family" discounts that are for employees of hotel chains.
How to ask for an upgrade to first class (or business class) when booking or at check-in.
How to hack Priceline.com to find the "real" deals – $9 car rentals and insane hotel prices.
Access to a "Knowledge Base" with answers to Cartel-member specific questions. This is a questions and answers database that is already large – and still growing.  I've researched tips on booking "Round The World" tickets, capitalizing on "Glitch" fares, and how to book last-minute and using rewards miles (there is a very specific way to be successful).
The Refer-A-Hacker program. Have family members, co-workers, or friends who also love free travel?  As a unique bonus, you can send out a special link in your profile and earn 500 miles for each person who joins in on the fun. Whoo-hoo!
Membership Costs and Benefits…
The Travel Hacking Cartel has membership available on three different levels.
Economy Class ($15/month): The most basic membership gets you access to 15 travel hacking tutorials and the special email/text deal alerts. You still benefit from the "World's Greatest Guarantee" (info below).
Business Class ($25/month): This is the most popular choice. It gets you an additional 10 travel hacking tutorials (25 total) and you also receive special hotel deal alerts (not included in Economy).  You'll also receive help when redeeming your miles for maximum value (and free trips).
First Class ($39/month): This is the elite club, which gets everything from the other classes – but focuses specifically on upgrades, climbing status levels, and premium travel. Most people won't need this level, but those that do – will reap serious rewards.
The World's Greatest Guarantee…
Chris Guillebeau is the master of guarantees – and this time he's outdone even himself.
The guarantee for all Travel Hacking Cartel members is that if they are willing to invest only 30 minutes per month following the tutorials and deal alerts, they will earn enough miles for 4 Free Domestics Flight per year.
Do you have 30 minutes?  Would you like 4 free flights per year?  Yeah, I know right?
If anyone but Chris was offering this kind of thing, I'd think it was too good to be true.  The thing is, Courtney and I have used many of these techniques ourselves – and plan to take it up several notches with the new membership.
Of course, if you'd like to really apply yourself (and invest extra time) – the sky is literally the limit for how much you can earn.
14-Day Trial for Only $1…
When I talked to Chris a few weeks ago about the new group – Chris explained that his goal wasn't just to have a few hundred super-travel hackers in a club. He wants to spread the community into the masses and allow people to see that it really can be done.
That's why the Travel Hacking Cartel comes with a 14-day trial for only $1. You don't like it? Not for you? Cancel within the first 14 days of the trial and there are no questions asked.
Chris is smart – and he knows that cartel members will instantly see how they can generate hundreds of dollars in free air travel and hotel stays.
[Click here to take advantage of the 14-day trial for only $1]
See you on the road (or in the air)!…
Before I suggest a product, book, guide, or service, I have to passionately believe in its value – and use it daily myself.
I believe membership in the Travel Hacking Cartel is the single best investment in travel you can make online. Courtney and I pay (out-of-pocket) for our membership and have already earned much more than the cost. That's the type of stuff I share with you.
If you choose to become a member and use one of the links on this page, I'll get a small percentage of what you pay. It won't quite be enough for me to buy my dream island off the coast of New Zealand – but hey, every little bit counts. I do not take your support for this community for granted. I truly appreciate it.
[share_sc]
As Courtney and I travel through the U.S. this year, we hope to be able to meet you in person.
Who knows… maybe you can use your free flights to come out to one of our meetups!  (Is that too selfish of me?) 😉
Either way, I hope to see you on the road – or in the air!
Xoxoxo,
-Baker
*Written from a cold RV outside of Baltimore, Maryland.*