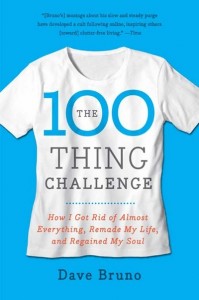 A year and a half ago, leading up to and continuing through our travels overseas, Courtney and I began publicly tracking every item we own.
I've talked in length how the exercise helped raise our consciousness and kept us accountable. It really does make us more aware of what we are buying, consuming, and using – which I think is a great thing!
What I haven't spent much time talking about is how I got the idea to start. When we started doing this there was only one other person (who I saw) who was doing something similar online…
His name was Dave Bruno. His experiment was called "The 100 Thing Challenge".
Through finding Dave and following his journey, I became inspired to do the same for Courtney, Milligan, and me.
Dave's experiment officially lasted one year in length, but he found the benefits to last far beyond the "end" of the challenge. He's spent the last year turning his experience and story into a book – which comes out today!
Dave was nice enough to send me a review copy AND jump on Skype for an 18 minute video interview. Frankly, it was a really fun interview to conduct – as Dave and I seem very similar in our beliefs and values (plus he gives great answers). 🙂
[share_sc]
[Can't see the video above?  Click here to view the video in your browser.]
As, I said above – I really enjoyed this interview. For those of you that can't watch it, I've included the full transcript below.
Hey everyone. It's Baker from Man vs. Debt. And today I'm joined with Dave Bruno, which is a special guest for me because Dave's blog, which is guynameddave.com, was one of the first sites that I ever saw—was the first site I ever saw to track possessions.
And many Man vs. Debt fans will know we've been doing this since we started selling our stuff almost a year and a half ago, two years ago now. But Dave was actually the first person that I saw doing this and was the inspiration for me to make my own list.
So it's fun to have Dave on, who is the author of The 100 Thing Challenge, which is what he called his tracking on his blog, and it is now a book. So Dave, welcome. Thanks for joining us today.
Thanks a lot, Baker. I'm really happy to be here.
No problem. And I wanted to ask you a few questions about anti-consumerism, minimalism. Just the atmosphere that we're in today. And the first thing, I just want to know, what's the bird's eye view of The 100 Thing Challenge? What's it about?
Yeah. 100 Thing Challenge is not so much about owning 100 things as it is about breaking free from what I call American-style consumerism which is just this notion that we always have to get more stuff to be satisfied.
And so really the 100 Thing Challenge is crafted around forming new habits and breaking free from this cycle and no longer participating in this get, get, get kind of attitude. And really just changing behaviors.
That's awesome. And obviously, anyone who's been around Man vs. Debt for awhile can tell why I'm such a fan of the message and the book. But I want to get your personal story on this. So how did this start for you? Where did the book come from? Or how did your challenge get started?
Yeah, the challenge started… I had been blogging for awhile, kind of an entrepreneurial guy, doing online stuff, having my own business. I work in marketing online now too. But I'd been blogging on the side and specifically talking about consumerism.
I had an old blog called Stuck in Stuff, which kind of is a term a lot of people can resonate with. They feel stuck in their stuff. And one day, summer a couple years ago, we were cleaning up and we were going around our house.
And here I am, this guy talking about consumerism and how we should avoid it, and the house was just like—you know, we had just cleaned it up, and it was still messy and whatnot. And so it just kind of—I think it was the straw that broke the camel's back, right? I just sort of snapped one day and it was very spontaneous at that point, once I got to that point.
And I wrote on my blog, "I'm going to do the 100 Thing Challenge" and then one thing led to the other. A lot of people started paying attention to what that was.
That's right. It sort of blew up, I guess is the polite way of saying that.
Viral or whatever.
Exactly. And I can really relate to that message, because we've had the same epiphanies back and forth. When we decided to sell our stuff, it was very—There was no intentions. We just wanted to get rid of our stuff. It was that same sort of breaking point.
And then when we came home from traveling, we experienced a sort of pull of consumerism that I talked about the blog. As in, I talked about all this stuff, and how cool we are, traveling with no things. And then as soon as we get back in the culture, we start expanding. And just like you, we looked around and saw that sort of expansion.
I'm going to ask you the common question, the blatant one. You probably get it all the time. Why 100? So first of all, what's the significance of that number for you? And second of all, why do you think that—I believe that number has helped the message spread. I'm interested in your opinion on whether that number has been helpful or not.
No, I totally think you're right that the number has been helpful. I didn't think it through, so I'll answer that second question first.
I didn't think it through and think to myself strategically, "What number is going to be the most effective for people to pay attention to." But I think, just for some reason, 100, it's a nice round number, you know. $100 bill, you just think of 100 as a nice, simple number, to do math or whatever, whatever the case may be.
For myself, what I did was, that day that I freaked out, I said, "I need to just get down to some number." So truly not strategically, in terms of what would be most popular, I just did a quick inventory of my stuff.
And I realized if I did the 50 thing challenge, I wasn't going to be able to quite pull it off. I'd basically have enough clothes, but I wouldn't be able to keep my camping gear, as an example. And if I did the 150 thing challenge, it would just be too easy. It really wouldn't feel like I was pushing myself.
So I could've come up with 90 or 110 or something like that. But it just seemed like, why not round it to 100.
And I guess the good point there is, you picked a number that psychologically worked for you. Why is that a surprise? It's no surprise that other people can relate to that number as well.
Right, and I think the thing is too—And I make mention of this in the book, and when I talk to people. I don't think the goal is to maybe own a certain number of things for a lifetime or whatever. But the main issue is to try to break habits. And 100 is, for most middle-class folks in the United States, that's kind of pushing it.
Absolutely. It's really pushing it. Again, you're being really light on that. It's really pushing it for a lot of the people that I talk to. And I think exactly what you said, for us it was about awareness. When we first created that list, it was the awareness and the consciousness that allowed us to be like, "Holy cow. We really do have a boatload of stuff." And that was more beneficial than any secret number, having any special number that grants powers or anything.
That's a good point. When you start really paying attention and counting, you think, "I don't have that much stuff." And whoa, 10, 20, 30, keeps going.
Exactly. I want to transition into some tips. You've researched this. You've been doing this for a couple years. I consider you an expert. What are your top three suggestions? If I brought you a new person and said, "Here's my brother." What would be your three suggestions for him to get started, just in the movement or shift away from consumerism?
Yeah, absolutely. So I think the thing I always tell people is, start with your clothes. 'Cause all of us have more clothes than we need, and even want, you know what I mean? It's like you always have that stuff that you're just like, "Why am I still holding on to this?" kind of thing. So the reason I say that is it's a quick victory.
You can go, maybe in one week, and pick out 40 clothing items, maybe 50 clothing items that you're going to keep. And even if you don't get rid of all that other stuff, just put it away for awhile and within a couple of months, you're like, "Wow, I can actually live really comfortably and feel like I'm not living like somebody who is impoverished, or something, a slob, living with 50 clothes." So it's a quick victory, and kind of get you motivated and jazzed up to do other things. So definitely start out with the clothes for sure.
Just really practical stuff. Just got to stay away from the mall. In fact, I was just reading a couple of articles this week in The Wall Street Journal and The New York Times. They put so much—advertisers and marketers put so much money into stimulating you and getting you interested in spending money.
And that's one of the things I've really learned. It's so easy to acquire something, to spend $10, $20, $50 in our culture. And it's really hard to get rid of stuff. So if you put yourself in that situation where you're in the spot where you can easily pick up something, it's—you're just not going to ever ultimately get the upper hand on this thing.
And on that note, I feel like a lot of people will come and say, "It doesn't affect me. Advertising doesn't affect me. Commercials don't affect me. Or being in the mall doesn't affect me." And it just, I can't believe it. I'm sorry, I can believe a lot of things. I'm a big thinker, but I know how much money they pump into that. I know the psychology, and you can't put yourself in those situations, no matter how steadfast you are in your values. It does affect us.
Oh, totally. And I consider myself obviously minimalist. I've changed my habits. I don't—Even though the official 100 Thing Challenge has been over for a year now, I still have about 100 things. I think last count was 96 or something like that. But hey, I don't browse the Patagonia catalog a lot, or go into the Patagonia store. I just don't spend a lot of time looking at—Or going to the REI. Going when I need something, but I'm not going to just go in there and browse around, 'cause I know that—
Don't walk into the Apple store.
Don't touch the new Air.
Do you have a third tip? I think I interrupted you on your second one.
Yeah, no, that's OK. Well, and I think this one's a little bit more radical, and it might not seem totally related to what we're talking about here. But I do always kind of mention to people, if you've got the guts to do it, ditch the TV.
'Cause I just think the TV—not only the advertising, but a lot of the shows are actually built in. They make their money by throwing in product placements on the TV as well. You can still watch a lot of show on your computer, but you're a lot more intentional when you do that. Whereas you're not just flipping on the TV and just sitting there for an hour or two.
And we haven't had a TV in our house for almost 15 years now, and we have a lot of fun and keep up on some shows through online watching and stuff like that. But yeah, that's going to be a big mind change, because it's hard to combat it when you're constantly, constantly getting those things pitched at you. And they all look so cool, with all the lights and stuff. They film them real neat.
It is true. And I have actually loved that. Of course, traveling we didn't have a TV. But we recently got rid of our TV that we had when we got back as well. And like you said, it's a big one for us too. I just really love not having it.
And we watched Modern Family last night, you know? We watch it on the computer and we keep up with it. But like you said, it's very intentional. We'll say, "Hey, you want to watch two episodes?" "OK." Instead of just sitting there. It's also a great productivity tip, but that's a whole different thing we won't get into.
I want to talk to you about, the next question I guess is, what was the hardest part? And this is a question I get a lot personally, so I want to hear how you relate to this. For you, what was the hardest part of the entire challenge or process for you?
Well, I think I already made mention of an aspect of this, in that our culture—again, what I call American-style consumerism—it is just set up in a way where it's very efficient to get stuff, and it's very inefficient, very difficult to get rid of stuff.
Unless you're just willing to contribute your electronic devices to landfills, which you don't feel good about doing, right? Or you have something that's valuable that you've picked up but you realize you don't really need anymore. So you have some desire to either give it to somebody else through a sale, or even giving it to somebody.
There were things that were really valuable that I couldn't give away. People were like, "I don't need that. I've already got 10 of those," or whatever. So I think that's a really difficult part, is once you've been living in this American-style consumerism habit, become a practitioner of getting stuff, it's really hard to shift gears then and start having stuff primarily leaving your possession.
And that's really difficult, so I would just say that it wears down on you, and if you decide to go this route and try to downsize, you really have to have some staying power. And be willing to make it past the first weekend or two, when you're just kind of purging. That's a little bit easier than the long haul.
Yeah. It's a great tip and it's just like any long-term positive change, like dieting or increasing income or budgeting or anything. You have to—There's always that challenge. How do you use the motivation? Someone's going to read The 100 Thing Challenge, they're going to put it down, they're going to be ready to go.
And you want people to be able to—when you give them motivation, you want them to be able to take advantage of it while still making it last long. And I think that's a perfect way of saying one of the most difficult parts is making it long-term.
Yeah, and that's—I've thought about this a lot, and I actually went back and forth a little bit with my publisher and stuff. We were talking about whether we should make this thing more practical, or a little bit more memoir, which it is. And hopefully inspirational. And I feel like there's some practical aspects to my book.
Overall though, and what people have told me is, it's kind of a page-turner. They get inspired by reading it. And I think that's more important.
Again, get rid of those clothes; that's a quick victory. But then a lot of the other stuff is going to be long-term change, and that just doesn't happen overnight.
Yeah, it's about awareness. I completely agree with you. I've read a lot of books that are both. My favorite books among all of them are ones that have shifted a big way that I think. And when I want more resources—when I want to know how to eBay, I've got a guy. You can go find sources for things like that. But rather than—I don't need another person to tell me how to use eBay. What I need is more inspiration to live the lifestyle, and then I can go out and find the exact tools.
Yeah, and hopefully it still offers some good anecdotes for folks, and some things people can try out.
Absolutely. That's why your story has been so powerful, that's what drew me in, is your personal challenge, right? That's how I found you whenever, a year and a half, two years ago, I forget exactly when it was. But that's what I liked about it, and so that's what—And of course, that's what people like about Man vs. Debt, or at least what they tell me. The story, that's what helps people resonate.
So this is a big question. We're sort of starting to wrap up here, so maybe this is the last question. What's the number one way that the challenge, or this process, has positively affected your life? So if you had to choose one, what's the number one way? 'Cause if you're like me, there's a bunch, but I want one. I want the big one.
Yeah. You know, I think the number one way the challenge has affected my life—and I didn't actually think this was going to happen when I started it—is just a complete, complete lifestyle and habit change. And so again, I was really shocked.
I think I even maybe blogged about this when the official challenge, the year that I was going to live with 100 things was coming up. I was like, "Well, probably going to be up to about 125 pretty quick," by that December or January, a month or two after the challenge. And here it is, over a year after the challenge has officially ended, and I think I still, like I said, am at about 96 things or whatever.
And the reality is that, even though I—what I mentioned before, stay away from stores—I can walk into stores, like REI, whatever, and not walk away having purchased $50 worth of stuff, or $100, $500, whatever the case may be. It just has really become a new habit, and a new way of approaching consumption.
And what that does then is, it takes the desire to get stuff out of the equation. And I've got the energy and interest in contributing my own things, whether it be my writing and books, whatever, to the world.
To the movement. To the lifestyle. That's great. And I'll play off of that a little bit and say it gave us a lot of security. The exact same thing you thought when I thought we were going to sell and travel. I thought once we got back it would completely change. And we did have a sort of regression, I guess you would call it. But I'm just completely a different person. Just how I view things, what I want.
Courtney will bring home something and put it—I'm just like, "I don't want that around me right now." It does fundamentally change you, so I'm glad you brought that point. And I resonate with that.
I think, you know, it—And for a lot of us, again, we have a very immediate culture, whether it be the reality TV world or just the fact we can go out and get something right away. So again, that long-term change, it's a bit surprising 'cause I think so often we have a weekend inspiration, and then it fades away, whether it's exercise or diet or whatever the case may be. So then to actually see this thing change and really realize, "Wow, I'm not motivated, I'm not doing these things anymore," it's pretty awesome.
Yeah. So if you're looking for long-term change, you check out The 100 Thing Challenge. That's the—
Yeah, or Man vs. Debt.
But seriously, I'm a big fan of yours. The book is The 100 Thing Challenge, so of course there will be links below and the transcription for audience members. But you can also check it out at guynameddave.com, and then in the sidebar, 100 Thing Challenge. Or just go to 100ThingChallenge.com and it directs you. Did I get that right?
Exactly.
Wow.
That's right.
And the last thing I want to do, wrap up, is a question for the readers. I like to do this with people that I get to interview. So do you have a question for the Man vs. Debt readers that you'd like to know?
Yeah, absolutely. And this is something where, actually an extension of my personal life of The 100 Thing Challenge, because it was really focused primarily on stuff, like physical, material things. And not so much on financial and debt. We don't have a ton of debt, but we've had a little bit over time.
So I would just be really interested to hear from the Man vs. Debt readers how much tackling debt first has influenced consumption habits.
Because it seems to me you might be able to go at this thing two different routes, right? And say, "I'm going to get my financial house in order," and all of the sudden, things don't look as attractive at the mall and whatnot. So I'm interested to hear if people have kind of come into a life of minimalism through first attacking good financial stewardship.
Sure, and it's a good point. They go hand in hand. Obviously went hand in hand very much so in our lives. So for readers, did that help you? Did you come into it first through finances? Did you start by just getting rid of your stuff? Did that help your finances? I'm actually interested in that. It's a great question, Dave. Thank you so much for being our guest. And best of luck with the book.
Thank you.
*****
Now it's your turn to speak up!
Dave wants to know:
What came first paying off debt or selling your crap?
How did you journey to pay down your debt help motivate you to purge some of your possessions – and vice versa?
It's a great questions and I look forward to reading your responses! If you want to check out Dave's book – here's the link.
Stay tuned Thursday for the longest post in MvD history – yes, for real. 😉
If you enjoyed the interview, please click "Like" below:
[share_sc]