[share_sc]
For those of you that are new readers, my wife, daughter, and I are just 10 days away from packing our bags and moving to Australia.  We've been planning the trip for a little over a year have now sold or donated at least 90% of our possessions.
Not having ever done anything like this before we were a little nervous on whether or not we could carry/fit all of our remaining possessions into our backpacks.  So Tuesday night, we decided we would do a full-fledge test pack (at least of the adult possessions).  My wife had already test packed all of Milligan's belongings into her backpack and they only took up between 60-70%.  Regardless of the extra room, we wanted to be able to fit all of our stuff into the one main backpack.  I'm sure we will find something last minute to fill up Milligan's pack.
Here is what 99% of our possessions look like spread out: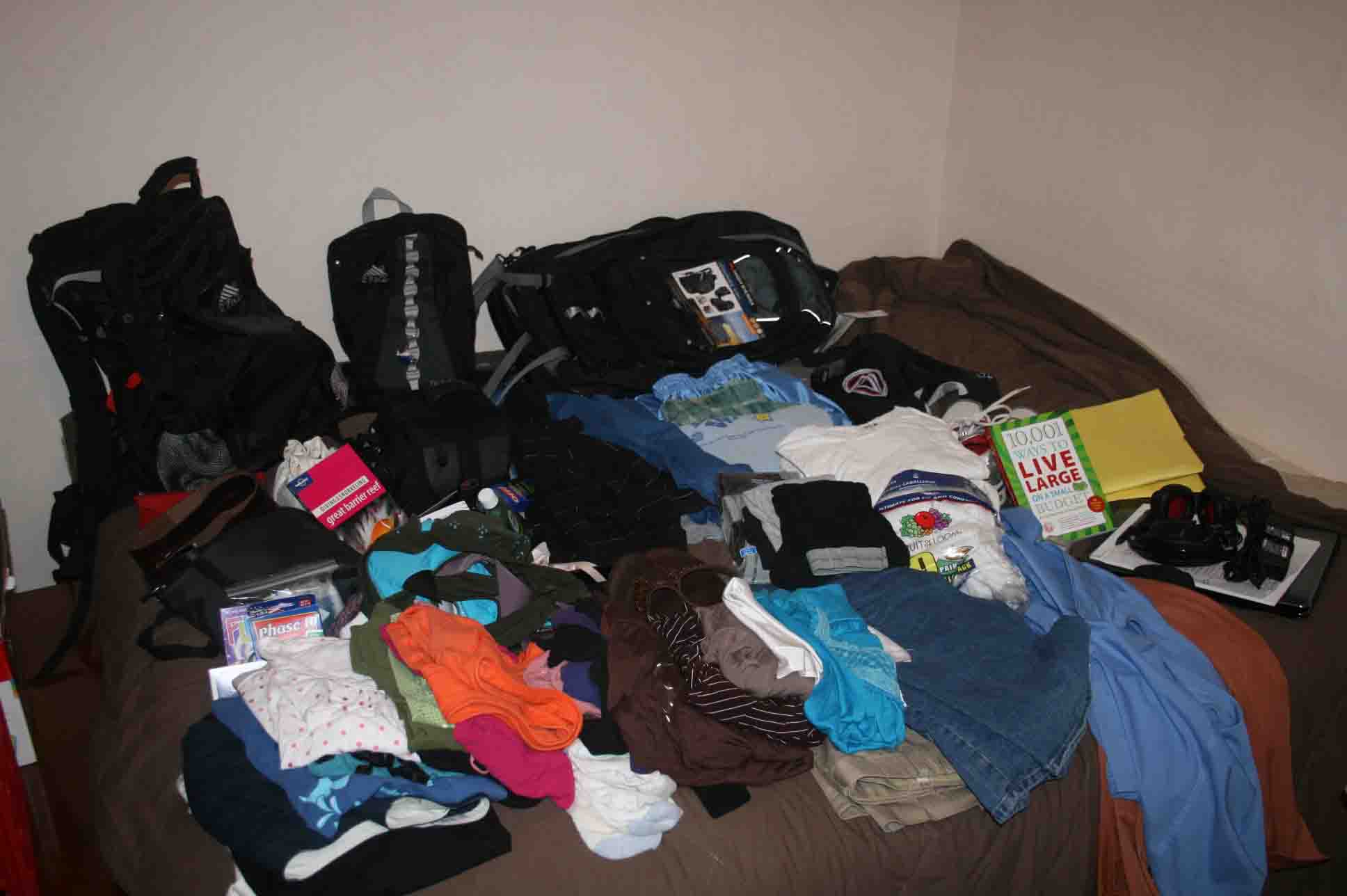 It's a little weird seeing most of your possessions (at least for the adults) all out in front of you like this. In the background you can see both of our backpacks.  Each primary backpack has a secondary backpack that zips on and off.  My wife's pack is on the far left.  Although you can't see it well in this picture, the front of it has room for Milligan to slide in and grab a ride.  Behind where Milli rides, there a decent amount of room in the main compartment.  This will primarily be used for Milligan's clothes and other belongings.
Just to the right you can see the small zip off bag for this backpack.  We will be using this as an actual diaper bag. It will have diapers, wipes, rash cream, change of clothes, etc…  This way we don't have to lug around the main backpack in order to be able to change her diaper.  We've actually been using this little mini-pack for the last several months as a diaper bag so we are familiar with it's layout.
Lastly, laying on it's side is the main backpack. This is what we wanted to really give a test run as it is a new purchase.  Like I said before, we hope to get all of the adult possessions into the one main back.  Here was the result of the test run: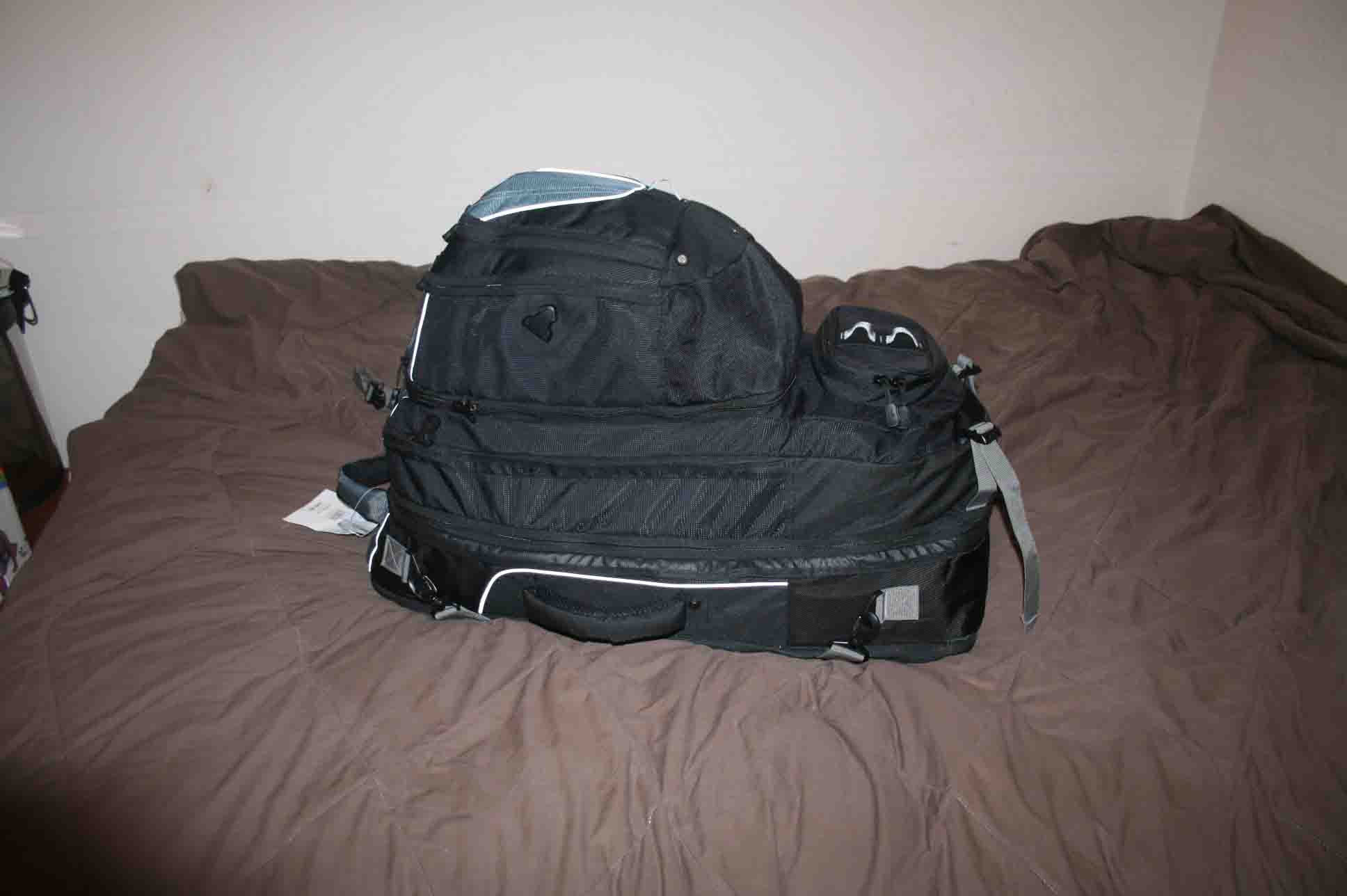 Ta-Da! This is one full backpack.  It's much bigger in real life than it looks in this picture… trust me. As you can tell, the top most hump is actually another smaller pack that zips off.  When you detach it, you get: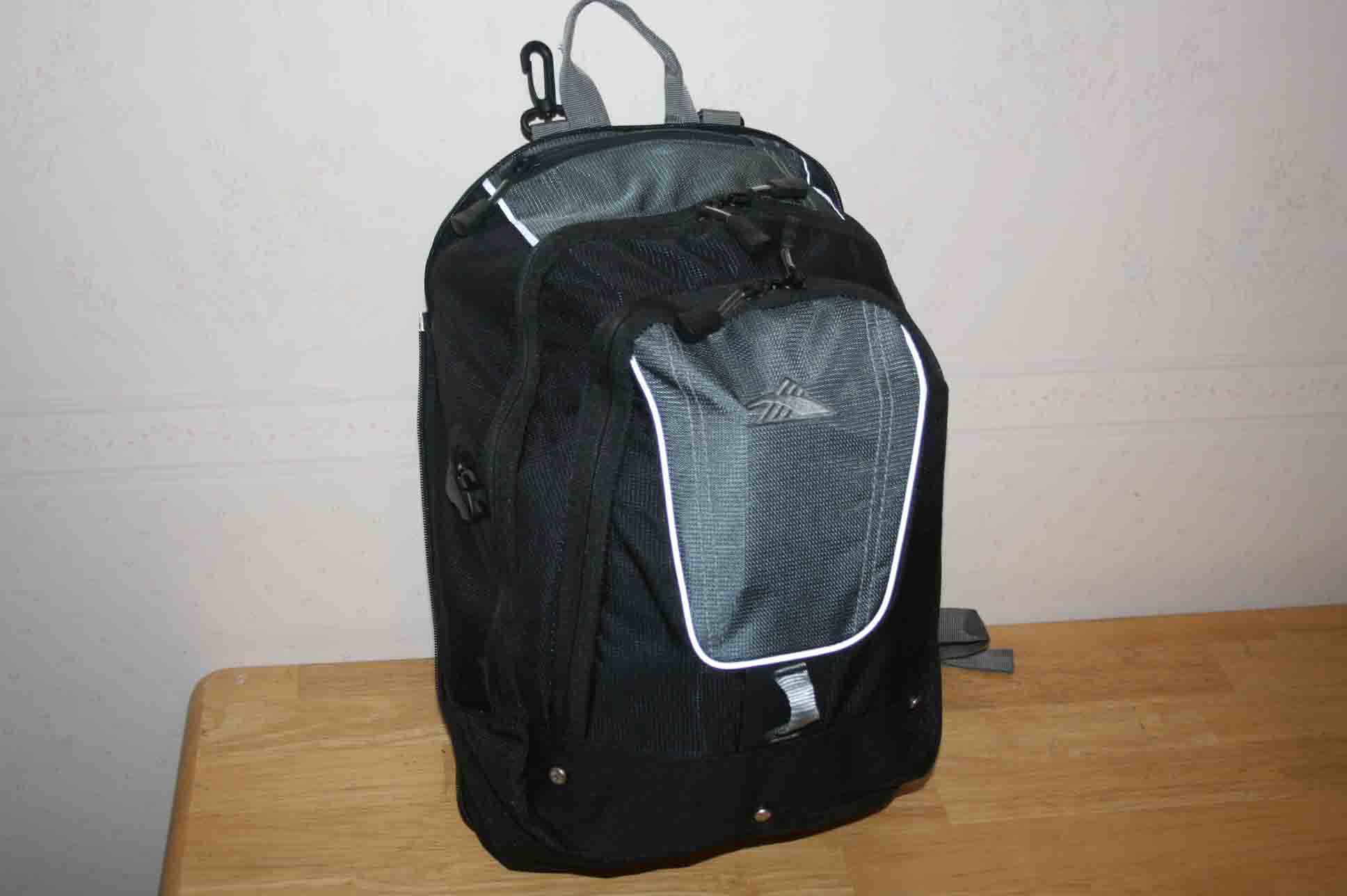 This is almost the size of a typical "school" backpack. This is where we are packing our important documents folder, our laptop, electonics, pens, paper, books, and entertainment items.  Although the main pack is far too big to carry-on, zipping this off should be the perfect solution.
Here's a photo off all the bags together, one big happy family: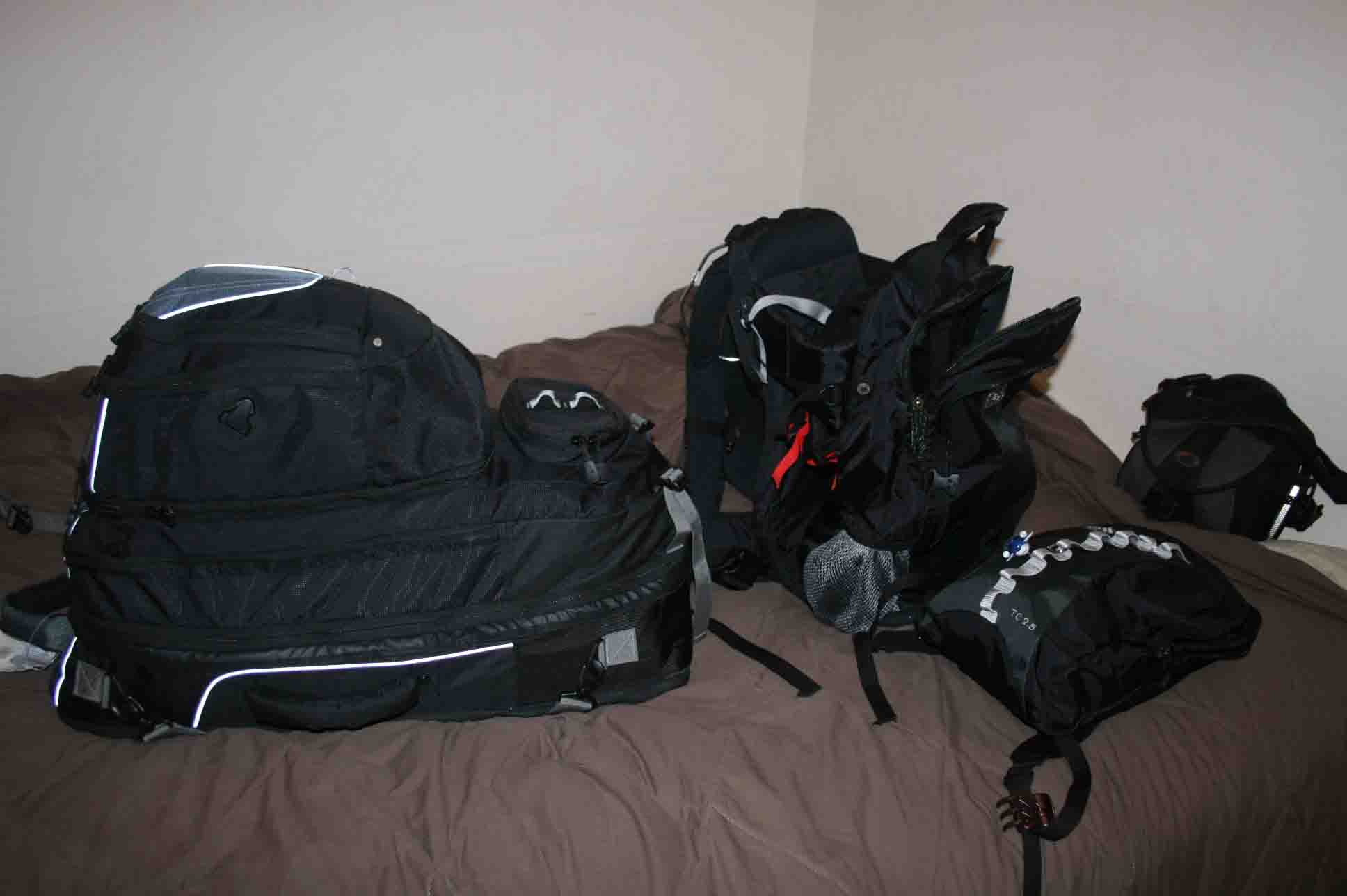 This is a better angle to see where Milligan will be riding.  In addition, you can see that Courtney's main compartment is empty.  We are actually quite happy, because we know Milligan's stuff won't take up all that room. The mystery bag in this picture contains two cameras and a video camera with all the cords, readers, etc…  I'd like to try to get that inside of one of the two bags, but I'm not sure that's going to work out.
Not pictured are the pack-n-play and Milligan's car seat, both of which we will be carrying by hand.  Depending on the situation we might be able to dump the car seat once we get there, but we aren't sure what sort of transits we might have to take and we aren't willing to sacrifice safety until we know for sure it won't be needed.  Plus both airlines allow you to take it for free without counting against your luggage numbers.  Nice of them.
Overall this was a very successful trial run. We had opted to get our main backpack based on it's ability to open like a suitcase from the side.  We had to sacrifice a little overall carrying room, but I think we can get everything in it.  Side opening has major advantages over traditional top loading backpacks if you can swing it.
Regular reader's will probably realize that my scuba gear is nowhere to be found in this scenario.  Upon reader suggestion and more research, we've decided to tightly pack the equipment and have family ship it over once we get a permanent address.  It's too expensive to have to rebuy (not much of a market in central Indiana), but too bulky to be able to justify carrying.
We also updated our list based on great feedback from you guys and our test-run.  Items in bold are new, and of course I've struck through some items that have been cut!
Important Items [11 items – TOTAL: 11]

Wedding Ring
Wedding Ring
Wallet
Purse (small)
Wallet (Courtney)
Essential Documents Folder
Backpack (Courtney)
Backpack (Adam)
Car Seat (free on flights)
Pack 'N Play
2 Pillow Cases
Adam Clothes [32 items – TOTAL: 43]

Underwear
Underwear
Underwear
Underwear
Underwear
Underwear
Undershirt
Undershirt
Undershirt
Undershirt
Undershirt
Undershirt
Socks
Socks
Socks
Socks
Socks
T-Shirt
T-Shirt

Decent Non-Collar Shirt (green)

Decent Non-Collar Shirt (brown)

Collared Shirt (blue)
Collared Shirt (black)
Dress Shirt (blue)
Khaki Shorts
Khaki Pants
Jeans
Swim Trunks
Pajama Pants
Running Shoes
Multi-Purpose Sandals
Reversable Brown/Black Belt
Sunglasses
Chamois

Courtney Clothes [33 items – TOTAL: 76]
Underwear
Underwear
Underwear
Underwear
Underwear
Underwear
Bra
Bra
Sports Bra
Socks
Socks
Undershirt (white)
Undershirt (white)
Undershirt (white)
T-Shirt
Tank-Top
Tank-Top
Tank-Top
Tank-Top
Tank-Top
Swimsuit
Shorts (Blue)
Pants (Black)
Pants (White)
Dress Shirt
Dress Shirt
Dress

Dress

Casual Jacket

Dress Jacket

Running Shoes
Dress Sandals
Flip-Flops
Sunglasses
Chamois

Milligan Clothes/Gear [24 items – TOTAL: 100]

Onesie
Onesie
Onesie
Onesie
Onesie
Dress
Dress
Skirt
Skirt
Pants
Pants
Pants
Hat
Tennis Shoes
Sandals
Monkey Backpack/Leash
20-pack diapers
Baby Wipes
Blankie
Sippie Cup
Baby powder
Rash Cream
Baby sunblock
Hair ties
Toiletries [14 items – TOTAL: 114]

Toothpaste (small)
Toothbrush
Toothbrush
Nail clippers
Shampoo (small)
Conditioner (small)
Deodorant
Hair clippers
Q-Tip
Sunblock
Misc (small baggie)
Small medicine container
Aloe
Mosquito Repellent

Electronics [20 items – TOTAL: 134]

Laptop
Charger
Mouse
Headset (Skype)
Jump Drive
Jump Drive
Webcam
Digital Video Camera
Charger/USB
Awesome Digital Camera
Charger
Small Digital Camera
Charger
All-in-1 Card Reader
MP3 Player
Headphones
Walky-Talkies
Courtney Watch
Plug Converter
Plug Converter

Entertainment [11 items – TOTAL: 145]

Travel Book
Courtney 1 Book
Adam 1 Book
Deck Of Cards
Flux
Phase 10
Harmonica
Pen
Pen
Yellow Pad
Journal
So as of now our list is 145 items deep.  We've added 3 items total, even though we aren't counting any of the scuba gear, right now.  Still not too shabby.  Thanks for all the wonderful feedback last time on the list.  We've added, removed, and reorganized several things due to your feedback!
Have you ever "test-packed" for a trip before?  Do you have any last minute packing tips or specific suggestions based on our list?  Please help us out by leaving your comment or support below!