[share_sc]
Note: This is a post from Adam Baker, founder of Man Vs. Debt.
Today is an exciting day for me. We're almost ready to launch our next You Vs Debt class – and to celebrate I've decided to share a few sample daily lessons and resources this week with you!
The first week of the six-week You Vs Debt class is all about "Motivation & Mindset."
As we talked about in my last post, this is an extremely important topic that many financial experts simply shy away from. We dig into the numbers of personal finance starting in Week 2, but not before we lay a foundation of excitement, passion, and commitment.
The key metaphor that guides us through this first week is that of The Rider, The Elephant, and The Path – a great construct laid out in the book Switch by Chip and Dan Heath.
Essentially they describe our emotional mind to be like a huge elephant – slow, deliberate, and powerful. Our logical mind is the rider on top tasked with constantly guiding the elephant through the jungle towards a desired destination.
How do most of us try to get this elephant through the jungle?
We force it. We grab the reigns and try to ram this beast straight through the shortest path possible!
We fight, we struggle… we tire, we sore, and finally… we exhaust.
"WILLPOWER!" We scream at the top of our lungs… but it's no use. We simply can't keep up the stamina to constantly overpower the elephant.
Is it any wonder most of us burn out when attempting to change a tough habit?
Willpower alone is not enough…
Instead of constantly exhausting ourselves trying to micromanage our journey, Chip and Dan Health suggest we:
Direct the rider – First, we need to give our logical minds clarity above all else. We need to know specifically what we are doing and where we are going. This helps us overcome the fear of uncertainty (a huge source of resistance in our logical brains) – and gives us the guidance to make small course corrections when needed.
Motivate the elephant – This is where so many of us fail. You shouldn't be motivating the rider (what most of us try first) – you need to motivate the huge, powerful beast you're riding! By switching your motivation to feed your emotional mind – you'll ensure that the elephant wants to come along for the ride. You'll no longer be caught in a constant power struggle – and won't burn out nearly as quickly.
This subtle shift to motivate my emotional mind over my logical mind has completely changed the way I approach change in my life.
But the last part of Chip and Dan's jungle metaphor may be the most important.
They remind us that you can also Shape The Path that the rider and the elephant take through the jungle. This means crafting a positive, supporting environment and removing any negative potholes, obstacles and predators in your way.
Shaping the path makes the journey easier on both parts of our minds. Our emotional mind can push forward without many hurdles – and our logical mind can make small adjustments if we begin to wander off the path at any point.
You Vs. Debt Sneak Peek…
And this is where we find ourselves on Day 4 of the You Vs. Debt class framework. Having just covered how to motivate our emotional minds and direct our logical minds, we're ready to craft our environment to help support the journey.
Take a sneak peek at a sample lesson and challenge from Day 4:
[share_sc]
Additional Resources:
Do This Challenge Today…
This sample lesson (and post) is useless if you don't take action.
I want you to download this supplemental worksheet and fill it out.
Start by filling out your three levels of positive influences. Next, list the negative people and environments that are dragging you down.
After you are done share the following in the comments (if you are willing):
Share the #1 entity in your life that is dragging you down.
Share your #1 most empowering influence.

Sharing your answers in the comments below will help inspire others to take up the challenge!
Ready for more action steps to change your financial life? Get several awesome resources to "kickstart your money," join the Man Vs. Debt community list by clicking here!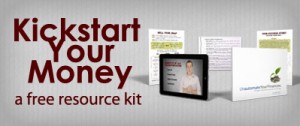 · Unautomate Your Finances ebook
· You Vs Debt Sample Lesson
· What to Sell Where Flow Chart
· Debt Payoff Tracker
· 10 Tips for an Effective Craigslist Ad
Your financial life CAN change. And crafting your environment (or "shaping the path") is an essential step in ensuring that this change will be long-term and sustainable.
I hope you enjoyed the sample lesson!
[share_sc]
Xoxoxo,
-Baker