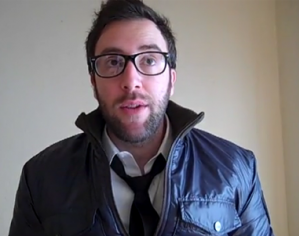 I've still got my head buried in the production of "Unautomate Your Finances", however over the weekend I was alerted to the fact that my friend (and MvD reader) Jared Matthew Kessler just became 100% debt-free!
After a ten year, up and down battle with debt, Jared has emerged the victor!  You can feel his joy in his writing and I wanted to share his story as inspirational for others stuck in a long-term battle.
Without further ado… here's Jared's story in his own words:
[share_sc]
I was introduced to Dave Ramsey in 1999 when I was living off of credit cards barely surviving as a "Starving Artist."  My mentor in, "The Poet and the Billionaire" recommended that I check out his book called, "Financial Peace."

And I devoured it.

The only thing was I was "Fighting To Be Me" (the title of my latest album) by refusing to get a "job" to do what I loved. Unfortunately, it wasn't working.

So it got to the point where I just hit rock bottom. The car died.  The auditions I was going on to try and "make it" wasn't happening fast enough.  So I did the unthinkable:

I sold off everything and moved back home with my parents.

At about that time, my credit card debt probably totaled about $22,000 (but since 1994, I've probably accumulated about $70,000 worth of credit card debt).  Now to someone making decent money, that may not seem like much.  But to someone without a job, living on the other side of the country from their family, and looking the way I did… things were a huge challenge to pay something like this off (to say the least).

"There are times that people can be so blinded by what they want IT to be, that whatever reality they perceive it should be… they lose." –The Poet and the Billionaire

In short, I was always living in the future saying, "Things are going to turn around, things will get better, this year it's going to happen…"  But the thing is, I HAD TO face the reality of the situation NOW and do whatever I could to get out of it NOW – not another year down the line.

And I did.

First thing I did was sell my car, move out of California and moved back in with good ole mom. That didn't last too long, so I moved to Orlando, FL (and got 3 jobs).

After that, I THEN started to make headway and came back to California finally becoming debt free for the first time in about 10 years.  Then 2006 came and a flurry of setbacks along with it… and so I did the UNTHINKABLE (again).

I got a bank loan for $12,000 to fund my business…

Dumb move. Why?  I wasn't making any money at it.

Three and a half years later I lived WAY below my means to pay that last balance off and DEEP within my spirit I could honestly say that I will NEVER use another credit card/bank loan again.

Why is this important? To me, it is legalized slavery. You think you work at your job… you don't!

You work for your debtor (and that is a slave no matter which way you cut it).  Not only that, it's probably one of the most freeing things anyone can do for themselves OR their family.

To know that you don't owe anyone ANYTHING is beyond life changing (especially when you've been in debt as long as I have).

What did it do for me? Well the freshness of it is still very young, but the only way to describe it is "giving myself back to me."

I'm TRULY whole again and back to being me.  I wish the same for everyone out there.
A few questions for Jared…
Baker: Over the course of the last decade in debt, it seems like you've had some ups and down (almost getting out of debt, but then diving back in).  How did you ride out the waves?  Any specific motivations (besides Dave Ramsey) that helped bring you 'back around'?
I met my girlfriend Kelly about 3 years ago and noticed her exact patterns.
You see something and say, "Oh that looks nice" – then put it in your cart without ANY understanding of what it takes to earn the right to own it.  I wasn't anything like that, because I was using credit cards to just stay alive.  But the thing was, I couldn't help her on that plan, if I wasn't REALLY living what I was teaching her (because I saw how much of a stress it was in her life).  Since then, she paid off OVER $30,000 so far and has been on Dave's plan for about 2 1/2 years now.  And that inspired me to continue on with it because of how happy she's been living without credit cards.
Specific motivations?  Pain.  🙂
But seriously I think my girlfriend being on the plan helped make things a LOT easier on me.  You don't feel so alone and fighting that uphill battle all by yourself.
Baker:  What are your top 3 tips for people based on your own story?  Especially consider those who may have several years left on their own debt plans.
Top three tips?
1 – Find someone else in the similar circumstance and help them out.
This does a few things.  First, it holds you accountable because it's hard to teach someone to do something you're not doing.  Second, it's makes you feel a lot less crazy – knowing someone else out there is dealing with something similar.
2 – Don't keep any money or debit cards on you unless you know you're going to buy something.
Most of the time, people buy on emotion.  This alleviates that.
3 – Put things on hold.
This is a great little personal trick I adopted.  Just the other day I went into H&M and saw a few shirts I wanted.  Knowing I have about $25 in my clothing envelope, this would cover it.
But the thing is, I didn't necessarily know if I NEEDED it.  So basically, a day later the initial emotion of buying something is lost, and if I NEED it… I go back and get it.
At first I used to feel a bit weird doing this, but I don't care.  When "normal" is being in debt, I would rather be "weird."  🙂
Baker:  Lastly, you've mentioned that your business is now run 100% debt-free, as well.  Have you noticed any advantages in your approach to business with this new outlook?
Totally.  Yesterday I went out to celebrate with Jonathan Mead (Baker: Jonathan introduced Jared and I!) and we talked a lot about this – since he and his wife became debt free a few months ago too.  I had said that I think a lot of people start a company and say, "Oh I think this would be a great idea to do" (then get a loan, open up a storefront and THINK they are in business).
Honestly that was the last reason for my $12,000 loan in 2006 – the last debt I was paying off.  I was excited that Mtv was interested in the music I was making to use for their shows.  So I got a $12,000 bank loan to afford me the time to make the music to give to them.  Little did I know it was a YEAR later until I got a contract and ANOTHER year on top of that until I got any royalties from it.
Now… UNLESS there is a need, I don't come out with a product.  As Jonathan and I discussed, there is a TON of research, questions, and determining whether or not people are willing to pay money for something is instrumental…  before most of anything is launched now.  That was the last reason I launched my first eBook, "Your Uncommon Guide to Finding the Ultimate Mentor."
It cost me $0.  If it fails (which it isn't), I'm not enslaved to anyone.  Talk about a HUGE mind shift?
Also my first book, "The Poet and the Billionaire", I ONLY get more copies printed based on "the need."  New music?  I have 2 new albums already done and licensed but I haven't release them yet until I have the funds!
—
Thanks to Jared for sharing his story and interview questions!
I know this is the second time I've broken my 'no posting' rule, however I made an except for Haiti and sharing a 10-year success story.  So, sue me!
…back to work…