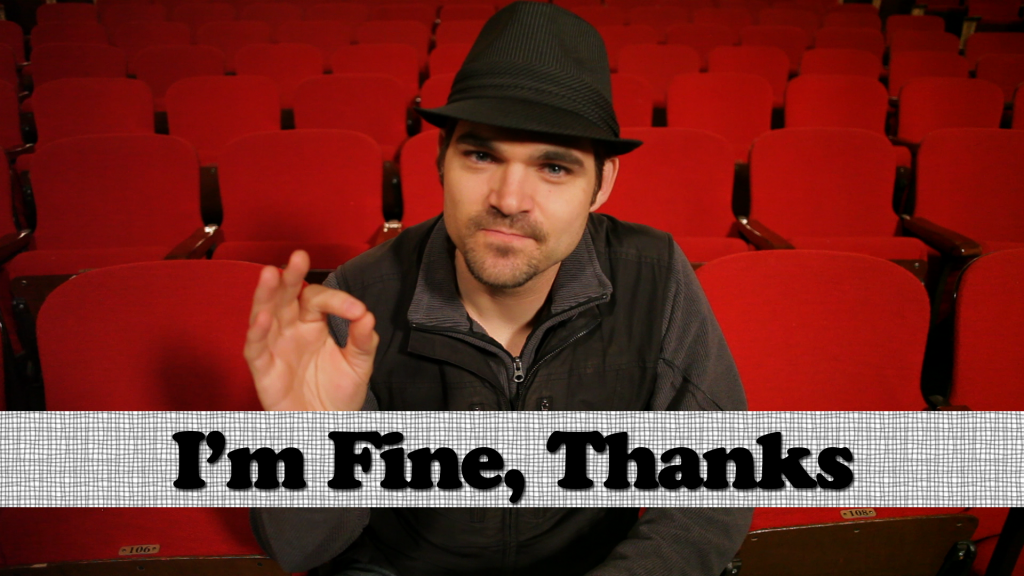 [share_sc]
That's right, folks. It's time to announce the next big project around here.
I'm partnering with my good friend and amazing storyteller Grant Peelle to film, create, and distribute a full-length documentary.
The working title is I'm Fine, Thanks and we're exploring the plague of complacency in everyday life.
In laymen's terms, we want to dig into why so many of us WILLINGLY compromise our dreams and passions as we get older in exchange for a routine, scripted life. AND, we want to feature why it's never been more important to make those dreams more of a priority in our lives moving forward.
We've alluded to this struggle dozens of times on Man Vs. Debt and it played a huge role in my recent TEDx Talk. I'm completely stoked to take this to the next level with the documentary.
How are we going to pull this off?
We've compiled a documentary team of 5 to tour the country for 6 weeks.
We'll have Grant (director and lead), me (for my good looks), two cameramen, and a sound professional. I'll introduce the other members of the crew more in a later post. 🙂
Our new production company is called Crank Tank Studios, and we'll be updating various aspects of the documentary and project on the Crank Tank Facebook page (I'll do some big updates here, but that Facebook page is the best place to follow all the updates of the filming process).
We're going coast-to-coast starting later this month from:
Ohio (starting next week)
NYC (2/27-3/1)
Washington D.C. (3/2)
Asheville (3/5)
Austin, TX (SxSw)
Grand Canyon (3/12)
Phoenix (3/13)
San Diego (3/15)
L.A. (3/16-3/17)
San Francisco (3/19-3/20)
Portland (3/22-3/23)
Seattle (3/26)
Vancouver (3/29)
Yellowstone (3/31)
Back to the midwest
Sound familiar?
That's because it just so happens to be almost exactly the route we followed in the RV! 🙂
Only issue is this time Courtney and Milli won't be joining us (I'm sorry to let everyone down!).
Who is going to be in the film (maybe you)?
We'll be sitting down with experts, bloggers, authors – as well as everyday families and people we meet along the way. Here are some of the personalities we have confirmed:
Chris Guillebeau
Jonathan Fields
Nik Tarascio
Danielle LaPorte
Steve Kamb
Pam Slim
Pat Flynn
L.A. Homeless Program
Hundreds of people at SxSw
Dozens of families and individuals along the way
And these are only the people we've confirmed dates for. We're still emailing people this week to schedule times!
But here's the most important thing…
We want your input!
Leave a comment here or email me at [email protected] and let me know your suggestions. We're still finalizing the list and would love your input.
We're looking for experts and personalities to provide perspective, but we're also looking for everyday people.
We're especially interested in people who feel trapped from years of putting off their dreams. People who've built a decent life, but feel they've sold out their passions for a scripted life.
Is that you? Let us know, we'd love to talk with you! 🙂
The Kickstarter Campaign…
We're planning on running a Kickstarter campaign for the film in early April.
For those of you who don't know, Kickstarter is a website and community that helps fund creative projects. You set a goal for funds needed to complete a project, outline the details, and set different creative rewards for people who pledge specific amounts to help accomplish the goal.
Kickstarter is absolutely exploding and is a perfect fit for a documentary project like this.
In fact, a couple weeks ago, Grant and I filmed a sample Kickstarter video we were considering launching BEFORE the road trip. After consideration, we decided that most people would really enjoy seeing the actual footage from the personalities in the film and the road trip itself.
For that reason, we decided we'd wait until at least the halfway point of the trip to create a trailer for the film and launch our Kickstarter campaign. This meant we had to assemble a team to help with the upfront cost of travel, tons of gear, and paying a staff of professionals… but the trade-off is well worth it.
Trust me, you'll know when our Kickstarter goes live in early April – but in the meantime you can check out a fun video Grant and I shot about the topic for a potential campaign (we won't be using this, but I knew many of you would really enjoy it):
[share_sc]
10 ways you can help bring the documentary to life…
In order to make this happen, we need YOUR help.
Nominate a person or family for us to interview for the documentary.
Nominate YOURSELF as available to talk to us for the documentary (don't be shy, do it!).
Help us find lodging in New York City from February 27th through March 1st… Yikes!
Help us find lodging in Austin, TX during SxSw… Double Yikes!
Host a documentary crew of 5 really nice guys for a night in a city we're filming in. 😉
Help us find a unique and creative place to film while in your city.
Help us schedule a fun event, attraction, or experience while in your city (or along our route).
Submit your music or work for use in the movie soundtrack.
Like Crank Tank Studios on Facebook (we'll be sharing updates from the road).
Join the Crank Tank Street Team (by email) here.
We're going to need a lot of connections to make this documentary shine.
Here's how to reach us:
As always, I'll owe you guys a lot for your help with the project.
No idea is too big or small. Reach out, we'd love to hear from you!
Premiere in July!…
With an intense production schedule (from the full crew), we plan to premiere this in early July.
We'll be using a very open, low-cost model for distribution. A digital, HD download of the film will be only $5.
We really want as many people as possible to have their eyes opened by this message.
I plan on things being normal around here, even while I'm on the road. I'm taking my podcast gear, will continue to write posts and updates, and am excited to meet up with as many of you as possible again.
This is a big undertaking for Man Vs. Debt (and for me), but I'm super excited.
Special thanks to Courtney, whom is fully supporting me leaving for more than a month, missing our anniversary and her birthday, all while she's 7 months pregnant. When I say that having a supportive family and spouse is one of the most important factors for success… I mean it. 🙂
More updates soon, but buckle your seat belts… this is going to be a fun ride!
[share_sc]
Xoxoxo,
-Baker