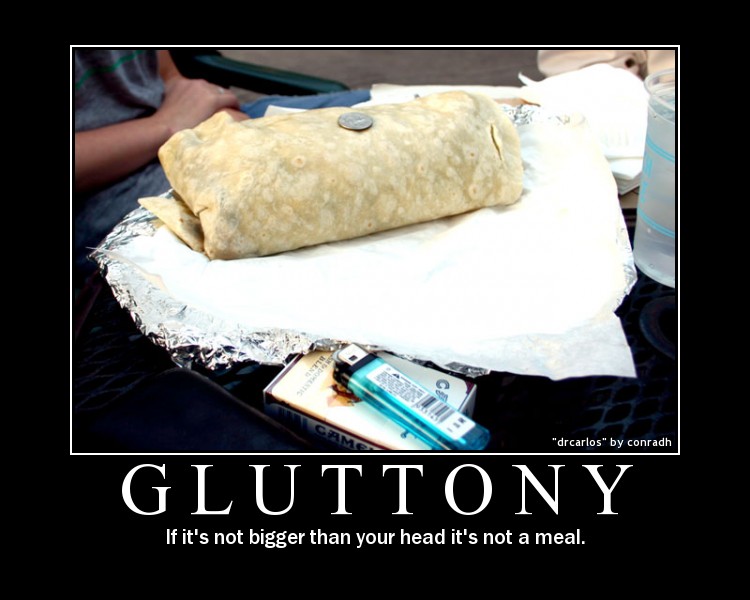 This is a guest post by Matt Gartland. In his own words, Matt is a healthy lifestyle geek extraordinaire, blogger, world traveler, lifestyle entrepreneur, coffee fanatic, web techie, and more. He writes at Healthy Lifestyle Design (HLD), where he unleashes his passion for remarkable and unconventional living propelled by amazing health. Follow Matt on Twitter and join the HLD Tribe on Facebook.
Imagine eating yourself into an abyss of debt. It's possible. And it's not a pretty picture.
This tragedy befalls many unknowingly. How? Because many lack an adequate education about food and food products. Many don't respect the profound lifelong impacts of their food choices. Many are short-sighted about the cost-relationship between food and money. And many believe there is no meaningful correlation between literal health and financial health.
So let's get something straight – food is like money, in every way.
Food is a currency – actually, a collection of currencies. Different foods have different values (qualities) as currencies do. Thus, they have different exchange rates – some foods yield greater returns (lifestyle benefits) than others. And like smart investment decisions, smart food choices are wonderful long-term growth vehicles for your financial and literal health.
Hence, savvy food choices are way serious. So the need for dietary responsibility (like fiscal responsibility) is paramount. You have to make smart, conscious decisions to better your overall situation. If you don't and instead allow yourself to make apathetic and nonchalant choices then you risk going way deep into debt.
Sadly, this allegory isn't enough to assuage the danger. Many (perhaps you) will still fall victim to the veiled and pernicious sources of food-incited debt. So I think it's high time that they be fully exposed and put into perspective.
1. Dining-Out Debts
We all know (or should) that dining out is (by far) more expensive than cooking meals yourself. We also (should) know that dining out is usually not a healthy affair – what with all the hidden additives, high processing, environmental contaminants, etc. Fast food joints are the obvious villains. But (sadly) many mainstream "high-end" restaurants (e.g. The Cheesecake Factory) offer meals riddled with hidden calories and unnatural ingredients.
Such overindulgence in dining out easily reeks havoc on your well-laid budget (you do have one, right?!). And costs are rising as the food industry ecosystem is waylaid by mounting economic pressures (transportation costs, raw material prices, etc.).
Overall, doesn't sound like you're getting a positive ROI on your dining out investments.
2. Excessive Alcohol & Alcohol-Related Debts
I know many that go wild at the bars and similar establishments. I'm sure you know the type. Okay, you may label these "entertainment" costs in your ledger, but I don't. They involve alcohol (a food product), and lots of it. They involve nibbles, and lots of them too. You can fancy it up however you like – these expenses are still food choices that drive financial debt.
It gets worse because excessive alcohol debts are a double whammy. First, you get socked with the pricey bills in the present. Second, your health corrodes in the future, which triggers greater health care costs (more on that soon).
3. Food Waste Debts
Many don't fully comprehend the gravity and magnitude of food waste.
What is food waste? Any and every food or food product that ends up in the rubbish bin. It could be fresh vegetables that have gone bad. It could be canned food items past their expiration date. It could be those leftovers from your last dining out venture.
You paid good money for all these things. And you're chucking it away – usually without a second thought. The cliché "flushing money down the toilet" comes to mind. It's criminal, and damn expensive!
4. Food Label Debts
I'm a healthy lifestyle geek, don't get me wrong. But you don't need to buy everything "healthy".
What is "healthy"?
It's a noble ideal that's been bastardized by the modern food industry for insidious marketing. Classic culprits include "all natural", "certified humane", "free range", and "grass fed" labels. These terms have been poorly defined by the USDA and are thusly near-impossible to regulate. Nevertheless, despite inconsistent health benefits (at best), food manufacturers will gladly sell you these wonder products for a pretty penny.
Organics deserve special mention. I do eat organics, absolutely! But only those products that yield the greatest nutritional (quality) returns. Keep in mind that all organics are NOT created equal
No need to take my word for it. The Internet has a wealth of good information for your perusal. Here are two to get you started:
5. Supplement Debts
Supplements are like double-taxation. First, they're bloody expensive. Second, they propogate a nutritionally inadequate base diet, thus fueling the need for more supplements. This is a vicious cycle – eat poorly and thus you need supplements; take more supplements and you convince yourself you can "get away" with eating poorly. Rinse and repeat.
Worse yet, many supplements are shams. Oodles of folks buy miracle protein powders, detox diet pills, dangerous metabolic accelerators, weird tropical extracts, and more. Crap, crap, and more crap. The lot of this stuff is nothing but snake oil and pixie dust.
I'll give that some quality supplements (multi-vitamins, probiotics, omega-3, etc.) are good, even necessary if you have an abysmal diet or genuine medical condition. But if you're of average health most supplements are pure nonsense. They certainly won't turn you into Brad Pitt. But you'll certainly be spending like a Hollywood star.
6. Health Care Debts
Health care debts are the worst travesty of all. They're astronomically high. And their financial impacts are heart-breaking, horrid, and unacceptable. I've written about these inconvenient truths before. It's important that some be re-shared now.
The US ranks 1st in health care costs as percentage of Gross Domestic Product (GDP) – 16.2% in 2007, projected 20.3% in 2018 (1)
US health care costs will average $8,160 in 2009 for every man, woman, and child (1)
US health care costs are estimated to be $13,100 in 2018 for every man, woman, and child (1)
1.5 million US families lose their homes to foreclosure every year due to unaffordable medical costs (2)
62 percent of all US bankruptcies filed in 2007 were linked to medical expenses. Of those who filed for bankruptcy, nearly 80 percent had health insurance (2)
178,000 US small business jobs will be lost by 2018 as a result of health care costs (2)
$834 billion in US small business wages will be lost due to high health care costs over the next ten years (2)
US small businesses will pay nearly $2.4 trillion dollars over the next ten years in health care costs for their workers (2)
Granted, not all health care costs pertain to your eating habits. But many do. The metastasizing obesity epidemic is proof of that. Consider this – obesity is a leading cause of the following (3):
Coronary heart disease
Type 2 diabetes
Cancers (endometrial, breast, and colon)
Hypertension (high blood pressure)
Dyslipidemia (for example, high total cholesterol or high levels of triglycerides)
Stroke
Liver and Gallbladder disease
Sleep apnea and respiratory problems
Osteoarthritis (a degeneration of cartilage and its underlying bone within a joint)
Gynecological problems (abnormal menses, infertility)
The Bottom Line
Any good financial report has a bottom line. Here's mine:
The food you eat has profound affects on the financial and literal health of your life.
This is a great bottom line! Why? Because it proves that you are in total control of a major factor in your financial life. If you exercise smart and sensible dietary responsibility you'll reap a wonderful ROI – both financially and health-wise.
And a final word of warning – don't get shortsighted.
Yes, healthier food choices will surely increase your net food spend upfront. But think big picture. An investment today in healthy food choices will payout massive dividends down the road. Think of all the supplements you can stop taking. Imagine drastically lower health care costs. Couple those with an optimized food management philosophy that reduces waste and eliminates senseless indulgences and you have a kick-ass plan live fantastically healthy and debt-free!
Sources:
Health Care Costs to Top $8,000 Per Person – ABC News
Health Care Facts: Costs – National Coalition on Health Care
Health Consequences – Centers for Disease Control and Prevention
Baker's Note: I'm super impressed with Matt's surge onto the blogging scene.  This was one of the most well-written and professional guest post submissions I've ever received (his article, the e-mail, his passion).  Do me a favor and check out Healthy Lifestyle Design, you'll be able to say you were there before it was HUGE.  🙂