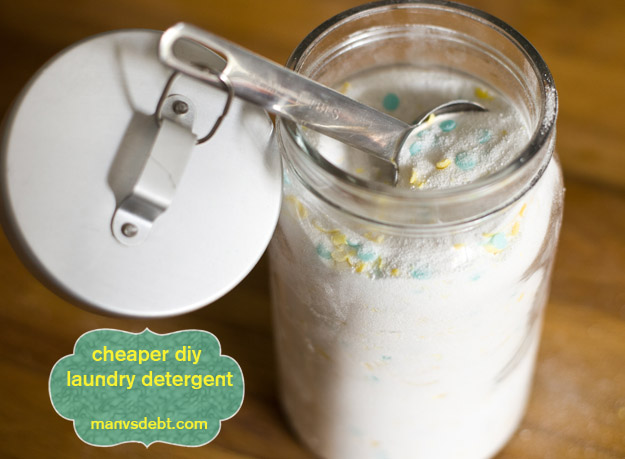 [share_sc]
Note: This is a post by Courtney Baker, chief seller and long-time running wo-man of MvD. This post may have affiliate links to help support this site.
It has taken me a while to come around to the idea of making my own laundry detergent.
I've been skeptical that it wouldn't compare to my current detergent and that the savings would be too negligible to be worth it. But, I've been actively making our home more 'natural', so I keep thinking about it.
A couple weeks ago, a girlfriend shared that she was experimenting with a new DIY recipe that included both laundry detergent and fabric softener in one. It was saving her money, because it eliminated two laundry products instead of one.
She said it was working just as well as her previous Era and Downy combination, and she was eliminating several harsh chemicals founds in store detergents.
I decided it was time to take the plunge and see what DIY detergent was all about. Does it really get the job done, save me money, and make my home more natural?
How Well It Cleans
First off, the detergent smells incredible. It works as an air freshener for my laundry room, and I love when I catch the scent wafting through the house.
However, the incredible scent doesn't cling to the clothes like my old detergent and fabric softener did. The clothes are coming out of the dryer soft and clean, but they aren't a fragrant as usual.
It's not important to me that my clothes come out smelling like Spring Flowers; but, it is important that they come out stain free. Could a natural DIY laundry detergent tackle banana and strawberry stains on Charlie's shirt or the remnants of Milli's preschool art project?
I put it to the test with the usual load of soiled baby clothes. I also threw in a cloth diaper for good measure. You can see for yourself that everything cleaned right up!
Laundry Costs Breakdown
My laundry costs are already low. I experimented with the less expensive name brand detergents during our early debt busting days and found a combo that costs $13.00/2 months for detergent and dryer sheets. That's $78/year for everything! Many family's using more expensive brands spend $100+/year.
The Old Way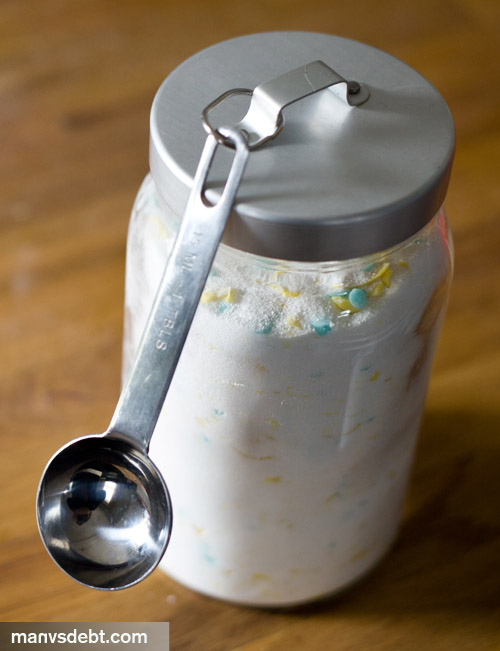 Arm and Hammer Detergent $10.91/45 loads
Downy $4.86/50 loads
Total: $15.77/50 loads (or 2 months), $78/year
*I could often times find coupons for both of these products which would lower costs even more.
The Do It Yourself Way
Total: $7.50/50 loads (or 2 months), $45/year
The Difference in Chemicals
A lot of information has come out in the last tens years regarding the toxicity of household cleaning and cosmetic products. Many of the products, which are FDA approved, contain disease inducing chemicals. Did you know that deodorant has enough traces of aluminum to lead to Alzheimer's? Or that dryer sheets are covered in fragrant chemicals which have been proven to cause liver cancer? Or that Tide has been required to lessen the amount of the cancer causing agent 1,4-dioxane?
I've only just begun to learn about the political side of FDA approved products and how bad many household staples really are for our bodies. It's a rude awakening that I childproof the cabinet full of cleaners, and then walk into the laundry room to wash their clothes in similar chemicals.
What I do know is that the majority of the negative chemicals in laundry detergent, fabric softener, and dryer sheet are fragrant chemicals. There's a constant push to have a long last scent for days after washing your clothes, so manufacturers keep adding more and more chemicals to meet the demand.
You'll see in the recipe that I included Downy Unstoppables which is a fabric softener. Granted, I'm using a significantly smaller ratio of this softener to what I was typically using, but I'm considering eliminating it completely and using these DIY dryer balls to soften up the clothes.
I was also concerned about using OxiClean, but I've been reading that this product is fairly neutral and environmentally friendly.
Bit by bit, I'm sure I'll be able to tweak it with more natural products.
DIY Recipe
This recipe will make a massive batch. You'll only use 1-2 Tablespoons of detergent per wash, so I've filled up a jar to keep by the washer. I've stored the rest in a tub in the closet.
This yields so much, and you use so little, that I'm expecting this batch to last me the entire year. That's right, the ENTIRE year!
Here's what you need: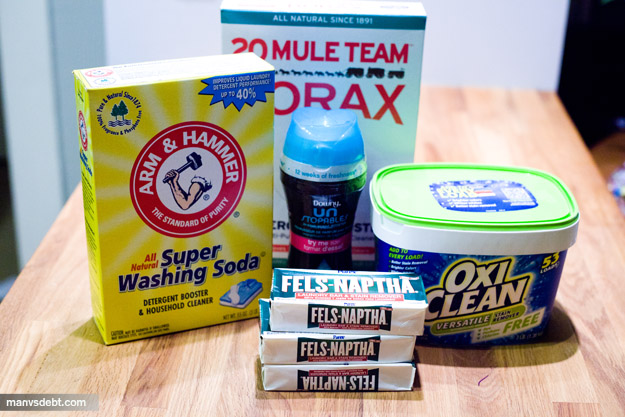 1 (4lb 12oz) box of Borax
1 (3lb 7oz) box of Arm & Hammer Super Washing Soda
1 (3lb) container of OxyClean
2 (14.1) Bars of Zote Soap or 3 Fels Naptha
1 (4lb) box of Arm & Hammer Baking Soda
1 container of Downy Unstoppables
The first step, and by far the hardest, is to grate the soap. I started grating on the larger side of my household cheese grater. I'm wondering if I would have been better to use a finer side. Be careful- the soap looks like cheese! Luckily, I caught Milli before she tried to sneak a bite.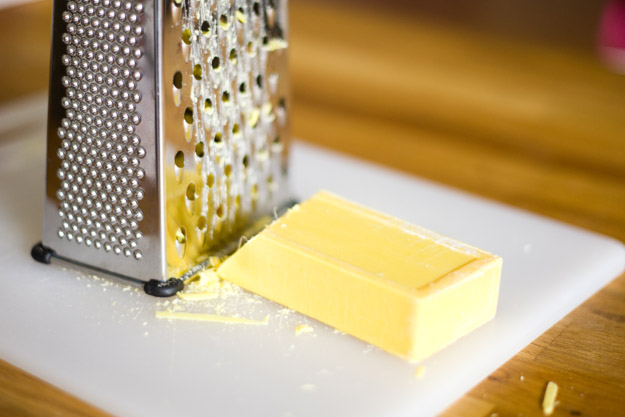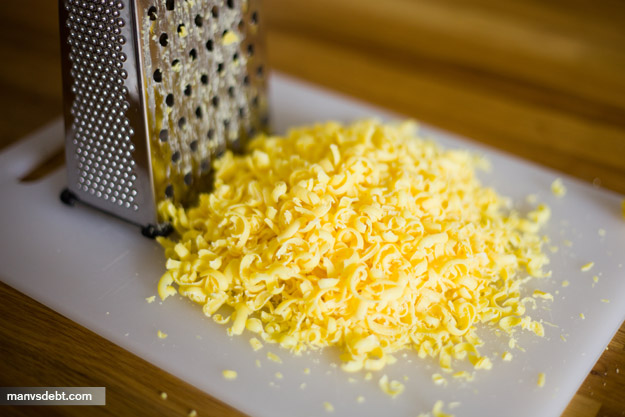 The hardest part is over- now we begin mixing!
I layered each of the ingredients into the top just make it easier to mix everything later. Remember I put everything into a large bucket to stir and mix, then I scooped out a jar full to put by the washer.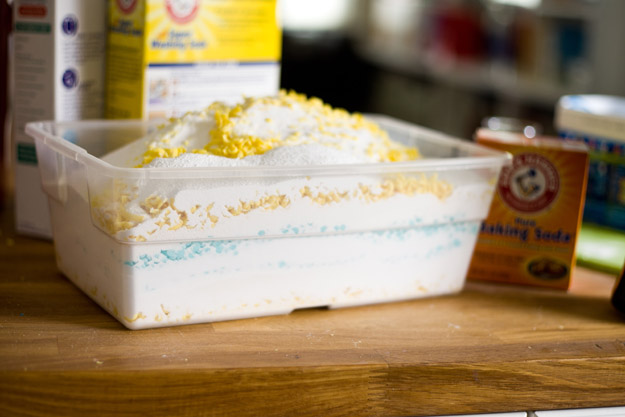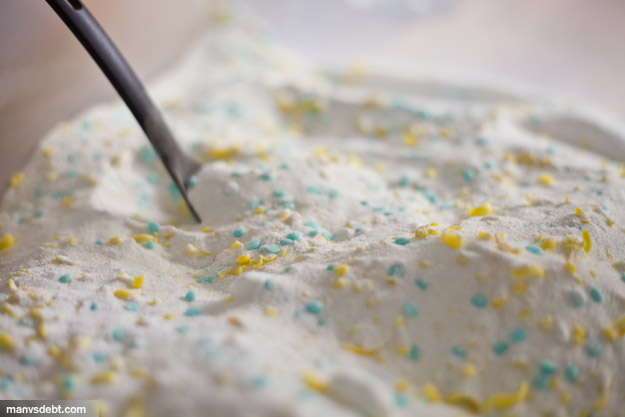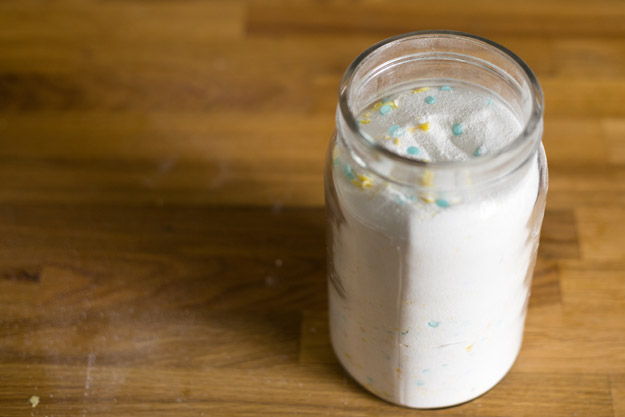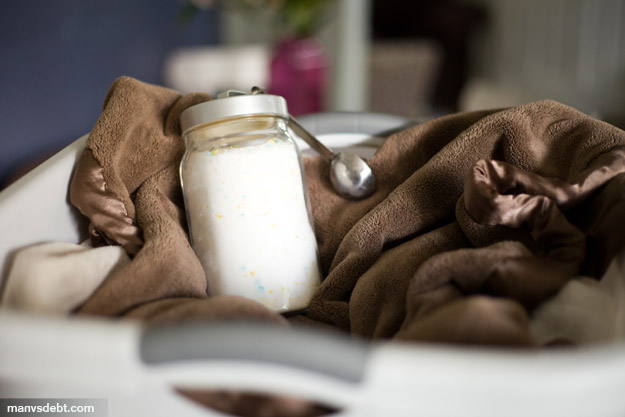 I was pleasantly surprised at how easy it was to make the soap. It probably took me a total of 20 minutes and that was on my first try. I really enjoyed making the detergent, especially because I knew I wouldn't need to do it again for another year!
For me, this small change in my laundry routine is well worth the $50 savings. For some families, I know the savings will be even greater.
I'm hoping to keep perfecting this recipe to make it more and more environmentally friendly. I'd love to hear feedback from you on what you've tried, haven't tried, or why you haven't tried.
[share_sc]
Have you made homemade laundry detergent? Which ingredients do you recommend? Do you think the Downy Unstoppables and OxyClean are harmful?
Share your thoughts in the comments below.