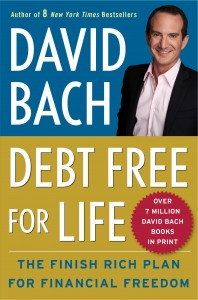 Early this week, I had the pleasure of interviewing David Bach, founder of FinishRich.com and 8-time New York
Times Bestselling author.
David's new book is called Debt Free for Life. He regularly appears for series on Oprah, The Today Show, and Larry King Live.
Before we started the interview, David let me know that in his decade-plus experience with media and interviews – this was his very first Skype interview ever.
Viva la new media!
[share_sc]
Below you'll find our interview on good debt vs. bad debt, why America loves debt, stepping on the "debt scale", the best way to pay down debt, and a new online tool – DebtWise – that helps you by automatically showing which debt to pay.
[If you cannot view the interview, click here to see it in your browser]
Below, I've included the full transcript from our interview. This one is really worth watching in full, but for those that can't the text is below. 🙂
Hi everyone. It's Baker from Man vs. Debt, and I have a special guest today. It is my honor to interview via Skype David Bach. David, thanks for joining us today.

It's my pleasure. Great to be with you.

And if you don't know David Bach, you may have been under a rock for the last 5 to 10 years, but he's an eight-time—I think I have that right, David—eight-time New York Times bestseller, and he's got a new book out, which I have in my hands. And that is Debt Free for Life by David Bach.

I'll put mine in front of you. We'll touch them.

Exactly. We'll get it up there. I was sent the book last week. Your team sent me the book; thanks for that. And I did get to read through it and really enjoyed it. One of my most favorite parts of the book is, I think, on the first page of chapter one.

It's you recount someone asking you your take on good debt vs. bad debt, and how that's changed for you in the last few years. Can you share with the readers how that has changed, and what your view on good debt vs. bad debt is now?

Absolutely. What happened was, I do a segment every week on The Today Show called "Money 911," and I've been doing it for two years now. We do it on Wednesdays. And two years ago, most of our questions started off, they were financial questions.

And what I started realizing over time was happening was almost all our questions are related to debt. I will tell you, over 75% of our questions are debt-related. Whether that's credit card debt, mortgage debt, student loan debt—it's all debt.

And in the green room I got asked this question, "What do you think about good debt? Is mortgage debt good debt? Is student loans good debt?" And I started answering like I've answered years in the past: "Yes, good debt is mortgage debt. If you borrow money to go to school, that can be good debt. If you borrow money to build a business, that can be good debt. But bad debt is credit card debt."

I started answering with really what I would say is the standard answer, which is what we've all been led to believe. And I had this moment, kind of this epiphany sitting in the green room, where I looked at this friend of mine and said, "I've got to tell you something. This recession has really proven there's no such thing as good debt or bad debt, there's just debt."

If you can't afford to pay your debt, it's all bad. And when you look at people who are losing their homes, they're losing their homes because they have huge mortgages and they can't afford to pay them. So I looked at her and I said, "I've got to tell you something. My advice to you is, pay your debt down as fast as you can. And there's certain debt that's worse than others, but really, the faster you're debt-free, the faster you're free."

And that's how I started the book Debt-Free For Life, was this idea that we have been led to believe—and it's almost become like a myth—this idea that there's good debt and bad debt. And that idea of good debt and bad debt has really led millions down the wrong path.

Yep. I can't agree more, and I love—that's why I said it was one of my favorite parts. I didn't expect it to be there, but right when you dig in, I said, "I think I'm going to like this book," right from the get-go, when you had that conversation.

And that leads us, I guess, why? My question for you is, in your opinion, why as a culture are we so addicted to debt? As a society or as a culture? Why do you think that is?

You have to go—Things have really changed. I go back to my grandmother. My grandma, Rose Bach, I've talked about in a lot of my books. And she was a Depression-era child. And if you have a relative that grew up in the Depression, they never wanted to have debt. My grandmother never had any debt. She didn't—What's your phrase? What do you say? Throw away the stuff?

Sell Your Crap, yeah.

Sell your crap. My grandmother, she recycled tinfoil before there was a green movement. She always paid cash for everything. And that's how the Depression-era children grew up to be, and then they passed that on to the next generation.

Somewhere in the last, I'd say, two generations—really in the last 20-30 years, that whole philosophy of pay down your debt, have mortgage-burning parties, live free, is just gone away. And part of the reason it's gone away is we have incentivized people to borrow more money.

Leverage, leverage, leverage.

I'm a huge proponent of home ownership, and I think it's great that we get tax deductions. But I have to tell you, this whole tax deduction philosophy around borrowing money has really brainwashed people into thinking, "Great, I borrowed all this money, but I get a tax deduction." In reality, who cares if you get a tax deduction if you still owe money? If all your income goes to making debt repayment, and you're only paying interest, you're really not getting ahead. So I just think we've been led down the wrong path, and I think Americans need a wake-up call. And they just got one with the recession.

Exactly. Again, I agree on every single point. Just shaking my head this whole interview, I think it's going to be.

Moving on, I always like this question, to get it on different issues. For you, if I'm new and I come to you and I say, "David, I need help," what is the very first step? For someone that's deep in debt but they want to change, what's the first step you would advise for them?

I'm going to go back to my own situation here for a second. It's going to be completely on a tangent, but it'll make sense. I'm on a juice fast right now. I'm making an effort to lose weight going in the new year, like a lot of people do. There's two things in the new year you want to fix: your weight and your finances.

So every year, the first week of January, I do a juice fast. It starts my year off energized. I'm seven days into my juice fast; I started it early. So I feel amazing right now. But what's the first thing I did? I stepped on my scale. My scale, I was at 150 pounds, which is not—155 pounds. And what I should be, Baker, is at 140. That's my ideal weight.

So I know—Here, I step on the scale, I look down, I get depressed. I know I'm fat, for how I should be. And my goal is to get down to 140. Now I'm going to relate this to losing your debt. What's the first thing you need to do? You need to step on the debt scale.

When people say to me, "David, I'm in debt. What should I pay off first?" How much do you owe, and who do you owe it to, and what does it cost? Every single time I'm out, I'm brought in to do TV shows and makeover shows—whether it's Oprah, The Today Show, all these different TV shows—when I'm brought into people's homes to do a financial makeover and they tell me what they owe, they're always wrong.

In other words, I sit down and I go through with them—In many cases, I've gone into homes where—I did an Oprah show, the person, I was told going into their house they had $43,000 in debt. And when I totaled it up, they had over $90,000 in debt.

So the first step is, you step on the debt scale, and you look at "How much do I really owe? Who do I owe it to?" You list all your debt down. You look at the interest rate. And you have to do that first. That's where you start, knowing exactly what you owe and how much it's costing you. And then you start figuring out what order to pay it off in.

Exactly. That's a great transition because I wanted to ask you—This is another interesting part. And I recognized this method, because I'm familiar with some of your past work as well. In the order to pay down debt.

Courtney and I, when we paid down our debt, we started with just the most emotional debt first. We didn't use a given system. It just made sense to us and we went with that. And you have peers and colleagues that suggest anything from highest interest to lowest balance payment.

But you have a unique—I think it's the method that you call the DOLP method, if I'm pronouncing that right. What is the DOLP method, and why is it beneficial for people to use that when starting to pay down their debt?

Super-simple. DOLP, first of all, it stands for done on last payment. I used to call it dead on last payment. Then my readers came back to me and said, "Yeah, but now that I'm debt-free, I don't want to be dead." So changed it to done. I listen to my readers. Just like you listen to readers on your blog, and so I changed it. So we call it done on last payment now.

And what done on last payment does is, it's really simple. You list all your debt. I've got a little form you figure out. You take your debt, whatever it is, and you divide it by your minimum payments. And what that does is tells you how many payments it will take you to pay off that particular debt.

As an example, if someone's got $500 on a Visa credit card, their minimum payment's $50, they divide $50 by $500 and they find out it's going to take 10 payments to pay it off. All DOLP does is it shows you which debt you have. It's usually credit cards, but which debt you have, which will be the fastest you can pay off quickest.

What it does is it gives you the list and prioritizes it, so you know, this is my first, second, third, fourth, fifth debt. And the reason that's so important is, what I teach is this. You make minimum payments on every debt, and you add all the extra money you can, then, to the number one DOLP category, which is the card or debt you can pay off the fastest.

Once that's paid off, then you go to the next one, and you apply that money to the next one. Now, some people call this the snowball approach. Dave Ramsey calls it the snowball approach. Somebody was talking about that yesterday. It's similar. It's just a mathematical formula.

And the reason I teach it this way is that I don't believe you should focus on highest interest rates first. I think the debt really is very much an emotional issue, and you need to see yourself make progress. So if someone's got 10 credit cards, as an example, using this system, they quickly reduce the number of cards they have. So they see themselves making progress, they'll have less chances for late fees or over the limit fees on those small cards.

But it's that progress factor. "Wow, I can't believe it! I actually got rid of one or two or three cards." And that keeps them motivated to keep going.

And of course, they can more easily grasp their financial situation. Those people that think they have $43,000 and have $90,000 can see it when they have less accounts, they can see and feel and grasp it, which is an awesome way to pay down your debt there.

And we're going to move on – I haven't got a chance to fully use the tool, but you're a big fan of Debt Wise, which is a new online tool. What I wanted to know—and you could even sell me on this, 'cause I still need to go give it a spin, 'cause it looks cool. What features of Debt Wise do you enjoy? Or I guess, what features excite you the most?

Here's what happened. I've been teaching DOLP, this system, for over a decade. And as you know—I just saw your whole Unautomate Your Way to Wealth—As you know, I've written a book called The Automatic Millionaire. And what I've always taught people is, the more you can automate your finances, for most people, it's easier because you don't need discipline. And the problem with my DOLP system, the challenge, is that it's manual. People have to write it all out, and then every month they need to go back and follow up. And they need to update their DOLP form.

And it's amazing, because people have actually sent me, Baker—someone, we just did an interview for an AOL podcast. This woman, Genevieve, sent me all of her DOLP statistics going back to June of 2005. She's got a DOLP team at work, and she had five years of data on her DOLP form.

Well, about a year and a half ago, I saw a banner ad for this product called Debt Wise. And I clicked on this banner ad and I said, "Oh my goodness. Who are these people? They've copied my DOLP system and they made it automatic."

You call your lawyer?

I started going, "What is this tool?" Because how can they make paying your debt down automatic? As I clicked into the tool and went to see who the parent company was, the parent company was Equifax. And as I started playing with the tool, what I realized was, only a company like Equifax could do this, 'cause they're one of only three credit bureaus.

What Equifax does is, now with Debt Wise.com—Sorry, let me just shut that off for a sec. Take that in another room. We're at my home right now in New York, as the phone's ringing. What Debt Wise does is, when you go in to DebtWise.com and you put your information in, because Equifax is a credit bureau, they have all of your debt. They know what you owe.

So in seconds, Debt Wise pulls your debt, like a DOLP form and sticks it online, on a dashboard, and shows you: here's all your debt, here's what you owe, it's your debt scale. It's all automated, and it shows you—instead of you doing the math, it does the math for you and says, "Here's your first priority debt. This is the one you should pay off first. This is the one you should pay off second, third, fourth, etc."

And then every time you make a payment, because it's being pulled off your credit file, they're able to update it. So it's the first time I've ever seen a tool that's completely automated. For instance, Mint.com is a tool I've talked about in the past I like. It's free, but you have to pull all of your data into Mint.com. Whereas with Debt Wise, there's no data to pull. It's pulled off your credit file. Then you can also add debts if Equifax doesn't know about it.

I saw this tool, reached out to Equifax, said, "I can make this tool better. You need me on the tool. You need videos. You need more teaching tools. And let's partner together." And that's basically what we did. I integrated it into the book, and in Debt Free for Life, what happens is first I talk about DOLP.

And I say, "But if you want an automated system, here's Debt Wise," and then we give you a free month trial of Debt Wise. It's a paid service. It's $14.95 a month. I think it's just seriously the best deal I've ever seen on a debt reduction tool. It's cheaper than going anywhere. It's cheaper than going to debt consolidation. It's even cheaper than going to a nonprofit credit counselor.

So for those who want to do it themselves, I think it's the ultimate tool to get out of debt.

Absolutely. And your team, I'm assuming the team at Equifax has sent over another free month link as well. I'll put that in the comments, so anyone that's interested in trying that out, they can get a free month with your book and I think they'll have a free month here below this video, so people can try that out.

That sort of wraps up the question I had. But I try to end every interview with asking if the interviewee has any questions for the readers of this site. And obviously you know how the websites work.

We can ask the question. A lot of times, we get really great feedback from the community here at Man vs. Debt. So I guess in closing, do you have a question for the Man vs. Debt readers that you would like to pose to the readers?

Yeah, I do. And you know what? Let me ask this question, and I think it would be a great question to ask people who are following you and having a lot of success. And the question is, for those who are following you, who are on the journey to getting out of debt, what was the catalyst that led them to make a decision?

There you go. That's a good one. Yep.

Because what happens for me—And I'd suggest this to you when people come up to you, by the way, and start thanking you for the work you do—Everywhere I go, people will thank me. They'll tell me the success that they've made and the progress that they've made, especially around debt.

I always ask, what made you decide? Because one thing I'll say—I told everybody the first step was to get on a debt scale and figure out how much debt you have—but the truth is, the first real decision, if you want to get out of debt, is to decide.

There's a moment in which you make a decision, and my experience with people who truly get out of debt, they don't make an "I'll try it decision." They make a "I'm done. I want my life to go in this direction. I'm making a permanent change until I've reached my result."

Which is exactly what it sounds like you did. And I don't know—Out of curiosity, what was the catalyst?

The birth of our daughter. Our daughter Milligan, when she was born, the day we came home from the hospital, that was sort of the smack across the face. And we sat down and we just said, "Our life isn't in line with our values. We make fun of the people who live like we're living right now."

And then that was the impetus when we decided that we're going to sell everything and travel the world, pay off our debt. And over the next year, we did. And that was the start of the site. So I had a very tangible moment, and I've very interested to hear other people's as well.

Awesome. Well listen, congratulations to you. I think you're a fresh voice in personal finance, which—

Thank you.

Which we need.

Thank you very much. And I look up to what you've able to do and all the people you've been able to help. And I appreciate you taking a slice out of your day to join me today.

My pleasure. God bless. You have a great day, and good luck with everything. Have a fun trip.

We will. Thanks, David. We appreciate it.

Take care. Bye-bye.
Thanks again to David Bach and his team!
[share_sc]
I enjoyed the interview with David. You can find more information on David's book and products on his website, FinishRich.com. Also, here's the link for a free one-month trial of DebtWise (which David recommends in his book).
Let me know below what inspired you to get out of debt!