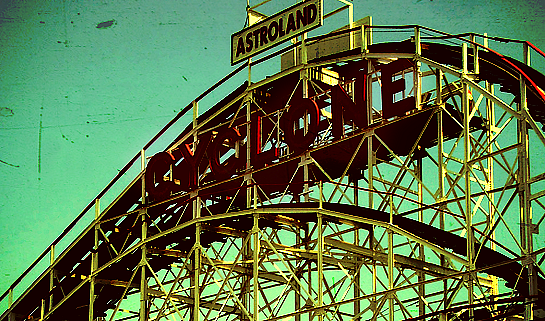 [share_sc]
Since we left for overseas in early June, our budgeting has been on one hell of a roller coaster ride.  For the year and a half leading up to the trip, we were budgeting ninjas!  We had grown comfortable, become great at predicting expenses, and really found our budgeting sweet spot.
Long story short, we had no idea what we were in for!  Traveling like this was a shock to our budgeting system.  We've had extreme success in areas like lodging and food, set against the occasional huge spike in categories such as airfare and visas.
These ups and downs prompted us to finally launch the financial transparency project here at the start of October.  It was great timing as we were starting to settle in more than we had in the months prior.
From a psychological standpoint, the project has been a huge success.  Courtney and I have felt much more compelled to justify any impulse purchases.  As we hit our budget limits for the month, it forced us to look twice as hard on whether we could hold off on those categories (although we still exceeded our limits in some cases).
Our October Numbers
New Zealand Income: $2395.19 NZD – [$1720.23 USD]
New Zealand Expenses: $2907.04 NZD – [$2087.84 USD]
U.S. Income: $668.80
U.S. Expenses: $521.04
Places we failed to project properly:
Didn't know that one of Courtney's paychecks would be 60% of normal, due to fact that she hadn't accrued full holiday pay.  Although, she'll make this up over December holiday.
Rent is paid weekly in New Zealand and this was a 5 week month for our rent.  We only projected 4 weeks.
Utility bonds (deposits) were more than we anticipated.
We did not plan for expenses accrued when obtaining Driver's License.
Our washer was broken upon moving in.  Spent $40 NZD at LaundryMat before it was fixed.
I bought two extra domain names, causing 'Business Upkeep' to exceed projected.  (Although they are good ones for future projects)!  😉
Here's how our discretionary spending categories ended: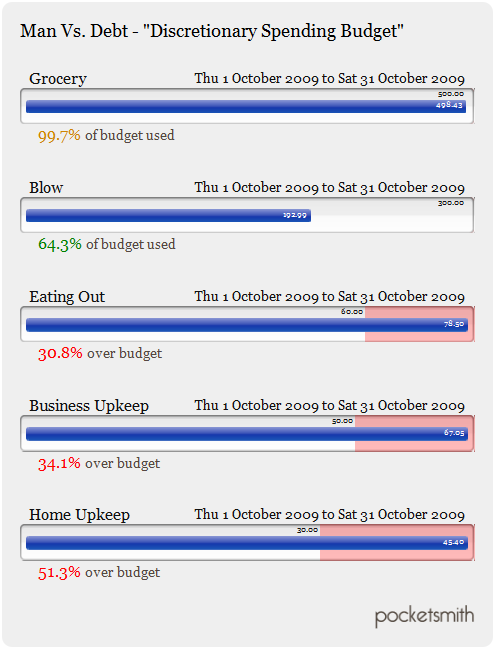 The above screen shot shows both positives and negatives.
The negative side is we did exceed 3 of the 5 categories we wanted to actively control.  That's obviously not a good success rate.  However, upon closer noticed we saved more in our 'blow' category than we overspent in the others.  As we started to go over, we intentionally spent less out of this category to make up for it.
However, the point of the 'blow' category is not to simply make up for our other mistakes.  If that were the case, our whole budget would just be one big Misc account.  We subdivided these categories intentionally, because we wanted to control them.  So we need to buck up, make less excuses, and spend our 'blow' category on experiencing New Zealand while we are here (not covering our Subway visits and household purchases).
Changes for November
Most notably we are going to be adding a discretionary budgeting category for our upcoming South Island trip in December.  Since we've already started incurring minor expenses, I want to keep a separate tally of these to make sure this event doesn't get our of hand.  We're currently budgeting $2500 USD for this, which includes airfare, extending visas, getting driver's license, renting a camper, any hostels, bungee jumps ;-), food, gas, insurance…  you get the point.
This new budgeting category will remain on the finances page through the end of the trip in late December.
Other big changes include raising the 'Business Upkeep' category from $50 to $500! That's not a typo.  The e-book will be launched in November and there are some expenses leading up to launch (including some minor work on the site).  The point of an increased expense budget is, of course, increased income this month.  I expect this to rise significantly over October.  *crosses fingers*
We also are expecting for Courtney to receive a $2000 NZD relocation grant sometime in November.  This is something she qualifies for as part of accepting the job to teach in New Zealand.  Unless something unforeseen falls through, we plan to allocate this against the cost of the South Island trip.  🙂
How was your October?
How did your budgeting (or lack of budgeting) turn out in October?  How are you adapting or changing your budget for the final two months of the year?
Lastly, feel free to include any tips and/or observations for us.  Budgeting while mobile like this has been a much more difficult undertaking than when we were more stable back in the U.S.  We'd love to hear your suggestions!