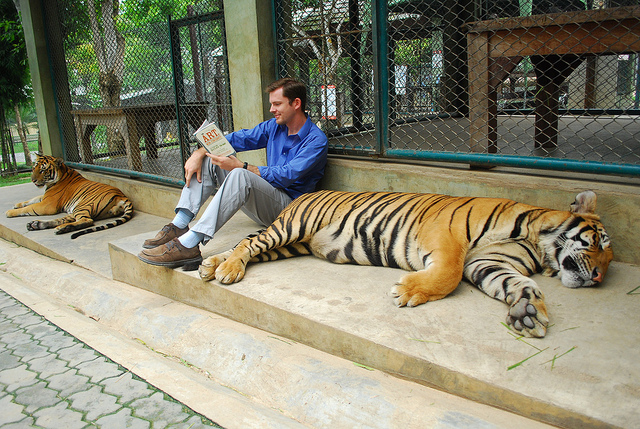 Today, Chris Guillebeau's new book The Art of Non-Conformity:  Set your own rules, Live the life you want, and Change the world hits real and digital bookshelves across the country!
I've stated many times before (and it's still true) that Chris is one of my favorite online personalities and his blog, The Art of Non-Conformity, is by far my favorite blog.  Simply put, no single source online has had a greater impact on my life and work.  So, as you can imagine, I was extremely excited to get my hands on an early review copy of the book!
I've decided to celebrate the launch of the book by giving away 5 free copies here on launch week! That's right.  I'm purchasing these in order to both support the book and to give back to the audience here!  Win-win-win!  🙂  At the bottom of the post, you'll find details to enter to win a free copy!
Note: There's absolutely 0% chance that my thoughts below on this book are unbiased.  I'm a ravenous fan of Chris' message and I consider him a personal friend.  Not to mention that our (Courtney and I) story is featured in the Personal Finance chapter of the book.  So if you are looking for an unbiased review…  sorry!
The core message…
In his own words, Chris' core message is this:
"You don't have to live your life the way other people expect you to. You can do good things for yourself and make the world a better place at the same time. Here's how to do it."
Chris sets up the book to nail home this message from the beginning.  The majority of the book jumps between tidbits of his own personal background and journey, examples and features on other examples of people living intentionally, and advice (with specific tips) on how to execute your own deliberate plan.
I devoured the book in two separate sessions and after I put it down, I came away with the following…
I can really do this.  No, seriously…  *I* can really, freakin' do this!
You see, this is almost always the affect Chris' message has on me.  He has the ability to take what seems to the majority of people to be extreme (visiting every country in the world… selling everything you own and moving with a young family across the world…) and making it seem… feasible.
I guess he sort of grants me permission.  His message validates those core feelings and passions that the rest of the world is set up to "keep in check".
While the majority of the world is saying "You probably shouldn't", this book is suggesting "Why the hell not?".
And, for me, that's exactly what I need.  That's why I love the online communities I'm a part of.
Comparison to the Four Hour Workweek…
It's nearly impossible not to compare The Art of Non-Conformity to Tim Ferriss' The Four Hour Workweek. It's not exactly a fair comparison, as even though they are both fruits (life design books) they are drastically different fruits.  Still, I've talked to half a dozen people about the book in private and every single time a discussion/comparison of the two has emerged.
In my life, The Four Hour Workweek completely shattered my world view.  It drastically changed my perspective on what was possible and led me down a rabbit hole that eventually turned me onto much of what is a core part of my life now.  It's because of 4HWW that I started thinking unconventionally.  It's because of 4HWW that I searched and found blogs, communities, and online businesses.
But, I needed more than the 4HWW to influence me.  Everyone does. The 4HWW's brash and sometimes confrontational style can chip away at the years of conformity that has covered your brain.  It left my belief structure in pieces, which I'm very thankful for!
But, for me and for many people I've talked with, the 4HWW didn't put Humpty together again.  It shook up how we approached the world, but we weren't able to piece together a purpose or a mission for ourselves.  For me, a dogged pursuit of hacks, systems, and automation didn't quite connect.  I just wasn't able to apply it to my own life.
And this is the one area, above all others, that Chris Guillebeau excels at.  He has a gift for making abstract concepts, seem tangible… seem doable. I can relate to the examples he uses… I can see myself in similar positions.
The Art of Non-Conformity puts Humpty together again…
If you are at a place where you know… you just know that there is more.  That you should be doing more.  That you should be living more intentionally, more… awake… unplugged from the matrix… whatever you want to call it.  This book will help you make the unknown, known.  It will validate, dust you off, point you in the right direction, and show you the steps to make it happen.
My Biggest Takeaways…
Here were my biggest takeaways from the book:
Traditional security isn't what it's been built up to be.
In the middle of the books, especially Chapters 5 and 6, Chris spends time reflecting on the notion of security.  For decades, the traditional notion has been that going to college, getting a flexible degree, and obtaining a bi-weekly paycheck was the secure route. And, for decades, it really was.
But the times they are a-changing.  No longer is there much security in any traditional job.  In fact, if you want true security you have to develop the skills, the network, and the ability to go out and conquer it yourself.  You've got to make your own security.  This part of Chris' message that resonates deeply with me!
Chris also spend time driving home a comparison of how his college experience compared to his launching a blog experience.  He calls it "Traditional Experience" vs. "Alternative Experience" and makes the case that there are much cheaper, faster, and more powerful avenues for many to gain experience and education.
Note that I said for many to gain, not for everyone.  Chris is quick to point out that for some, college is a necessary or even a preferred track.  He simply encourages people not to assume it's the best path.  Not to default to it for default's sake.  As he points out, far too many of us college, especially graduate school, as a method of life avoidance.
This leads me into my next takeaway…
No path is holier than another…
Blogging isn't better than becoming a lawyer.  Going to college isn't automatically a lesser option to real world experience.  Working a day job isn't the devil.  You don't have to travel to feel alive.
Chris makes it clear that he loves to travel.  He also bluntly states that he gained more expertise and experience blogging than he did in college and he'd probably never really feel like himself in a traditional day job.  But he doesn't force his life model down anyone's throat.  Frankly, that's pretty rare these days.
The Art of Non-Conformity simply sets out to empower you to live intentionally.  To not go with the flow, just because others tell you to.  Not to follow a certain path, because society laid it out before you.
For some, this means creating or finding the perfect day job.  One where they feel alive and filled with purpose.  For others it may be traveling the world working from their laptops.  Some may need to go to 8 years of college and others won't need to finish High School.
Chris' well-rounded approach in this aspect makes his message insanely approachable.  He's not afraid to share his choices, nor is he afraid to provide his opinions or even his preferences.  But the core message is only exclusive of those with a closed mind.  And I dig that.
Your Legacy Starts Now
The most powerful concept in the entire book for me was one of the last.
The concept is simple, so many of us wait until later in life to think about our legacy.  The older we get, the more our focus shifts to the people, ideas, and impact we'll leave behind.
But why do we have to wait until we get older? We don't. It's so simple… yet, so powerful.
Chris urges us to not only start thinking about our legacy in big terms, but to actually focus our daily work on those activities which contribute to our legacy.  It's a powerful tool for time management!  Ensure you are spending the majority of your time on those actions, activities, or items that will impact your legacy the greatest.
I love it.  I'm not a huge time management person.  I'm actually terrible at it.  But whenever I think about my day in terms of legacy, it becomes much more clear just how much of the routine crap doesn't matter.  I spend more time with my family (my most important legacy) and more of my working time on creating and sharing.
How to win a FREE – FREE – FREE copy!  🙂
One of Chris' final points in the book is a call to action:
Wake up in the middle of the night with good ideas.  Share them with the world.
Well, this book isn't my idea… but that's not going to stop me from sharing it with the world.  I believe in it's message deeply and as a result, I'm buying and giving away 5 Free copies via this post.
Leave a comment on this post!
In the comments section below, leave me a brief message on why you should win the book and how you will use it's power for good!  🙂  I'll pick my favorite 10 or so (some funny, some serious) and then randomize 3 winners from among those ten.
Comment on Man Vs. Debt Facebook Page!
Visit the Man Vs. Debt Facebook Page and leave a comment on the main thread I started for this giveaway.  Not the post thread… it's a separate wall post… you'll see it.  I want to know what you'll do with the book after you are done with it! 🙂
Tweet out the launch or giveaway on Twitter!
Simply tweet out (copy and paste into Twitter) the following message:
The Art of Non-Conformity Book launches today!  Win a free copy via @ManVsDebt's review –> http://bit.ly/c1a74k – #MvDAoNC
You can edit the tweet to your preference.  Make sure to include a proclamation of the book launch and the hashtag #MvDAoNC – so I can track the entries!
You Should Buy This Book…
Seriously, it's well worth it.  Did I mention it's only $9 right now on Amazon?
$9 freakin' dollars!  Are you kidding me?
I still can't believe the price point, but I'm incredibly happy.  So happy I've ordered several to give to close family and friends and 5 extra to giveaway here.
Buy this:  The Art of Non-Conformity by Chris Guillebeau