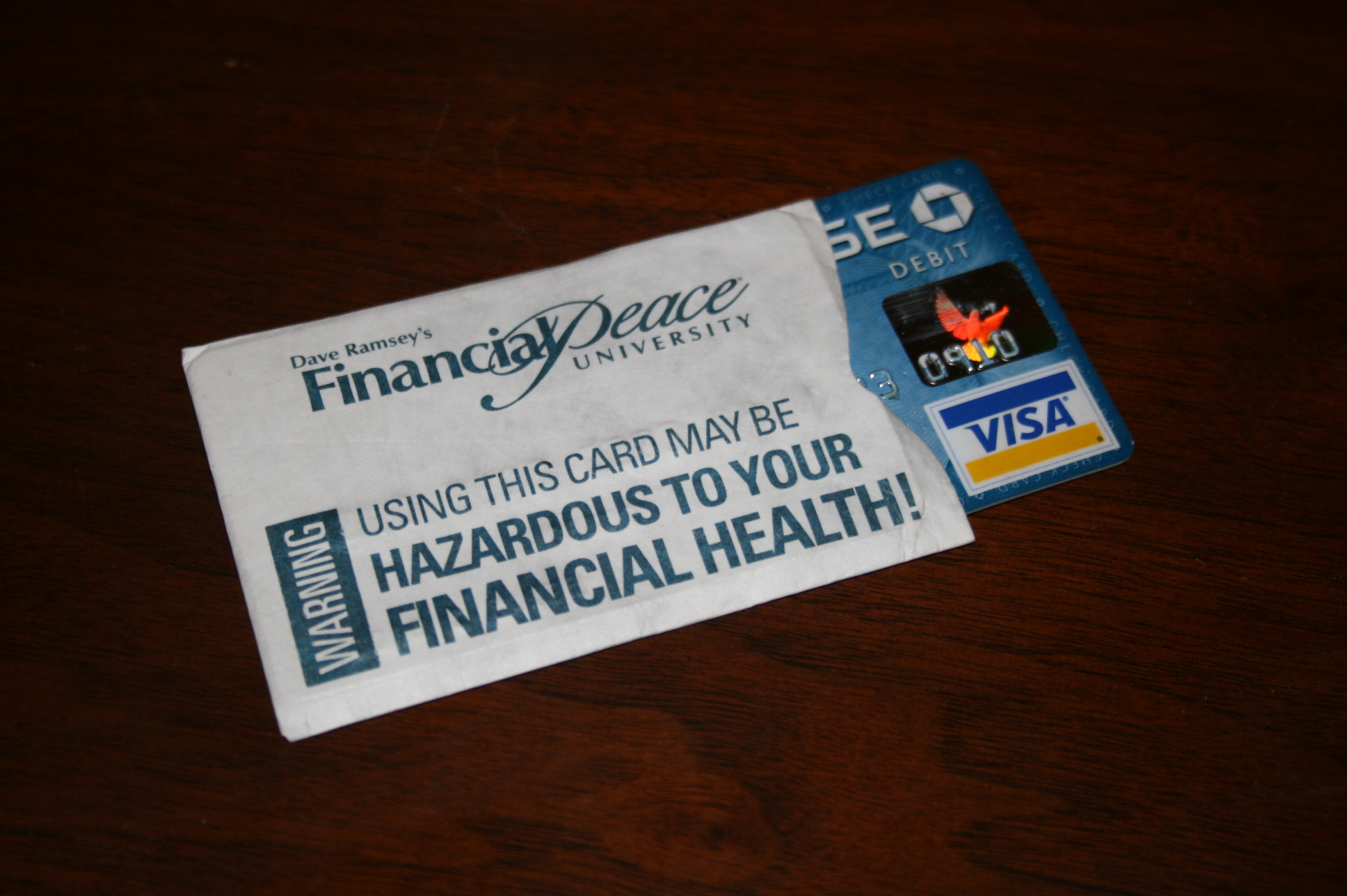 [share_sc]
Sleeving your credit/debit cards is a quick, easy-to-implement strategy to help curb the occasional impulse purchase. I first heard of this concept in a Real Estate Investing book I read several years ago.  Although I forget the specific book, I do remember the author's suggestion of creating a sleeve for all of your credit cards on which you write the simple phrase, "I am a Real Estate Investor." The concept wasn't meant to be complex, rather every time you went to make a purchase, you would simply be reminded of your goals.  In this case you would relate spending frivolous money to less overall money you could use to follow your real estate dreams.
My first experience with this had positives and negatives. I remember going through my wallet, creating several sleeves with computer paper and scotch tape, and writing the slogan down for each card.  At first, I saw an immediate impact, most notably with small petty expenses throughout the day and the occasional random shopping spree online.
The sleeves made me stop, just for a split second and force myself to either stay with my commitment or to create an excuse I could live with. The majority of the time I couldn't justify it to myself, and therefore simply didn't make the purchase or spent far less than normal.
Eventually, the first trial didn't last. I think the real reason why I didn't stick to the system long-term was not an issue with the sleeving of the cards, after all it look little time to set-up and was only a minor inconvenience at most.  More realistically I came to realize I didn't attach enough emotional value to "I am a Real Estate Investor" to create lasting change.  Because of this, my credit cards eventually found their way out of their sleeves and returned to my wallet, naked and exposed.
Over a year later, my wife and I decided to take Dave Ramsey's Financial Peace University.  It was there where I was introduced to sleeves again.  Along with several other neat tools, we were provided with two sleeves which are featured in the picture above.  On the front of the sleeves under the FPU logo comes the messages, "WARNING:  USING THIS CARD MAY BE HAZARDOUS TO YOUR FINANCIAL HEALTH!"
Now here was a message to which I could attach emotional value.  First, even before FPU my wife and I were big Ramsey fans.  I passionately agree with his overall message and 95% of all the principles he preaches.  The key here is that because of my belief system and history with Dave Ramsey this message really connected with me emotionally.  I know for a fact that this has helped me avoid small purchases here and there  directly because this sleeve made me connect the purchase with a longer time period of being in debt.  For me getting out of debt more quickly was more important than making that specific purchase.
You need to locate something with emotional impact in your life and leverage it to help you eliminate debt. I've heard of some people taping wallet-sized picture of their kids to the front of sleeves or putting a picture of their dream house for which they are saving.  Would you like to start a non-profit, travel around the world, or just fund your kids college?  Companies have been leveraging your dreams against you to attract your business for years now, isn't it about time you used them to motivate yourself?
You need to find something that:
Will cause your brain to stop, at least for a second to evaluate the purchase, before you swipe your card.

Our brains are set-up to filter out unnecessary information and distractions and to only pass through essential information for decision-making.  Give your brain a polite reminder…  "Dear Brain, please stop me unless I'm able to come up with a good excuse…"
Will constantly remind you of your goals. If you are a big picture type of goal setter, then make sure you are constantly reminding yourself of your 5-10 year goals.  If you benefit from the encouragement of knocking out smaller goals, you might choose specific loans you want to pay off, or a specific amount you'd like to save as an emergency fund.  "Payoff Sallie Mae once and for all…"
Be creative, be bold, and do whatever works for you. Most importantly make your sleeves today. A simple search for Credit Card Sleeves will turn-up several generic options, but this is nothing that scissors, computer paper, and scotch tape can't also reproduce.  I recently saw a fantastic video on how to glue several sleeves together to make a simplistic wallet.
Have you tried using credit/debit card sleeves?  Have you been able to leverage your long-term goals or curb your frivolous spending?  Comment below and let us know!