Have you received a mailer from Point Break Financial about their debt consolidation loan offer? Perhaps you've come across their advertisements on social media, promising incredible rates. Maybe you applied for a loan, only to be denied, but then found approval for debt validation services from Elite Legal Practice or Litigation Practice Group, which later faced legal issues.
What Is the Point Break Financial BBB?
Point Break Financial received an F rating on BBB with 2 complaints in the last year, but let's look at the 2 complaints.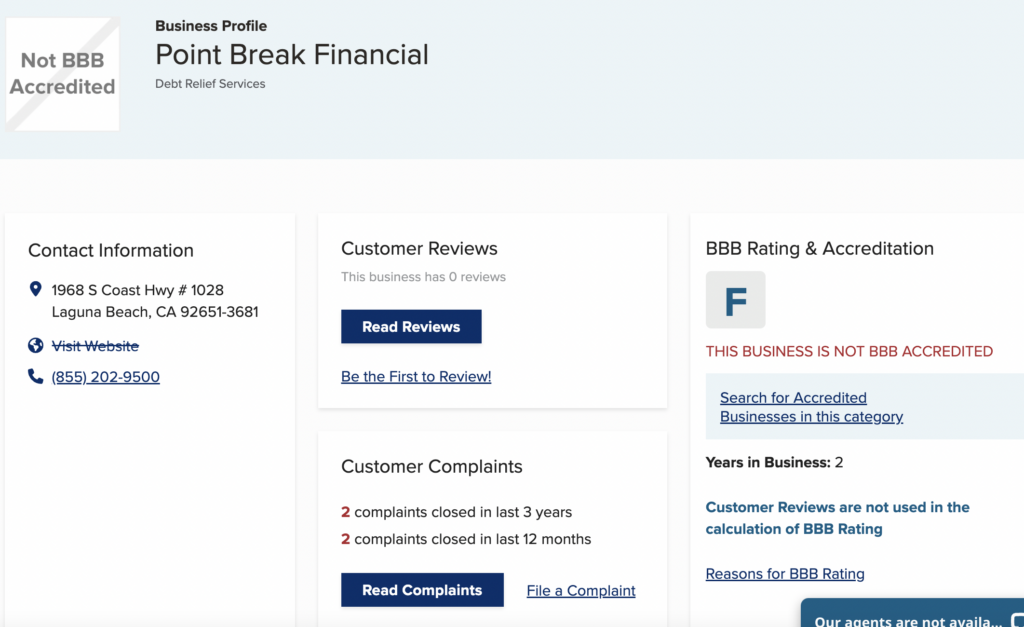 Are You Looking For A Debt Consolidation Loan?
If a debt consolidation loan is what you're seeking, we've identified three reputable companies that offer such loans. These lenders perform soft credit checks and don't impose prepayment penalties. Comparing rates from multiple sources can help you secure the best deal. If a debt consolidation loan isn't attainable, some individuals consider exploring debt settlement options.
If you are looking for a debt consolidation loan, this is my favorite debt consolidation loan choice. You can check your rate WITHOUT your credit score being affected. You can choose a flexible monthly rate, and there are no prepayment penalties.
What Are the Point Break Financial BBB complaints?
The BBB complaints mention how often the company calls, but the other complaint mentions how the individual did not qualify for a loan, but qualified for Elite Legal Practice's Debt Resolution program which is supposed to provide a law firm to work against creditors.
The individual mentioned that he saw some red flags and tried to cancel, but did not respond to stop the program.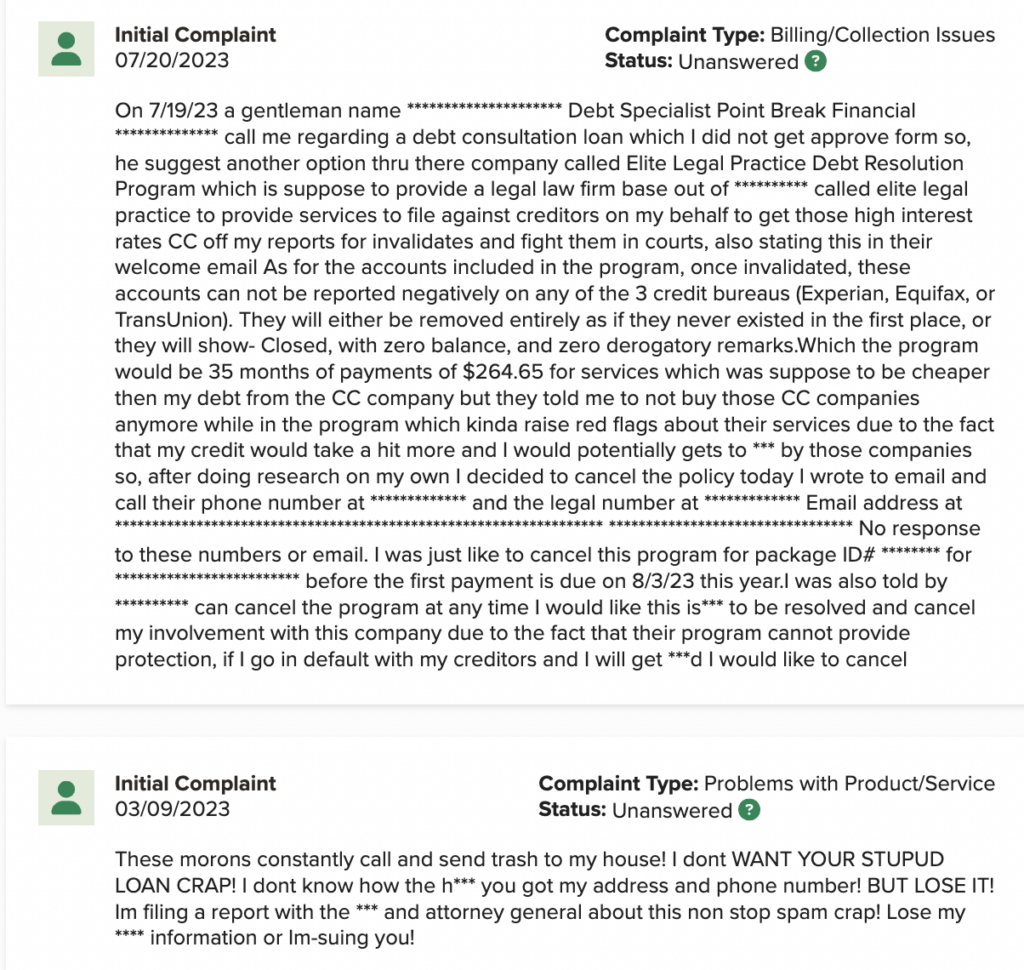 What Does Point Break Financial Actually Do?
If you've encountered a scenario similar to this, you might be wondering what it all means. In this article, we'll delve into these questions and more, providing you with insights and information to make informed decisions.
Understanding Point Break Financial History
Did you happen to receive a pre-approval mailer from Point Break Financial, offering various financial services? These services could include debt validation through ELP, debt settlement, or even a debt consolidation loan. It's crucial to differentiate between debt validation, debt settlement, and debt consolidation loans.
Debt consolidation loans involve receiving a lump sum amount to pay off your existing debts, streamlining payments into a single monthly installment. On the other hand, debt settlement entails negotiating with creditors to settle your debt for a reduced amount. Debt validation, often offered by companies like ELP, involves challenging the legitimacy of your debt with the creditor to potentially have it remove
Understanding Debt Settlement and Debt Validation
Top Choices for Debt Consolidation Loans Unfamiliar with debt settlement? This process involves a third party negotiating with your creditors to lower the debt amount, aiming to fully resolve what you owe. For instance, a $10,000 credit card balance might be settled for $5,000, leading to potential savings and reduced monthly payments.
As someone who previously led a debt settlement company, I believe it's a viable option for some, but not suitable for everyone.
If you're grappling with debt and unsure of your next steps, we've designed a free, unbiased debt options comparison calculator. It provides personalized insights into various debt relief avenues tailored to your income and expenses, enabling you to assess pros, cons, and costs.
Let's delve deeper into the concept of debt validation.
Decoding Elite Legal Practice's Debt Validation Program Point Break Financial might be associated with Elite Legal Practice, offering a service called debt validation. To help you understand this concept better, I've created a video explaining debt validation.
Point Break Financial: A Brief Overview Point Break Financial's history
As of 2023, their BBB page exists but lacks any reviews or complaints. This could be attributed to Point Break's role as a lead generator, not a direct lender.
According to their website, Point Break Financial presents itself as a lending agency offering favorable terms. However, upon closer inspection, it's evident that they act as intermediaries, connecting borrowers with lenders for profit. Due to limited online history, their reliability might be uncertain. Let's explore the borrowing costs associated with Point Break.
Calculating Point Break Financial's Costs
We recognize debt settlement's potential, considering it alongside other options while factoring in costs. Our free debt consolidation program cost calculator aids in informed decision-making. Though it won't provide exact payment plans, it estimates costs based on personalized financial data, facilitating comparisons with other debt relief options.
While debt settlement can offer cost savings, it's essential to acknowledge its pros and cons. Unlike debt consolidation loans that positively impact credit scores, debt settlement may adversely affect them.
Analyzing Point Break Financial Reviews
Reputable businesses often garner reviews on platforms like Google Reviews, TrustPilot, and Yelp. In contrast, Point Break Financial lacks discernible online reviews. This absence doesn't necessarily signify a scam but might indicate a discrepancy between their claims and reality. Their website even acknowledges that they aren't the direct source of loans applied for. Their disclaimer reads:
"Point Break Financial does not broker loans and does not make and/or fund any product offerings, loans, or credit decisions. This offer does not constitute an offer or solicitation to lend. The web platform will securely submit the information you provide to a lender. Providing your information on the website does not guarantee approval for a product offering."
Though online reviews are absent, the website clarifies that they won't provide the loan themselves, shedding light on their role.
Summary
Unveiling Point Break Financial's Role In essence, Point Break might serve as a lead generator for services like Elite Legal Practice. If you've received an enticing offer from Point Break, understand that they're likely intermediaries, connecting your situation with a suitable lender. The terms advertised might not precisely match the final deal.
When Consolidation Loans Prove Elusive If you can't secure a consolidation loan from Loyal Lending, alternatives should be explored. Are you increasing your credit card balances instead of reducing them? Does a high debt-to-income ratio burden you?
Qualification for a debt consolidation loan doesn't guarantee favorable terms. Interest rates might reach 29.99%, and not all debts can be consolidated. Our free debt options and costs calculator aids in comparing non-profit credit counseling, debt settlement, and debt payoff planning. If financial hardship prevails, the calculator sheds light on bankruptcy without requiring an email address.
In conclusion, this article has unraveled the intricacies of Point Break Financial's services, emphasizing their role as intermediaries. Whether it's debt validation, debt settlement, or debt consolidation loans, informed decisions hinge on understanding the options available to you.