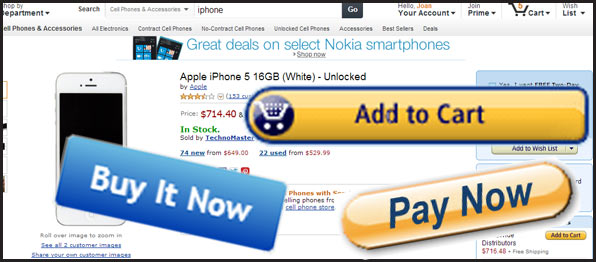 [share_sc]
Note: This is a post from Joan Concilio, Man Vs. Debt community manager. Read more about Joan.
Buy it now. Pay now. NOW NOW NOW NOW NOW.
Sometimes, I feel like the internet is screaming at me like a particularly insistent 2-year-old.
And like most insistent 2-year-olds, sometimes, it feels like the easiest thing to do is to give in to the screaming beast… even if it doesn't have the best result in the long run.
Yep, I'm talking about online shopping.
Our Instant-Gratification Society
Online shopping seems great. I can have anything in the world sent to my home – no matter how obscure! I don't even have to pay for shipping, in a ton of cases! The prices are better than they are in retail stores!
These are all true… except there's a problem.
Our instant-gratification society is taking the "buy it now" hype to an extreme.
We've made consuming so easy that we do it without even thinking. You know the stories… people who've plunked down hundreds to keep playing their favorite Facebook or mobile games – but have done it 99 cents at a time. People who order 7 pairs of shoes from an online retailer that offers free returns, intending to send back six and keep one but not always following through. People who buy horses and other livestock in online auctions across the country – living things purchased site-unseen.
And again, none of these things are evil, wicked, mean or nasty in and of themselves. But I worry about a culture in which it's becoming commonplace to drop $700 in a click.
Cash Vs. Debit Vs. Credit
This is actually something we talk about in our You Vs. Debt classes, and it's one of Baker's key tips in his list of 24 Quick Actions You Can Do Today That Can Change Your Financial Life Forever:
Spend cash whenever possible.
There are any number of websites that will walk you through the ins and outs of budgeting, of envelope systems, and of the complex psychology of money. But I think we often overlook the simplest reasons this advice is so powerful.
1. Cash is harder to get.
Even a debit card is easy – it's (generally) in your wallet or purse, on your person. Credit cards tend to be much the same way. To go to the ATM and get cash, even if it's literally next door, is harder! And, in terms of money, harder to get is a good thing!
2. Cash is harder to part with.
We are a visually driven species. When I see a pile of money, I know that I have X dollars, whatever that may be. When I physically see that money dwindling, I know I have less of it. Big pile of money, little pile of money.
And handing over $700 of my hard-earned cash, in bills, to someone in a store?
YIKES. You can bet that'll take some thought!
But I could easily drop $700 online for an iPhone… in a click. Almost as an accident. And while I think that I think about my purchases, online or otherwise, the fact is, it is so much easier for me to spend online than it is in person because I don't have to think very much at all.
Retailers want it this way, of course! They love the idea that you'll buy now and think later (if ever). Regrets? Well, you could return it. But they're counting on the fact that most people don't.
Spending cash takes planning. It takes thought. And thought is a great thing to have where your finances are concerned.
[share_sc]
I'm curious what you think: Do you spend differently online than you would in a brick-and-mortar store?
Why do you think so – or why not?
We'd love to hear your comments!