If you know anything about me, you know I love to fish. I used to travel once every 2 years to Alaska to get my salmon and halibut fishing fix.
With fishing though comes cleaning and cooking.
And, if you are like me, you know when you are cooking fish because of the strong odor that comes from cooking fish.
This has always been an issue for my wife and me because she does not like the smell of fish whatsoever. So, let's talk about this unique OdorFree product.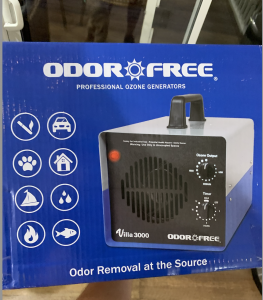 Enter the OdorFree Villa 3000
The OdorFree Villa 3000 is built with a ton of features. First, it has a variable control for ozone output. You can use the timer for treatments up to 12 hours and hold function for longer sanitizing. We didn't use that nearly as long after cooking our salmon, but it was nice to know that it had that functionality
Next, it has a power indicator light that shows when the device is on. The device is a low energy consumption device, and it's also really quiet, which I appreciated. It was humming along, which made it almost difficult to notice that it was even on.
It's very durable as seen by the heavy duty metal construction. I also liked that the ceramic plates are easily removable like a cd rom for cleaning.
Process
One of the biggest things I liked was how easy the OdorFree Villa 3000 was to setup. After removing from the box, I added the device to the treatment area. It was easy for me to insert the plates that were provided for the initial setup.
Next, I could decide what time and output level was needed. You have to vacate the area during treatment, which can be challenging with 4 little ones running around. You have to close all the outside doors and windows in order for the space to be properly treated. That said, if it takes that to get rid of a fish odor, then voila. The ozone output dial can be set to medium or high dependent on the level of odors and amount of time for treatment.
After the treatment time, you would just be sure to make sure you turn the unit off and return to the box. See my OdorFree Villa 3000 setup and ready to go below.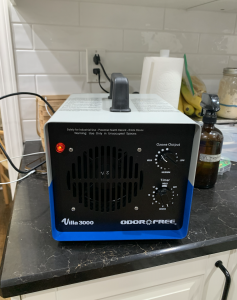 What I Liked About This OdorFree Product
I could see this product working for so many used cases including realtors that need to clean up a house or crawl space, getting rid of pet odors such as a cat or a dog , and most importantly the smell of fish after cooking fish.
What I really like is how easy it was to setup and how I could notice the smell dissipating soon after the device was turned on. While it states that it could take multiple hours for the smells to dissipate, I could notice a difference in the smell of fish soon after the device was turns on.
I also appreciate the sturdiness of the construction. Too often products these days are flimsy to the extent that it's difficult to see them lasting past a warranty, but the Villa 3000 seems to be built to last.
I also loved that there is an Odor Free Trial and a 30 day Money Back Guarantee. With these sorts of guarantees, you know that the company cares about your experience, which is important for me to see.
Once you take it from the box, you will see how sturdy the Villa 3000 is built, but I also appreciate that it also comes with a 5 year warranty if anything were to happen.
Let's Cover The Specs
One of the most impressive thing about the OdorFree Villa 3000 is the specs. For example, the product boasts that it can cover 3000 square feet, which is bigger then my entire house.
Secondly, the timer allows you to work the device continually for up to 12 hours. The fan has 100 CFM, and the Volts/Watts is 110/32.
Next, the device comes with 3 ozone plates that are easy to add into the device, but it's also very easy to remove and clean when needed. The device only weights a little over 10 Ibs, which is nice because I don't work out nearly as much as I used to work out.
Conclusion
You are looking for a high powered odor free remover, and the Villa 3000 is a definite must to try. You will see this working quickly, and it's evident that this product is built to last. In addition, this product seems like it would work for so many odor free used cases, and I am excited to exterminate smells much faster to create an odor free environment wherever I am.