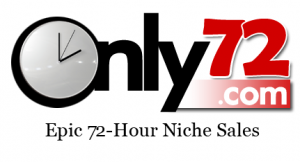 Today is an exciting day for me.
A really exciting day.
For the last couple months, I've been working behind the scenes on a project that I finally get to share with you.
If you just can't wait… here's a quickie link: $1052 in Business/Blogging courses for only $97 total
But before I talk about the project and the sale – let me give you a little background on how this whole thing came about.
It all started – believe it or not – with a friendly conversation about how much I despise the fact that American's have specific make-believe holidays that are designed around buying useless clutter in hopes that people in our lives will love and appreciate us more.
Now, it should be noted that I'm not against spending money – I've shared my view on that many times here on the blog. I feel like you should passionately spend money on things that add joy, value, or purpose to your life.
The thing is, I feel that 95% of the crap we buy during the holiday season doesn't accomplish that for more than a few weeks of the year. 🙂
When it comes to selling – well, I'm obviously not against that either. I sell products and services – and I helped organize this mega-sale today. I'm all for people selling almost anything, because I believe that as smart buyers our demand should put crappy, useless consumerist products out of business. 🙂
Rather than sit around and complain about Black Friday stampedes and Oprah shows (I'm going to do that next week in a post anyway), I started to brainstorm what kind of mega-sales I would actually support during the time of the year.
I thought to myself:
What if all credit card companies gave people 90% off their interest charges for the next 6 months if they paid more than their minimum payment (without adding new charges).  That would be awesome – but fat chance.
What if Ebay and craigslist offered 90% off to people who bought your useless junk from last year, but still paid you out 100%. That would be amazing – but I doubt that is happening anytime soon.
But…
But… wait a second. Why wouldn't that one actually happen.
And that's when it hit me. Um… I could probably make that one happen.
So I did something that 6 months ago I wouldn't have even considered (due to fear)… I approached one of my best friends (and insanely great partner) Karol Gajda – who has already done something very similar in the minimalist blogging niche.
Over the next couple of weeks, I contacted all of my favorite bloggers and entrepreneurs (the ones who had specific products in this niche) and to my initial surprise… nearly every one jumped on board within seconds of hearing the idea.
The end result looks like this:
23 of the biggest names in blogging (many of my personal favorites)
23 different business courses and guides (many of which I've bought at full price)
$1052 in retail value (all of these guides are sold at their listed price regularly)
All for $97
For the next 72 hours only
That last part is the only catch. Obviously, none of these guides can be offered at such a steep packaged discount long-term.
So, the sale and the package is a reality – yes really – but it will only be available for the next 72 hours. We won't be opening it up again and we will pull it down early Thursday morning. That's what everyone agreed on.  🙂
Looking back, I can't believe how awesome everything came together. $1052 for $97 is even more amazing than I first thought was realistic.
I mean that's 90% off (a $955 savings) of genuine courses I'd willing pay (and have paid) full price for.
If you are interested in the "do what you love" part of our story and this site, I can easily tell you this is the best investment I've seen in the last two years. I used many of these guides to help build this site, the only difference is I paid full price. 🙂
Here's a full list of each and every course in the sale (along with exactly what you get):
Unconventional Guide to Working For Yourself (53-page PDF)
3 25-minute of audio teaching sessions
SEO Report (26-page PDF)
The Essential Motivation Handbook (PDF)
True Strengths + The Metrics of Ease – Sample Chapter from the Fire Starter Sessions (PDF)
Video:  The Metrics of Ease
Video:  The Merits of Self-Centered
Worksheet:  Passion Play
Worksheet:  Very Strong Priorities
Upsell 101

by Naomi Dunford & Dave Navarro ($77)
Normally only available to buyers of How to Launch the S*%& Out of Your eBook
78-minute audio coaching session
11 Upsell Worksheets (PDF & DOC)
Websites That Sell Webinar

by Laura Roeder ($47)
Normally available only to buyers of Zero to Website course
Special access to 1-hour Webinar
Special access to Guest Posting Info membership site
Downloadable Guest Posting Workbook (PDF)
"Kick start" video
Guest posting checklist and flowchart
14 Video presentations (2.5+ hours)
Full written transcripts for each lesson (PDF)
Audio files for each lesson (MP3)
Step-by-step Worksheet
Email Triage (PDF)
Guided Audio Program (MP3)
2011 Premium Action Planners
2011 Premium Freelancer Planners
2011 Premium Blog Planners
Location Independent Lifestyle Guide – 2nd Edition (82-page PDF)
Do-It-Yourself Design & Branding Guide for Bootstrapping Businesses (78-page PDF)
Special membership to full Zero to Business course
30+ screen-capture tutorial videos
Step-by-step screenshot technical instruction
Write for the Web (89-page PDF)
Beyond Bricks and Mortar (47-page PDF)
Reclaim Your Dreams – "Everything Package" (70-page PDF)
"I'm Serious About Action" Worksheets
How to Live Anywhere – Long Haul Edition (58-Page PDF)
Anatomy of a 4 Figure Affiliate Promotion (PDF)
10 Audio Interviews (MP3)
How To Live Anywhere Audio Series (8 MP3s)
"Create Freedom" Teleseminar (Video)
Minimalist Business – Upgraded "Minimalist Plan" Version (PDF)
30-Day Quick Start Guide
Special access to Affiliate Marketing for Beginners – "Complete Course"
5 Core Teaching Modules
21 Affiliate Lessons
2 Profitable Case Studies
Beyond Blogging (200-page PDF)
15 Blogger Case Studies
"100k Blueprint" Summary
Smalltopia by Tammy Strobel ($27)
Smalltopia: A Practical Guide to Working for Yourself (156-page PDF)
Special access to Guest Post Secret membership site
3 core Guest Post training videos
Full transcripts for each video (PDF)
Email Scripts
Bonus Videos: Online Workshop Recording & How to Deal with Rejection
The Guest Posting Mini-Guide (PDF)
The Twitter Mini-Guide (PDF)
The Blog Commenting Mini-Guide (PDF)
The Affiliate Mini-Guide (PDF)
Networking Awesomely (PDF)
Article Marketing Traffic Booster (110 -page PDF)
6 How-to Videos
Bonus Audio Affiliate Interview
3 Content Worksheets
Bottom Line:
As you can see from the above courses (and the names contributing them), this sale is the real deal. If you are at all interested in building a side business (online or off) or building momentum around a cause or income stream – this package is for you.
I consider all of these contributors friends – I trust them and their value and personally contacted each one to be in this sale myself. As I said before…
This is the single best investment I've seen in two years of planning and growing my own business and blog.
Click here to invest in $1052 worth of business courses for only $97
Note: Remember, because of the 90%+ discount this package is only available for 72 hours. We can't take late sales and it won't be opened back up.  🙂
As a fun bonus, we are donating $5 of every purchase to Chris Guillebeau's Charity: Water group. Chris is building a whole slew of fresh water wells in Ethopia next year a taking a film crew to film it all.  🙂
Thanks for your support on a fun (and really big) day for things around here. As always, I'll share the transparent results on this blog in next months business update.
Speaking of that, stay tuned Thursday for a look at my income and expenses from November – as well as my thoughts on whether it's hypocritical to run a business that relies on selling a product or service (like – you know – all of them) while having values that are anti-mainstream-consumerism. Bound to be an interesting comments discussion again on that one!
Xoxoxo,
-Baker
P.S. The next time you get an idea that makes you say "That would be awesome if someone would do that" – just run with it yourself. You may be surprised where it takes you.  🙂