The way people work has changed fundamentally. The days of spending eight hours Monday through Friday in an office are gone. The work from home revolution is here– and it's pretty clear why. Companies that offer work from home opportunities often experience an increase in productivity. 
But more importantly, workers are happier. Online jobs are a lot more flexible than traditional in-person jobs. It's easier to stay on top of household chores when you live and work in the same space. Working from home part-time also allows child caregivers to make extra money for their families.
Clearly, careers that give people more autonomy make people happier. Being able to save time and gas money makes people happier. But how do you start? Mindset can be a big hurdle. If you keep coming up with reasons why you can't make more money, you'll probably be right. 
It can be hard knowing what you can do. It's a lot easier to see what's out there and work backward. To help make it easy, we've made a list of the best remote jobs in 2023.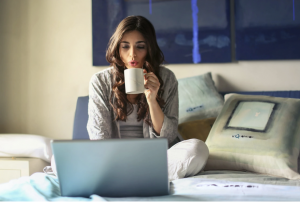 If you have any coding skills, you really don't need to be going into the office to make great pay. There are a ton of companies that are hiring remote web developers.  Plenty of small businesses need web developers to make their websites usable and enticing. 
Web developers come in three types: back-end, front-end, and full stack. Back-end web developers create and test the code that runs the website. Front-end developers work with the website's interface and visual design. Full-stack developers do both.
If you do not yet have any programming skills, you can try learning Python. It's a good all-around beginning programming language that will get your foot in the door of this high-demand skill. 
How do you feel about spreadsheets? If you appreciate how well they neatly organize data, bookkeeping is an amazing opportunity into the world of online jobs. Bookkeepers collect records of income and expenses, issue invoices, and create financial reports. 
You can start your search by looking at sites like Indeed for remote bookkeeper jobs. To search on LinkedIn, click on "jobs."  The box next to where you enter the job title will let you enter the location of your search. Type "remote" into that box to see which companies are hiring work from home bookkeepers. 
The "age of the influencer" may be over, but you can still make a decent amount of money from YouTube. If you can get even a small following, you can make money by becoming an Amazon affiliate. This means you can leave links to products you would recommend to your followers. You earn a commission if people buy things by clicking the links. 
Don't like being on camera? There are still options. For example, lots of channels make money by creating AI text-to-speech versions of popular internet forums. This requires little more than the knowledge of which forums people frequent and some free video editing software for mac or PC. 
Even if the idea of creating videos every day does not appeal to you, it's still worth it to learn to edit videos. A strong video resume can help you land one of the best remote jobs.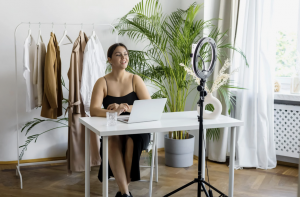 Were you good at writing essays in high school? You probably have what it takes to be a freelance writer. Copywriters produce all types of writing such as blog posts, email campaigns, social media ads, YouTube scripts, webpage text, and cover letters. 
Freelance writing can be a great work from home job if you happen to find your niche. For example, if you happen to know a lot about pet care, look into writing for a pet-related company that runs a blog. When you know your target audience well, it's easy to create great writing for them.
If you have some teaching skills, you might be able to turn your home into a classroom. In many countries such as China, Vietnam, and South Korea, it's difficult for students to practice English with native speakers. 
Sites like VIPkid offer up to $22/hour. They are hiring fluent English speakers from the US or Canada who holds bachelor's degree. Even if you don't meet these requirements, this is a booming industry with many competing companies. This is one of the most common part-time online jobs for stay-at-home moms.
Even if English is not your first language, you can still be an online language teacher. You can offer your services through a site or find private clients and host classes on Zoom.
Do you have a natural feel for social media? Are you good with keeping up-to-date on daily posts and trending hashtags? Then being a social media manager might be one of the best remote jobs for you.
Social media managers help businesses promote their products and services through social media. Sometimes they also act as a sort of "face of the company," and will directly interact with customers on social media. If you have a solid background in marketing and communications, this is a great avenue. 
Smooth talkers might find a niche in doing voice-overs. Cartoons are probably the first thing that comes to mind when you think about VO work, but voice-over artists do a lot more. These days, people need voice-overs for online ads, YouTube videos, podcasts, and even dubbing over foreign media. 
If you're looking to become a work from home voice-over artist, you'll need to create a home recording studio. For this, you'll need some basic recording equipment and some sound editing software. Remember to soundproof the room you're recording in as much as possible.
Maybe you're more of a reader than a writer. In that case, proofreading might be for you. Proofreaders go over blog posts, ad copy, email copy, business documents, and more. They make sure all of their client's copy is free from spelling and grammatical errors. 
Basically, proofreaders make sure everything reads well. Typically, proofreaders start at about $17/hr. There are free online instructions for getting into the world of remote proofreading.
In the world of e-commerce, images sell. People do not purchase from websites that do not have attractive logos and graphics. If you find yourself messing around with images on Canva, you can turn that into a work from home opportunity. 
If you want to get into the more creative aspects of graphic design, you can also do illustrations for children's books. Children's book illustrators routinely make $150-$400 per project. 
Summary: Top Work From Home Online Jobs in 2023
There are a lot of reasons to want to work from home. Maybe you're a stay-at-home mom looking to make some extra income. Perhaps you're looking to become a digital nomad. Or possibly, you just strongly prefer to control your working environment. 
Whatever your reason is, remote work offers a lot of unique opportunities. We hope this list of opportunities helps you get the ball rolling in your new career.