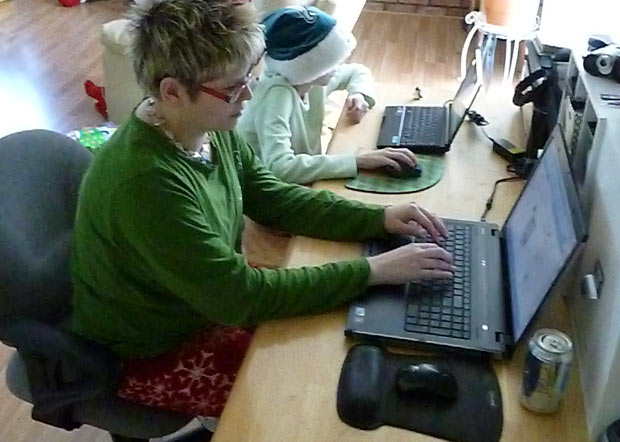 Note: This is a post from Joan Otto, Man Vs. Debt community manager. Read more about Joan.
As of July 1, ALL of my income will come from self-employment. Many of you who've read previous posts know that I've juggled full-time and part-time jobs and side hustles for several years, but now, the "job" piece will become another contracted project, and I'll officially be freelancing everything.
Thinking about that made me look back on the past two years of my life, when I've transitioned from a 55-hour-a-week office job to working almost entirely from home. Even my "job work" has been done primarily at home, and while some of my contract work still needs to be done on-site for various clients, mostly, my home is my workplace! (As evidenced by the photo above, which is really me, really working, really in my pajamas – you know I love you guys, to let you see me that way!)
As I was thinking about this transition, it's become clear to me that even on the "worst" days, I love being at home.
[Here are the top three reasons why...]
{ 52 comments }